As a website owner, it's essential to know your website is performing as you'd like it to. And one of the most effective ways to do that is with rank tracking tools. They provide invaluable data – giving you information on where your site ranks among competitors and more importantly its performance within search engine result pages (SERPs). With this data at hand, you'll be able to bring valuable insights into owning a website and give yourself the ability to maximize traffic and ROI. We have evaluated the best rank tracking tools currently available, their features, advantages and disadvantages. Read further to find the best rank tracking tool for your business.
SEO is unquestionably one of the most important aspects of digital marketing. You need to learn how to get traffic to your website and how to rank highly on Google for particular keywords if you want to start a blog or make money from your online business. Therefore, if you want to conduct competitive research, audit your website, or keyword research, you need a good keyword rank checking tool to get the job done. Obviously, you can outsource the entire process to a third-party service provider; however, you cannot afford to hire an offshore company if you are a small business or an individual living on crumbs. Also, there is some level of competition in every niche. Therefore, it is only a matter of time before a rival moves up one of your main keywords. So it's critical to monitor your keyword rankings on Google and other search engines. As a result, the best thing you can do for your business is to use the best rank checking tools on the market to help you learn SEO and give it a fighting chance. If you have hired SEO services from an agency, they will share a monthly rank report with you. However, if you want to track rankings yourself, you may try one of these tools.
What is Rank Tracking?
Checking a website's position in search engine result pages (SERPs) for specific keywords is known as rank tracking. Tracking and evaluating the organic positions of keywords over time is the focus of rank tracking. It is based on historical data and current rankings, allowing you to evaluate its progress and impact on organic traffic. To find out where your content ranks in terms of your target keyword, you probably won't get accurate results if you just type it into Google. This is because Google implemented Personalized Search in 2005. This means that when a search term is typed into Google, the results take into account the searcher's social interactions, previous searches, and other factors. Using a rank tracking platform is the only reliable method for obtaining search ranking data due to Personalized Search. These platforms are made to track keyword rank without taking into account subjective factors like location.
Importance of Rank Tracking
A rank tracking tool is essential for SEO experts. Below are some of the reasons why rank tracking is important.
The first place an SEO looks to diagnose sudden traffic losses and traffic that is trending downward is rank tracking software. If the rank tracker provides sufficient granular historical data, it can assist the SEO in comprehending what caused the traffic drop and how to address the issue. The rank tracker can be used to locate pages that are causing traffic loss. Low click-through rates, algorithm changes, and fluctuations in Google's rankings are all problems that can be quickly identified by SEOs using rank trackers.
Gain Knowledge of Competitors
Understanding the factors that contribute to the success of rival marketing campaigns is an essential first step in any SEO campaign. The majority of rank trackers make use of site explorer tools to provide this data. Utilizing content gap analysis tools, rank trackers also assist site owners in identifying untapped opportunities by determining where rivals are not ranking. There is more to getting traffic from Google than just rankings. The traditional ten blue links have been disrupted by SERP features, serving as both an opportunity to win and a reason why a website with high rankings may be losing organic traffic. This indicates that an SEO must use their rank tracker to monitor SERP features in order to truly comprehend their rankings.
Identify SEO Opportunities
SEO can improve the quality of the content on web pages that are ranking on page two of the SERPs for particular search terms, increasing the likelihood that those pages will move up to page one. Additionally, pages that appear at the top of Google frequently appear for related keywords. The page will frequently rank for keywords that are not directly related to the content. When this occurs, the content does not typically appear on the first or second page of a search engine for these keywords.
The SEO can create new content for those pages and then create an internal link from the first page to the new content because these keywords are not directly related to the content. SEO and digital marketing companies can give customers progress reports by utilizing rank tracking data. Agencies are able to show how SEO efforts are improving rankings. They can then show how SEO is increasing sales or leads by correlating this data with sales data.
Also, Read: Top 15 Best SEO Tools (Updated 2023)
20 Best Rank Tracking Tools
Nightwatch
Nightwatch is an effective SEO tracking solution with a user-friendly interface. Using lists, colorful graphs, and charts to present the data makes it simple to analyze your campaign's performance. Nightwatch lets you quickly go through your list of keywords to see which phrases meet your most important criteria. For more precise results, make use of sophisticated filtering options like location, language, and search volume. Utilize keyword tracking, backlink monitoring, and website audits to obtain up-to-date data on your campaigns' success.
Nightwatch is a comprehensive package for marketers who want to track many keywords at once or agencies with limited budgets who want valuable data analytics reports. Its versatile features include integration with Google Analytics, Search Console, and competitor insights. With their free trial offer and instructional videos, you can get a jump start on your search engine rankings so you can get the most out of this SEO tracker.
Pricing:
Free: 14 day trial
Starter: $39/month
AccuRanker
The fact that AccuRanker is so simple to set up is the first thing you'll notice about it. You can track your search engine rankings across all devices because it supports multiple search engines, including those for audiences all over the world. It also supports desktop and mobile indexes. Additionally, you can view the anticipated monthly average search volume for your keywords.
AccuRanker gives you the ability to monitor the performance of YouTube channels as well. This is a nice feature for any marketer who uses social media. There are solid connections with Data Studio, Adobe Analytics, Google Analytics, and others. You can customize the output of this rank tracker tool by generating both automatic and manual ranking reports.
Finally, we get assistance via email, phone, and live chat.
Pricing:
Free: 14 day trial
Starter: $99/month
Semrush
Semrush is one of the most widely used SEO software suites among online businesses. You get everything you need to get started with SEO, including a rank tracker, a backlink checker, a website audit function, a keyword analysis tool, and an on-page analysis tool. If you are familiar with the Semrush user interface, setting up is simple. Even if you are not experienced, you'll have to put in almost no time becoming accustomed to how they handle campaigns.
The procedure is similar to that of the majority of other rank trackers here, with one notable difference: you are unable to enable tracking for both desktop and mobile devices. One or the other must be chosen. It was odd to discover this, given that virtually every other rank tracking software on the market prioritizes mobile indexing. The "Intent" function, which indicates whether the ranked keyword's search intent is informational, commercial, or other, is a novel concept that you can not discover in any other tool. Additionally, you get a breakdown of the SERP features under which your keyword is listed.
Pricing:
Free: 30 day trial
Starter: $119.95/month
Also, Read: The 15 Best Technical SEO Tools Every Webmaster Should Know!
Mangools
Mangools, also known as KWFinder, started out as a tool for researching keywords. It was initially a tool for finding opportunities for keywords. They added a backlink checker, a site auditing tool, and a keyword tracker called "SERP Watcher" after that, which is something that a lot of keyword research tools have done recently. So, Mangools is like a smaller version of Ahrefs or Semrush. On the other hand, SERP Watcher is one of the easiest rank trackers in this roundup; all you have to do is add your domain, choose your location, and add your keywords. After that, you have to wait 30 minutes for Mangools to do its thing.
When setting up your rank checking project, you can only select desktop or mobile search, but you can later clone it to include either mobile or desktop search. Additionally, SERP Watcher only permits you to poll Google search results for your keyword rankings, alternative search engines such as Bing and Yandex are not supported.
Pricing:
Free: 10 day trial
Starter: $29.90/month
SE Ranking
SE Ranking has a comprehensive set of tools for monitoring your site's SEO performance. These include, among other things, a keyword tool, a backlink checker, a site explorer, keyword tracking capabilities, and other features that are found in more expensive SEO solutions like Ahrefs or Semrush. In fact, the interface feels bloated with menu functions due to the excessive number of features.
SE Ranking provides pretty solid rank tracking. Instead of adhering to a predetermined crawling schedule (e.g., weekly, every three days), if you have enough credits, you can change your search engine rankings every day. SE Ranking has a fixed pricing structure that gives you a number of "credits" that you can use to perform tasks like updating ranking data. It's also pretty easy to set up a project and add keywords, but you have to go to a different page to do that and then go back to your project page to look at the results.
Pricing:
Free: 14 day trial
Starter: $23.52/month
Also, Read: Top 18 Paid SEO Tools That Are Worth The Money in 2023
SEO PowerSuite
SEO Powersuite still makes use of a desktop client despite the fact that the world has moved virtually every piece of software into the Cloud. A rank tracking feature is included in this suite of tools for search engine optimization enthusiasts and professionals. Once installed, you can enter your URL right into the Rank Tracker. After that, SEO Powersuite conducts some research, selects some keywords that are relevant to your website, and compiles a current ranking report.
When you've grown accustomed to filling out endless forms in rank trackers and being asked to wait for current data to be displayed, this level of automation is a pleasant surprise. The automation will not pick up on all of the keywords you want to target, and it will include some that you don't care about. This is the only real drawback. However, it does establish a solid foundation from which you can incorporate the keywords you do wish to concentrate. This software, unlike any other rank tracking solution, allows you to monitor an unlimited number of keywords.
Pricing:
Free: Free signup
Starter: $299/year
Serpstat
Serpstat advertises itself as a comprehensive SEO tool. Nevertheless, its rank-tracking capability is unquestionably quite sophisticated. In addition to ranking tracking, Serpstat lets you do things like keyword research, backlink analysis, site auditing, and more to improve your visibility and ranking. Serpstat, as its name suggests, extracts data from local, global, and device-based sources and provides comprehensive insight into SERPs.
The best thing about Serpstat is that it excels at data visualization and provides a comprehensive overview of your SERP evolution. They use a lot of graphs, color coding, and charts to show you where you're falling behind. Serpstat's accuracy is very impressive. You can see which SERP feature is bringing the most visitors to your website. Its data-driven approach to SERP analysis is quite appealing. You can quickly figure out where you stand, what you need to do to boost your ranking, and which keywords your rivals are doing better with. Serpstat needs some SEO knowledge, consequently, it is effective for professionals.
Pricing:
Free: Free signup
Starter: $45/month
Wincher
Wincher might be a good choice if you need robust position-tracking software but are limited on funds. For experienced SEO professionals, it easily ranks among the cheapest rank trackers. The product's functionality is unaffected by the low price. In fact, it has a lot of powerful keyword rank tracking features that will give you complete information about where you are in the SERP. The first thing to note is Wincher's extensive toolkit. All of your keywords can be easily tracked, and you can learn more about easy-to-rank terms that your rivals haven't yet targeted.
Additionally, Wincher's automation features make ranking data reporting simple. It will make it simple to analyze marketing results and adjust device strategy accordingly to rank higher than rivals. In addition, you have access to 180 countries' local rank-tracing data. Also, automatic keyword suggestions really help improve the quality of your content and steal top rankings from your rivals. The best for professionals in marketing, bloggers, and affiliate marketers.
Pricing:
Free: Limited Free Plan
Starter: €24/month
Authority Labs
Authority Labs' outstanding rank-tracking capability could be beneficial to established agencies or businesses with in-house SEO teams. It could help you automate everything from local to international rank tracking based on keywords and search engines, accelerating your white-label efforts. Authority Labs makes it simple to enter keywords, URLs, a domain, and even the region, if there is one. The remainder will be handled by Authority Labs. Daily rank tracking reports and instant alerts for significant SERP changes will be sent to you.
The information about how keyword ranking has changed in SERP is too detailed. It is amazing to have a historical overview of how you developed through SERP. It lets you look at your mistakes and take advantage of opportunities that could help you climb up the rankings. It provides instant insight into the value of a keyword, which is a peculiar feature. The location, ranking, and keyword data of a domain's popularity contribute to the strategy's adjustment and improvement. In addition, Competitor Domain Tracking, Custom Data Collection, Mobile-specific rank tracking, and White label reports are useful tools for rank tracking. Since it's a little pricey, it's only good for big SEO companies and agencies.
Pricing:
Free: 14 day free trial
Starter: $49/month
Advanced Web Ranking
The rank tracker tool at Advanced Web Ranking makes it easier to track your keywords and resolves the issue of providing businesses with rankings on demand. It accurately ranks your keywords and collects all of the data from multiple search engines, devices, and languages in one hour. It provides you with trustworthy SERP data for many search engines such as Google, YouTube, Bing, Amazon, Yahoo, and others. You can also use a variety of editable layouts to create SEO reports for your customers and send it to them directly via a link or other user accounts. You can open reports with your brand name using the white-label feature on any device you want. Using the local rank tracking feature, it also monitors the local rankings of your keywords.
Advanced Web Ranking is used by a lot of big brands and agencies to track their businesses' growth. Additionally, the Advanced Web Ranking team is constantly working to enhance its interface and functionality. It has tools that can help you keep track of your rival's progress and identify their winning strategies. You can get comprehensive insights into your website by utilizing its integrations with Google Analytics and Google Search Console. In just an hour, you can get new rankings for your keywords. You can also get rankings for desktop and mobile devices separately, which will show you what needs to be improved on your mobile and desktop pages. The rank tracker can also be set to send reports on a daily, weekly, monthly, or every two weeks basis.
Pricing:
Free: 30 day free trial
Starter: $49/month
Google Search Console
The set of free SEO tools that every website owner should use is Google Search Console. You can track everything based on location and device, submit sitemaps to Google for crawling, and measure your keywords' performance such as clicks and click-through rate from SERPs to your pages. Additionally, it is useful for locating issues with websites, such as crawling, page speed, security, indexation, mobile usability, and structured data. It's free to start. You can also get the data directly from Google because it comes from there. Additionally, excellent quality assurance and management tools include webmaster tools for submitting sitemaps and auditing your mobile-friendliness, site speed, and crawl issues.
However, due to the limited data and visualizations it provides on its own, we suggest utilizing this tool in conjunction with other data visualization platforms and SEO tools.
It lets you see which search terms lead people to your website. Additionally, you can examine the clicks, impressions, and, more importantly, your position in the SERPs for your domain. If Google discovers problems with your website, you will also be notified. Your website can also be optimized for AMP, rich results and mobile usability.
Pricing:
Free
Moz
Moz Pro Keyword Rank Checker is a must-have addition to any SEO-related toolkit. Its powerful and one-of-a-kind features, not its long history in the business, are what set it apart. Using Moz Pro, you can see right away where your website ranks for specific keywords. Whether you need data from Google, Bing, Yahoo, or any other search engine, Moz Pro is adept. Simply enter your keywords and allow Moz Pro to send you daily SERP updates that might be of interest to you.
Adjusting strategy and prioritizing work in order to achieve immediate results are made much easier by the instant reports. The trust that Moz inspires is also unparalleled. Since it is a market leader, you can rest assured that the data you receive is accurate. In addition, Moz provides a list of potential keywords that could boost your position. Additionally, the difficulty rating displayed next to them provides an accurate indication of the amount of effort required to target those keywords. Another useful feature is long-term keyword tracking, which provides you with ongoing insights into the performance of specific keywords in the SERP. It allows you to develop a plan based on the SERP's current state.
Moz Pro is simple to use if you know a little bit about SEO.
Pricing:
Free: 30 day free trial
Starter: $97/month
Ahrefs
Another excellent rank tracker is Ahrefs. It is also a comprehensive SEO and digital marketing platform, like Semrush. You can import projects by utilizing the Rank Tracker feature or by linking your Google Search Console account to Ahrefs. The keywords you want to track can then be added to your Ahrefs dashboard. An overview of your search engine rankings is presented to you by Ahrefs. Your visibility percentage, average position, traffic, SERP features, and position shifts are all visible to you. The Ahrefs Rank Tracker tool lets you compare your own website to up to ten competitors. However, if you want a more in-depth analysis of your competitors, we recommend making use of its other features.
In the Site Explorer you can enter a URL to determine the number of backlinks, organic keywords, and content gaps. You can either set up Ahrefs manually or integrate it with your Google Search Console account. The integration only requires a few clicks, but the manual setup is just as easy because the keyword tracking is already set up for your website if you've created a "Project" for it. After that, all you have to do is add any keywords you want to track. Regardless of your pricing plan, it only updates every three days unless you upgrade to Rank Tracker Pro. This is annoying for rank tracking. This feature comes at an additional cost.
Pricing:
Free: 7 day free trial
Starter: $99/month
Labrika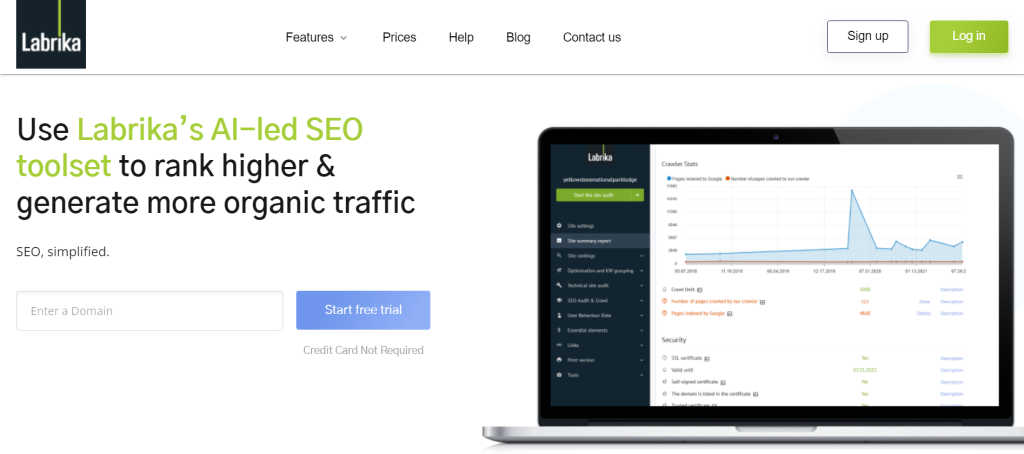 Labrika is more of a tool for site audits. On-page SEO, technical SEO, keyword research, and competitor analysis are the available options. However, Labrika does have a useful keyword tracking tool. You can check the language and location of your site's position. You can search by region, city, or country. You can even compare search positions in multiple areas simultaneously. You can share reports with other team members by downloading them in XLS format. Additionally, you can obtain rankings for desktop and mobile devices. You can do as many projects as you want with any plan.
Labrika comes with an AI SEO auditor that will check your site based on over 200 different ranking factors. This auditor can be used to make reports and figure out how to make your site more powerful in terms of rankings. You can also use the Labrika content editor, which looks over new and existing content and makes suggestions for making it better and easier to use. To assist you in improving your own pages, the content editor makes use of information gathered from your top ten competitors.
Pricing:
Free: Not available
Starter: $19/month
Raven Tools
One of the best rank trackers available is included in the suite of powerful SEO and reporting tools provided by Raven Tools, an all-in-one platform. The rank tracker on the Raven Tools homepage provides SERP ranking data on a daily, weekly, and monthly basis for all of the major search engines, including Google, Bing, Yahoo, Baidu, and Yandex.
You can monitor positions for universal keywords or positions for local ranking keywords based on zip code, language, device type, and other factors. If you want to keep track of a lot of keywords, you can either upload them as a list or copy and paste them into separate rows to do so in a single click.
You can also look back at previous results with Raven Tools' historical ranking data to see how your SERP has changed over time. White-label SEO reports can be exported to better visualize your ranking data. You can take advantage of Raven's website auditing, backlink, and competitor research tools in addition to rank tracking. You can take advantage of some cutting-edge features in Raven Reimagined, the new and improved version of the platform, to discover the ad copy that your rivals are using, spy on their keyword choices and landing pages, and get a better look at your ranking data with improved visualizations.
Pricing:
Free: 7 day free trial
Starter: $39/month
Morningscore
Morningscore is a different kind of all-in-one SEO tool. It makes tedious SEO tasks a lot more fun by using gamification. Morningscore, like other all-in-one solutions, provides a comprehensive set of SEO tools. It includes a powerful rank tracker, a keyword research tool, an SEO reporting tool, a backlink monitor, and an auditing tool that all work together seamlessly. For instance, you could start by looking for new opportunities with the keyword research tool. Add the people you want to target with a single click to the rank tracking tool to receive daily updates.
The domain keyword analysis tool allows you to quickly determine the precise ranking position for each of the various keywords for which your website ranks in Google. Using the comparison tool, you can also see how your rivals rank for the same keywords or vice versa. The Rank Tracker user interface is very simple and easy to understand. You can perform a variety of actions by right-clicking any of the keywords for which you rank. You might want to view historical data, add it to a group or folder, or look it up on Google, for instance.
Pricing:
Free: 14 day free trial
Starter: $65/month
WebCEO
WebCEO is a digital marketing and SEO software solution that comes with numerous SEO tools that are comparable to those used by an agency. WebCEO provides a sophisticated rank tracking tool that enables you to monitor both your own rankings and those of your rivals. You can examine variables like country, state, region, city, and zip code by accessing comprehensive breakdowns of ranking data from any time period. You can also get information about ads, images, videos, and other ranking results. Ranking reports can also be made quickly and easily with just a few clicks. WebCEO can be used to do SEO audits, research keywords, manage internal links, and create sitemaps in addition to the rank tracking software. In general, this is an excellent all-in-one solution with effective rank tracking capabilities.
Pricing:
Free: 14 day free trial
Starter: $99/month
Diib
Diib is a traffic and SEO monitoring tool that can help you keep an eye on backlinks, specific keyword rankings, and a lot more. You can keep track of all of your important keywords and backlinks using Diib's keyword tracker. You can also keep an eye on how your competitors rank and change, and you can come up with new ideas for keywords and content. A weekly RankGuard scan will also be sent to Pro account holders. This scan will check all of your current ranking positions and provide you with practical advice on how to get your pages to the top of the SERPs. Diib can also be used to manage some social media tasks, monitor the speed and security of your website, and even check email deliverability. It can also be used to compare your website to that of your rivals and make it better. Overall, this tool has everything you need to monitor where your pages are ranking and make any necessary adjustments to move up.
Pricing:
Free: Limited free plan
Starter: $7.99/month for first month and $29.99/month from the second month
Sitechecker
Sitechecker launched their on-page SEO checker in 2016 and is relatively new to the market. Since then, it has expanded to include a web auditing tool, a backlink analysis tool, and the capability to check your Google rankings through its rank tracker. Due to the sheer volume of data displayed simultaneously, Sitechecker's "Rank Tracker" can appear somewhat overwhelming at first glance. However, what you get is a comprehensive overview of your ranking history for the previous month in addition to the current position of your keywords in the search results pages. You also get the obvious things like search volume and keyword trend data, allowing you to access as much information as you need.
Sitechecker is more geared toward businesses that need to import, analyze, and export data for several weeks because of the aforementioned factors. It provides small businesses and agencies with a cost-effective method for monitoring keyword rankings over several weeks. It is ideal for marketing firms and business owners with limited projects. Advanced analysis options are provided by a dashboard that is simple to manage, clear reports, and access for multiple users. With instant monitoring of results, users have access to all key solutions for optimizing websites for search engines and running marketing campaigns.
Pricing:
Free: 7 day free trial
Starter: $29/month
SpyFu
SpyFu is an SEO toolkit with rank tracking capabilities. You can use the toolkit to track your current and past ranking positions, create backlinks, analyze SERPs, and do a lot more. The tool can also be used to compare domains and research keywords. SpyFu is a great tool for analyzing competitors and can be used to spy on your rivals' activities to inform your own SEO strategy, as its name suggests. It can assist you in developing a comprehensive picture of your rivals' activities, including their rankings and the keywords they have purchased through Google Ads. SpyFu is, overall, one of the best options for tracking your own rankings and those of your rivals.
Pricing:
Free: Not available
Starter: $39/month
Wrapping Up
As long as you are able to locate a tool that generates the kind of data that you require, monitoring where your site ranks in your preferred search engine will become a little bit easier. As you can see, there is a rank tracker for just about every price point and set of needs. You can even choose to manually track rankings or use a tool that is completely free. Alternatively, you can automate your keyword tracking in a smart business move by using one of the tools provided above. You can get the results you want by using a rank tracking tool, and you will see the results of your efforts in the form of higher rankings, more sales, and more leads. You can easily make content and keep your rivals at bay at the same time. The majority of the tools on this list come with a free trial, so you can try them out before deciding on the final one.
FAQs