One thing that all gym owners can agree on is that their website is crucial to their success. A well-optimized fitness website can help you attract new members and keep current ones coming back. In this blog post, we'll discuss some SEO for fitness websites. Following these tips will help you rank higher in search engine results pages and bring more traffic to your site. So what are you waiting for? Start optimizing your website today!
It is important to take care of your website SEO so that your listing ranks well in SERPs. You can either opt for an SEO package or choose to do it on your own with the best DIY SEO tips.
Whether you are a gym owner, yoga instructor, personal trainer, or general online fitness website offering health and wellness advice, the search engine optimization tips below can help you rank higher on Google so your business can be discovered by the people who matter the most.
What is SEO?
The process of improving a website to increase its visibility when people search for products or services is known as search engine optimization. The higher a website's visibility on search engines, the more likely the brand will capture business.
The placement – or ranking – of a website on search engine results pages is commonly used to measure its visibility (SERPs). And businesses are always competing for the first page, where they are most likely to get the most attention.
To get the best results from SEO for your fitness center, gym, or studio, you will want to concentrate your efforts on specific search engine optimization tactics. By implementing the SEO fitness tips listed below, you will be able to rank your content higher in search engines for specific keywords that will bring the right type of traffic (e.g. clients or members) to your site.
5 Tips for SEO for Fitness Websites
Plan Your Keyword Strategy
The first step in the SEO for fitness website is to develop a list of keywords to target that are relevant to your business. To attract local clients, you should target keywords that include your location. For example, "California fitness center," "yoga studio new york," "Crossfit gym in Texas," or "Philadelphia Zumba classes."
If you want to attract people on a national or international scale, you can use general fitness keywords. "Online fitness program," "Pilates training coach," "wholesale gym equipment," or "Yogic fitness at home," for example.
Moreover, you can determine the keyword volume using tools such as Ahrefs or Google Ads (Keyword Planner). This gives you a good idea of how many people look up those terms. You must always include two kinds of keywords:
This is intended to target people who are actively looking for services and are ready to sign up for them. Buying intent is important for a business because it attracts potential customers and aids in high conversion rates.
These keywords can be used on your home page and service pages. Fitness keywords of this type include "HIIT workout Sacramento," "fitness center bay area," and so on.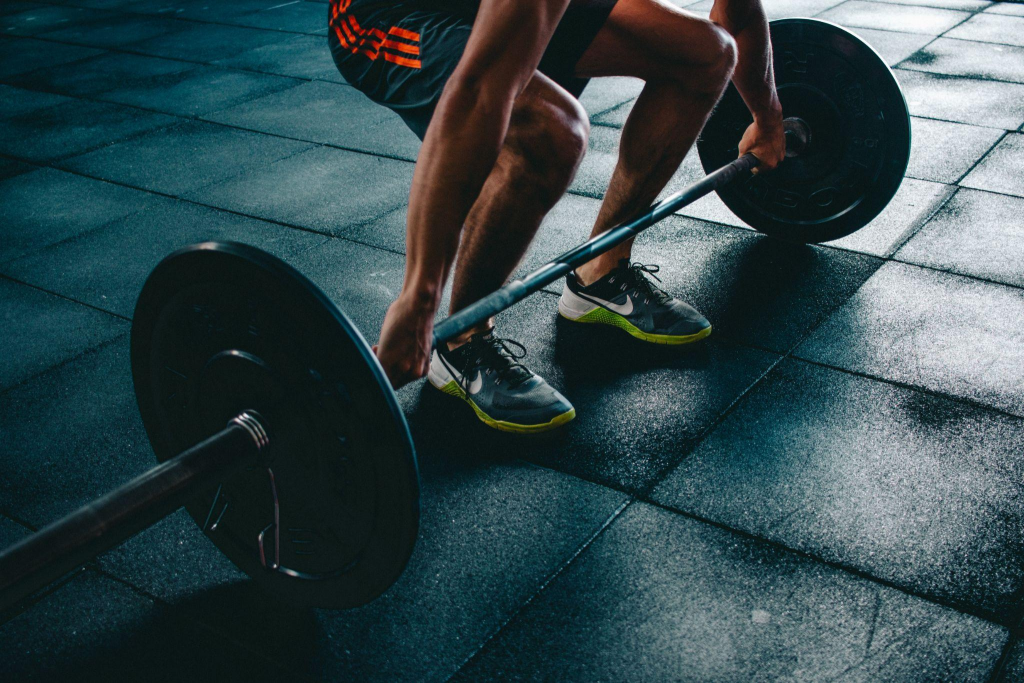 This keyword list is for people looking for information about workouts, fitness, and more. Assume that a large number of people are looking for blogs about a diet plan that complements their workout. You can use health keywords to target highly searched keywords that people use with research intent and provide relevant information.
While such an audience is unlikely to join your gym right away, it does increase your online presence and traffic to your website. This strategy also helps in creating hype around your business and effective word-of-mouth campaigns.
Create a Google Business Profile for Your Fitness Website
For fitness centers with a physical location, creating a Google Business Profile is essential. Having a physical location listed with Google Business Profile (Google My Business) will help your fitness organization improve its local SEO.
A GBP listing ensures that your local business appears in the Google Map Pack in the search engine. The Google Map Pack is a SERP feature that allows users to quickly identify the most relevant businesses that offer the services they are looking for. It also allows you to include photos, hours, fitness activities, contact information, and reviews, making it useful for purposes other than SEO.
However, simply creating a new GBP listing will not result in you ranking first for your local keywords. Here are a few best practices to help you maximize your SEO efforts:
Recommended Practices

Fill out all of the information fields: Fill out your Google Business Profile with as much information as possible, including your physical address, phone number, and category. The more information you provide, the easier it will be for Google to match your company with relevant keyword searches.
Verify Your Location: Verification is necessary to demonstrate that your business is located where you claim it is. A verified location boosts your chances of appearing in Google Search and Maps.
Update Your Business Hours: Ensure that the hours your company is open are correct and up to date. Include holiday hours as well as the approach. This increases the trustworthiness of your Google My Business listing.
Add Photos: Photos are another essential component for any fitness center. Uploading photos to your Google My Business listing helps potential clients and members see your studio, center, or gym and encourages them to visit.
Respond to Reviews: If someone leaves a review, make sure to respond to it right away, whether it is a good or bad review. This demonstrates to potential customers that you are present on the platform.
Optimize Your Fitness Website
Once you have compiled a list of keywords to target, the next step is to optimize your fitness website for those terms. The best way to accomplish this is to create separate pages for the keyword clusters you are focusing on. That way, you can optimize the content to rank for all relevant terms and capture the most traffic.
While there are approximately several areas in which a fitness website can be optimized for SEO, the five elements listed below are the best places to begin:
One of the most important SEO ranking factors is the meta title, also known as the page title. Meta titles inform Google about the content of the page and what appears in the search engine results page for your URL listing. As a result, keywords in this field are critical for higher rankings.
If your site has an SEO plugin, you can easily edit the meta page title to include your target keywords. All-in-One SEO, Yoast, and RankMath are all excellent choices for WordPress website owners. Through these plugins WordPress allows the flexibility to optimize your website with just a few clicks.
If you do not have such a plugin and forget to update the page title, Google will frequently pull the meta title from the H1 tag. In addition, the H1 tag is usually coded to be the title of the page or blog post. Because it has the most SEO weight, it is best to put your main keyword as the first piece of text in the meta title.
Another field that an SEO plugin can help you with is the meta description. Meta descriptions provide Google with a brief summary of the page's content. One thing to keep in mind is that Google may or may not use the meta description you provide. That's because Google tries to match the best content on the page for the search query, and if your meta description does not meet that need, Google will rewrite it for your listing.
However, this does not preclude you from attempting to optimize your meta descriptions for a fitness website. In fact, if you write a good description that meets the needs of the searcher while using SEO, it has a better chance of appearing on the search engine results page (SERP).
A simple fitness SEO tip is to include your main target keyword in the meta description as the first piece of text. Then, without repeating too many words, include as many secondary keywords as you can. Examine the meta descriptions for Google's top 5 rankings to get a good idea of what to include in your page's meta description. There should be a pattern in the type of information included.
Page URLs are the text strings that appear in the search bar and point to specific pages on a website. In addition, Google displays a portion of this URL in the SERPs. You should ideally insert keywords in the URL for an excellent SEO strategy.
So, without repeating words, include your main keyword and any secondary keywords in the URL. Also, in the URL, use dashes (-) rather than underscores ( ). Underscores are not recognised by Google as word separators, which can harm your fitness website's SEO.
The H1 to H6 tags are used to create web page headers. The H1 tag is usually the page's main title, as we briefly discussed in the meta page titles tip above. Copying the meta page title text into the H1 tag is a good rule of thumb here.
The H2 through H6 tags can also be optimized for SEO. Put your primary keyword in the first H2 tag on the page, and try to include at least one secondary keyword in at least one H2 tag as well. Keyword variations are permitted in H3 tags.
H4 to H6 tags can be ignored for SEO purposes because they do not have as much ranking power.
On a fitness website, the navigation menu can also be optimized for SEO purposes. It not only helps visitors navigate your site, but it also tells Google which pages are the most important and should be ranked first. Make sure that your most important pages are included in the main navigation menu.
In the menu item link anchor text, use an exact match phrase for the main keyword.
Local Citations
Local citations are a type of crosslinking in SEO that consists of directory listings with online profiles that include your fitness business's name, address, phone number, website URL, and other information. Anyone can create a local citation for their company, and many of these directories allow you to create a profile for free.
Local citations are important because they not only confirm the accuracy of your NAP information but also serve as authoritative backlinks. This is another reason why, even if you do not have a physical building for people to visit, you should include NAP information on your fitness website.
When it comes to SEO and fitness websites, the more relevant directories you can get listed in, the more Google will believe your company is genuine and authentic.
Here's a list of local citations for your Fitness website:
Also, Read
Improve Backlinks for Your Fitness Website
Backlinks are links from another website to yours and are important for SEO for fitness websites. These external websites are known as referring domains, and they should be authoritative, useful, and relevant to the content on that site. Back-linking is essentially a vote of confidence from that site to yours.
It allows visitors to your website to find additional information on related topics. Building your backlink profile by hand is a huge task that can take anywhere from 10 to 20 hours per week! The number of links is no longer as important as it once was.
The quality of the site from which the backlink is obtained has a greater impact on SEO. If you want to build a relationship with the Webmaster of that website, you should send a personal email rather than cold outreach that feels spammy. You can use Ubersuggest to find good sources of backlinks.
Simply enter a competitor's keyword instead of your own and select the Backlinks tab. Then you can focus your efforts on reaching out to websites you know are open to backlinking and collaboration on high-quality written content in the fitness industry. Your website must still be full of useful, relevant content for those websites to link to.
The SEO tips provided here can be applied to any type of fitness center, gym, studio, or online fitness website. So, feel free to use these SEO strategies to boost your online search engine visibility for all types of fitness topics. However, there are some SEO aspects that you can handle on your own. When you feel your online business needs a boost and are willing to make the investment, you can always hire an expert SEO agency to do the job for you.
Frequently Asked Questions
How do I promote my gym business online?
You can easily promote your gym business online by opting to increase visitors on your website with the help of SEO or PPC campaigns. While SEO could drive long-term growth for your business that will certainly result in getting new clientele, PPC is an excellent option if you are looking for a quick way to get new customers.
Why is local SEO important for fitness websites?
Fitness centers that need to promote their physical locations as much as their brand identity should always focus on local SEO. It will help customers making localized queries discover your business outlet. If you are unfamiliar with local SEO, consider opting for expert services from PageTraffic.
How do I market my fitness business without a website?
If your business does not have a website yet, you can follow the following optimization tips to market it online:
1. Do social media promotions
2. Build local listing on all relevant platforms
3. Consider SMS/email marketing