Are you an online advertiser looking to save your precious time and resources? If yes, Google's Responsive Display Ads can do wonders for you. With the help of the latest machine learning techniques, Google shows the best-performing combination by automatically analyzing multiple combinations of images, headlines, logos, and descriptions.
So, even if you've got limited time and resources, responsive display ads bring you a more convenient method to reach consumers throughout the Google Display Network. And as the GDN comprises more than 2 million apps, sites, and videos, the possibility of your ads capturing customers' attention can greatly increase.
What are some of the best practices to run Google Responsive Display Ads
In this post, we're going to discuss all the vital things related to responsive display paid ads together with the best practices for them. Here are a few best practices to follow:
Always adhere to Google Ads policies
Use at least 3-5 images
Follow the image aspect ratio
Use the right file type
Use high-quality HD images
Avoid overlaying of text and logo
Avoid Collages
An Introduction to Responsive Display Ads
Responsive display ads represent an improvement over Google's responsive ads that could automatically adjust the format, appearance, and size accordingly to any available ad space. Today, responsive display ads have become the default ad format for the GDN.
So, how does Google generate responsive display ads? By leveraging machine learning technology, Google automatically tests different inputs by advertisers to come up with the best-performing combination that gets displayed to the advertisers' audiences.
Below is an example of a responsive display ad.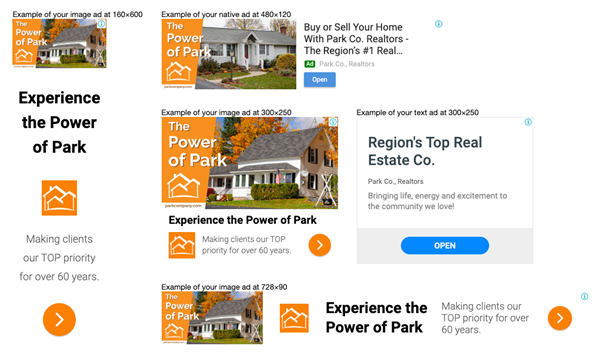 Image Credit: AdShark Marketing
When it comes to including video assets in your RDA campaign, you're allowed to choose a maximum of five videos, each up to thirty seconds in length.
You can analyze particular text, video, and image combinations to review their performance. You can also utilize the Ad Strength tool for responsive display ads. You'll get a comprehensive effectiveness score and suggestions on particular actions to increase your ad's strength from this tool.
What are Key Benefits of Using Responsive Search Ads
You can benefit from responsive search ads in the following ways:
Create adaptable ads that adjust according to audience behavior, giving you more space to communicate with potential buyers.
Allow Google Ads to offer the most relevant combinations to your customers by providing various headline and description options.
Create headlines and descriptions that are specific to your consumers' locales, whether they are typical sites or places of interest.
Multiple headline and description options allow your advertising to participate in more auctions and match more inquiries, allowing you to reach more prospective consumers.
Because responsive search advertising allows you to compete in more auctions, you can improve ad group performance by garnering additional clicks and conversions that your existing text ads are not catching.
Helps Maximize Your Reach
Responsive display ads automatically modify their format and size to suit ad placements throughout the web. Therefore, your responsive display ad can appear as a banner ad when seen on a website while getting displayed as a text ad when seen using a mobile app.
This automatic adjustment of format and size helps your ads achieve greater reach that may bring you more opportunities for conversions. When you serve ads throughout all formats, it opens a new world of opportunity that we couldn't access earlier.
Automatic Optimization of Your Inputs
With responsive display ads, you only need to give Google some inputs, and it'll automatically test multiple combinations to choose the best-performing ad. As revealed by the internal data of Google, on average, advertisers observe 10% increased conversions at a similar CPA having multiple inputs compared to one set of assets.
You can include a maximum of five headlines, five logos, five descriptions, and fifteen images in your inputs for a single responsive display ad.
Inclusion in Dynamic Remarketing
You can include responsive display ads in dynamic remarketing campaigns by connecting your feed. As mentioned on the support page of Google, these ads can get displayed in static and dynamic forms when you add the feed to the campaign.
Time Savings
With responsive display ads, you can forget handling multiple ads at ad group and campaign levels and conducting time-consuming A/B testing. All you can concentrate on is the performance of your ads.
Relatively Low Average Cost-Per-Click
When you add more headlines, logos, descriptions, and images, identifying which ad combination delivers the best performance becomes easier. You can also pinpoint ads that you need to revise, which helps to reinforce your PPC campaign. This may result in a lower average CPC (cost-per-click) and an improved conversion rate.
Monitoring of Performance of Every Asset
If you wish to get a clear comprehension of the individual performance of the assets, you only need to access the asset report available in Google Ads to view that data.
Follow these steps to view the performance of your assets:
Go to "Ads & Extensions"
Select "View asset details"
As shown in the below image, you'll see the performance of each asset in a "low" to "best" order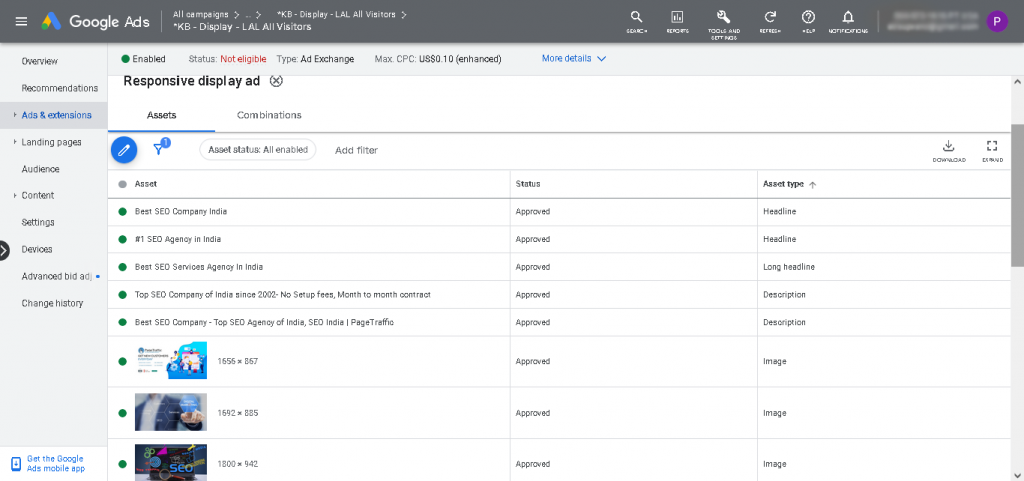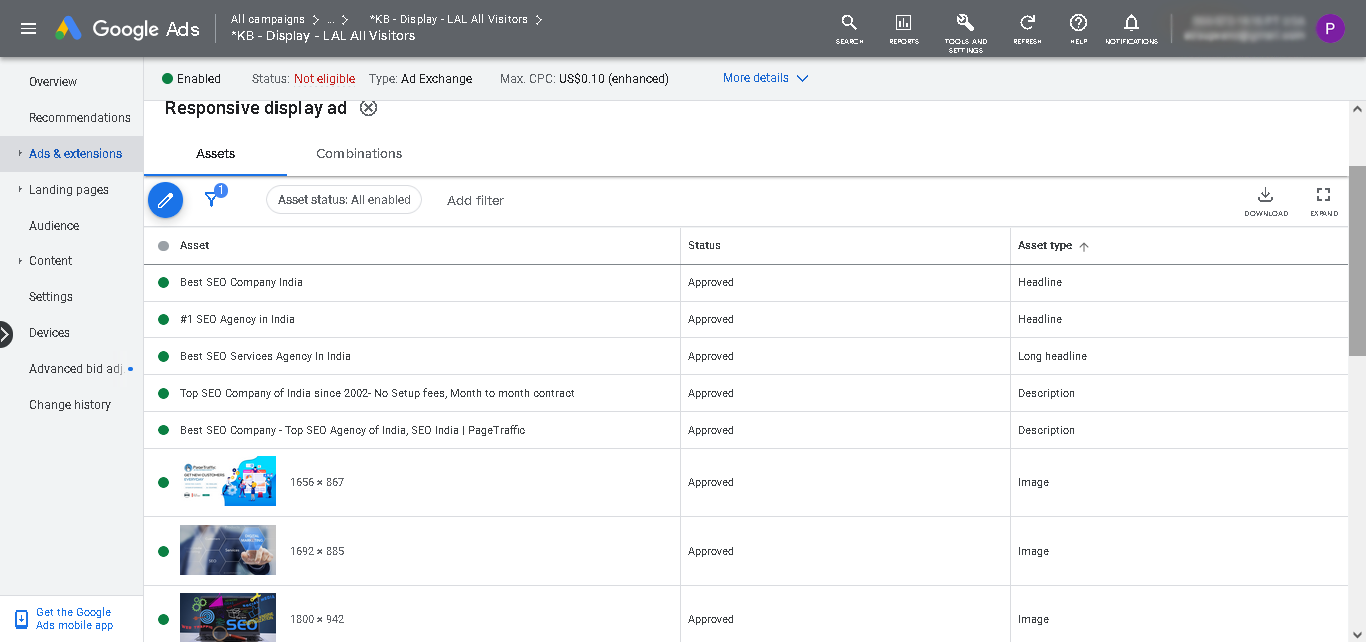 Also, Read
Best Practices for Responsive Display Ads
While the effectiveness of responsive display ads is truly amazing, you must ensure that the assets you provide at the beginning are appropriate and follow the right guidelines.
Here, we've jotted down the best practices for responsive display ads that'll help you get the most out of them.
Follow Google Ads Policies
Adhering to Google Ads Policies is a must when creating responsive display ads. Although it's a boring piece of content, reading it helps to ensure that your ads will be displayed on the GDN.
Consider Aspect Ratios for Logos
Google's requirements for logos are different from those for images. You must size your logos to any of the following:
1:1 (square)
4:1 (landscape)
If you want to upload just one version of the logo, you should go with a 1:1 logo. At the least, square logos can have a size of 128×128, and landscape logos may have a size of 512×128. However, it's recommended that your logos should be sized to either 1200×1200 (for square) or 1200×300 (for landscape) to make sure they're displayed at the best quality.
Try To Upload Transparent Logos
When you upload your logo with a transparent background, it gives Google maximum flexibility while ensuring they look good as much as they can throughout all configurations. While you can also use white backgrounds, stay away from anything else, such as colored backgrounds.
Upload a Minimum of 3-5 Images
Although you can add up to fifteen images, responsive display ads need at least two of them. Ideally, you should add as many assets as you can to help Google create the best combination. But if that isn't possible, be sure to upload at least three to five images.
Consider Aspect Ratios for Images
You can use the following aspect ratios for your image assets:
1:1 (square)
91:1 (landscape)
Remember that one of the images has to have a 1.91:1 aspect ratio. The aspect ratios of the rest of the images can be either of the two. It's important to note that square and landscape images must have minimum sizes of 300×300 and 600×314, respectively. Google will resize the images to fit specific ad sizes after you upload them.
Upload Highest Quality Images
Images play the most vital role in responsive display ads, and hence, they need to be displayed in the possibly highest quality. So, ensure the images are as clear as they can. Strictly avoid images that are saturated, washed out, or utilizing a low opacity.
Choose Appropriate File Type for Logos and Images
Ensure that your logo and image assets are uploaded in one of these formats:
JPG
GIF (without animation)
PNG
So, you cannot use PDFs, TIFFs, BMPs, animated GIFs, or any other kind of format that you can think of.
Avoid Overlaying Text
Don't overlay text on an image's top. Layouts will change when Google automatically combines assets. Therefore, you don't know precisely the way your text will appear, and the messaging may become repetitive when placed alongside the headline and description. However, you can use text that's naturally integrated or embedded in an image. In that case, no more than 20% of your display asset should be text.
Avoid Overlaying Logo
Avoid overlaying a logo on an image's top. This may trigger visual confusion and repetition because Google, in some ad layouts, will automatically overlay the logo asset over your other image assets. However, if you've got an image where your logo is naturally integrated into it, you can utilize it.
Upload Images around Products and Services
Your products and services should be the key focus of your assets. As a general rule, an image shouldn't have more than 80% of blank space.
Don't Use Generic Messaging
You need to use simple, clear, and compelling text to describe your brand, product, or service when creating headlines and descriptions. Descriptions appear with an eighty-character limit, so be sure to craft a complete message within it.
Be Clear With Your Ads
When creating headlines and descriptions, try to specify as much useful information as you can. When your audience gets clear information about what you're offering, it's more likely to click the ad. Try to insert promo codes, pricing information, and use terms like "discount," "coupon," and "special offer" when appropriate.
Make Your Landing Page Match the Ad Text
Apart from providing Google with the assets mentioned above, you'll need to share the URL of a landing page that the ad can point to. Make sure that the copy and CTA of the landing page match your ad text.
Creating a Responsive Display Ad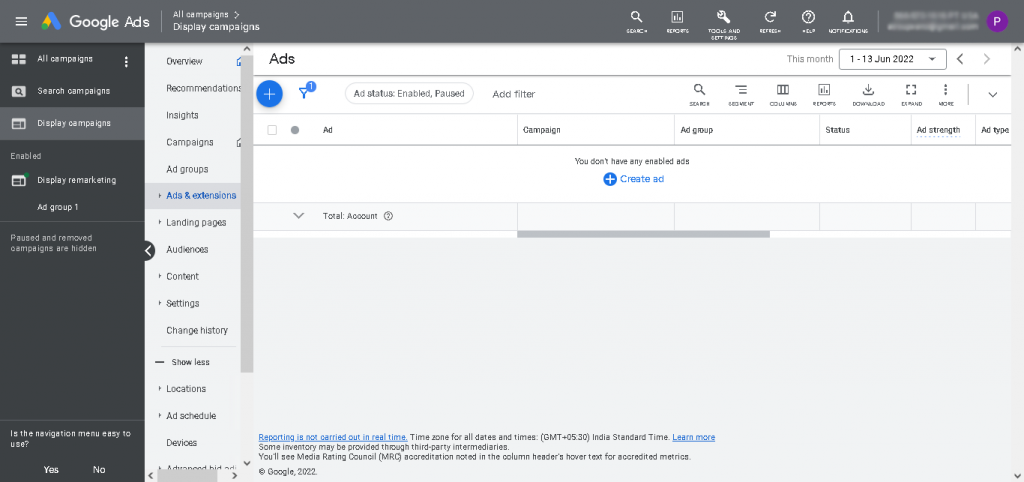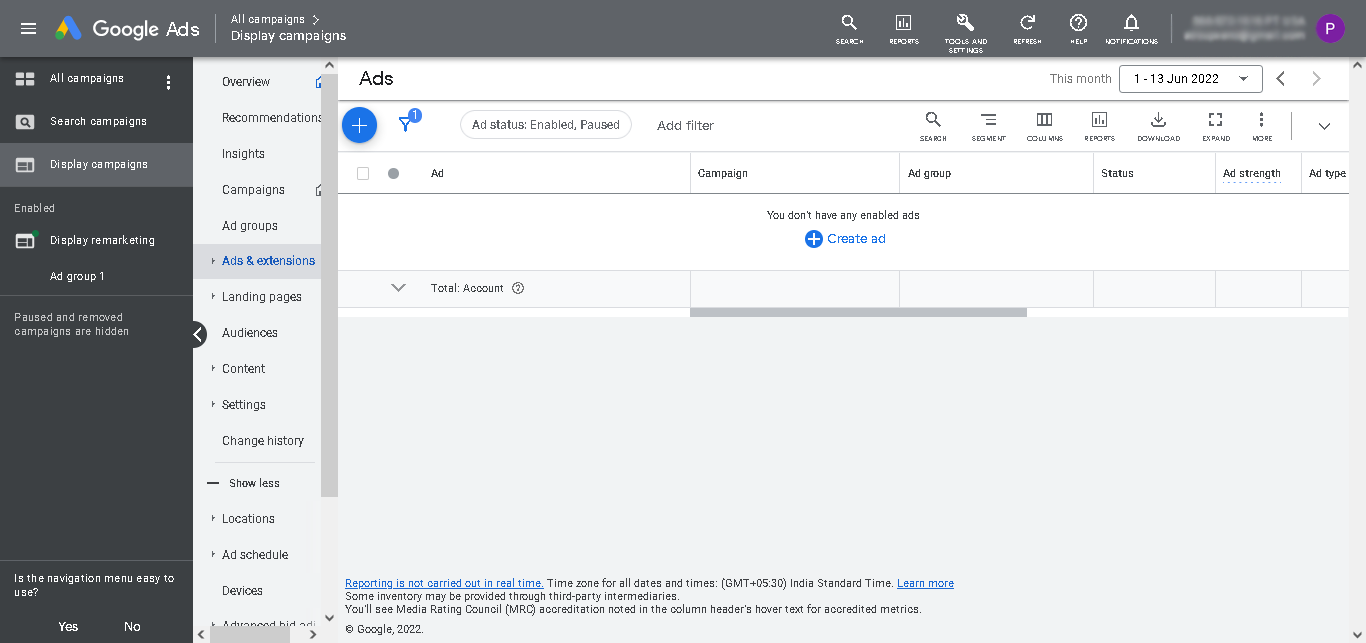 Follow these steps to create your responsive display ads.
Go to Google Ads and log in
Select "Display Campaigns" available on the left panel
Click "Ads & Extensions"
Click the "plus button" colored in blue
Select "Responsive display ad"
Choose an ad group (if you wish to let the RDAs support dynamic remarketing, ensure your campaign or ad group is connected to a feed)
Upload the "logos" and "images"
Insert "headlines" and "descriptions"
"Preview" and "save"
The approval for your responsive display ad may take a week to arrive, after which you'll be able to review its performance.
Parting Thoughts
The GDN reaches more than 90% of global Internet users, so you can tap into that massive network by creating effective responsive display ads. Just remember that the performance of your RDA is dependent on your inputs. Therefore, make it a point to follow the best practices we discussed above when giving the inputs to Google.
Frequently Asked Questions
What are the advantages of responsive display ads?
Responsive display ads are important to reach out to customers with ads that are fit for consumption on any screen size.
How are display ads and responsive display ads different?
The main difference lies in the versatility of responsive display ads. Responsive display ads adjust their size and format to fit into available screen sizes. Display ads on the other hand are of only a single size.
How are responsive display ads automated?
Responsive display ads use machine learning to create advertiser's assets, based on the assets that have performed well earlier. These ads then use a machine learning model to determine the optimal assets for the available ad slots using predictions based on performance history.