Are you a marketer looking to take your business online? Building an ecommerce website can be a daunting process, but with the right guidance and strategy it doesn't have to be. This blog post explores the essential steps to constructing a successful online store. Keep reading to know how to build an ecommerce website from scratch that looks good, functions well, attracts customers, and drives sales.
The process of building and running an eCommerce website might be a little tedious. Even though professional ecommerce website design services are required, having a fair knowledge of the subject will definitely help. This post will help you focus your efforts and walk you through the important steps in building an eCommerce website, whether you are an entrepreneur starting your first online business or a business owner creating an eCommerce site to reach more people.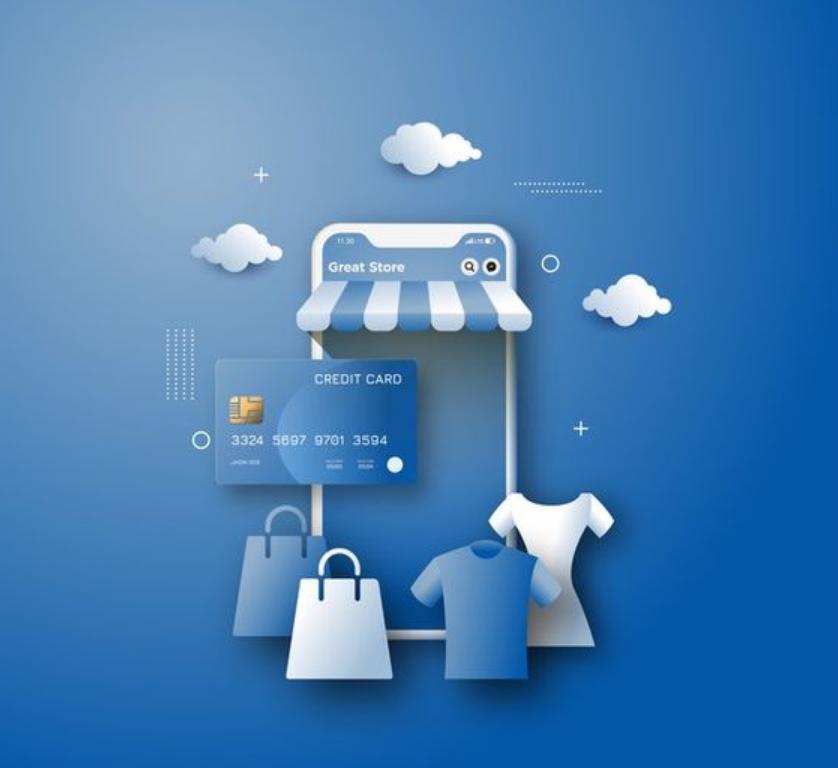 What is an eCommerce Website?
The buying and selling of services and goods, as well as the transfer of funds over the internet, is known as electronic commerce. E-commerce websites are online portals that use the Internet to transfer information and money to facilitate online sales of goods and services. Emails and phone calls were used in part to conduct e-commerce in the early days. Everything a transaction requires can now be carried out online with a single website. Business to business (B2B), business to consumer (B2C), consumer to consumer, and consumer to business are all examples of these business transactions.
E-business and e-commerce are frequently used interchangeably. The transactional steps involved in online retail shopping are also sometimes referred to as "e-tail". The extensive use of e-commerce platforms like Amazon and eBay over the past two decades has contributed significantly to the substantial expansion of online retail. eCommerce has accounted for 19.7% of retail sales by 2022, when the COVID-19 pandemic began.
Also Read: 13 eCommerce SEO Best Practices for Your Online Business
Branding your business is the first thing you should do when starting a new online or offline business or building an eCommerce website from scratch. To strengthen your brand, you need a business name, a logo, color scheme, typeface, and anything else you can think of that can be used repeatedly. The first thing you have to do for your eCommerce site is secure a domain name after you have determined the fundamentals of your brand. Your company's name should ideally serve as your domain name. Users will find it easier to use this.
You might have trouble finding a name for your domain if your company name is too generic. If you are unable to secure a domain name that is consistent with the name of your company, it might be a good idea to start over and come up with a new name for your business. When you first start building an eCommerce website, one more important thing to think about is what kind of products your online store will sell. In an ideal world, you would sell products that people want, but you need to be careful because there will be more competition for popular products.
Researching the products that have the most interest for your company while also having the least amount of competition is an essential part of starting an eCommerce business. You will have a ready audience ready to interact with your online store if you can identify a specific retail niche. Finally, you need to consider the business model that your eCommerce website will employ. Will your eCommerce website serve as a marketplace, an online store for businesses to sell to consumers, or both? Be sure to give some serious consideration to the kind of business you want your eCommerce website to be because the business model you choose will have an impact on some of the other choices you will make in the future.
How to Build an eCommerce Website – Steps to Follow
It is not necessary for creating an online store to be overly complicated or time-consuming. To start from scratch with your e-commerce site, follow the steps below:
There are probably a number of different eCommerce websites that sell a variety of products. Some websites specialize in selling a specific line of goods or services, like clothing, travel plans, fashion items, etc. Additionally, a number of other eCommerce websites offer a wide range of products, including sports goods, mobile phones, laptops, household appliances, books, CDs, home theaters, handy cams, and more. The latter is comparable to a massive department store that offers everything under one roof.
Therefore, choosing the product or service that you want to sell on your website is crucial at the outset. It is essential to estimate the local demand prior to selecting the item of trade. Regardless of whether they shop online or offline, consumers would always prefer to purchase items from a local vendor. In the event of incorrect or defective shipments, the local supplier would always guarantee faster deliveries, simpler payment terms, and prompt replacements.
As the owner of an eCommerce company, you can select your business model based on your needs. You can sell only through your online store or through marketplaces like Amazon, Flipkart, eBay, and others. Additionally, you can simultaneously sell your products on both platforms.
After settling on your product range and business model, the next step would be to select a business name and establish a domain. A good business name should be easy for your target audience to remember and relevant to your products. A domain gives you a name and makes it easier for people to find you online. However, acquiring a shared domain would be ideal for businesses with limited financial resources. Reaching your ideal customers is made easier by sharing a domain with a well-known brand. A dedicated domain would be prudent as the company expands because it facilitates recognition and aids in search engine optimization.
Design Your eCommerce Store
Your store's eCommerce website needs to be designed so that customers can use it more easily. Information about your products and services that can be sold should be included on your website. Your website should have pictures, descriptions, prices, user ratings, comments, and ratings to help buyers figure things out. To ensure that customers are not misled, you must ensure that your website perfectly showcases your products. Your website is your brand's online representation, so you need to make it look good.
Add Product Photos and Descriptions
A successful online store relies heavily on product images and descriptions. Your online customers won't be able to see, feel, or try your products before making a purchase. Utilize high-resolution images and in-depth descriptions to as closely as possible replicate this experience. Include weight, dimensions, and special features, and display multiple photos from a variety of angles. Video demonstrations and tutorials are also available.
Also, remember to use keywords from search engine optimization in the titles and descriptions of your products to help potential customers locate them. Clearly demonstrate the value and appeal of your products. Your product images and descriptions need to stand out and entice customers to buy.
Even though your homepage is the star of the show, you still need to create supporting pages. These pages include Terms and Conditions, Contact Us, About Us and Shipping and Returns. You might also want to include a blog, a sizing guide for shoes or clothing, media mentions, or a page with frequently asked questions. Include your URL and meta description on every page you create. Data that is written well and uses your brand's voice helps you connect with your audience and can increase conversions. In addition, answering questions and concerns from customers reduces the number of calls and emails from customer service and increases trust in your products.
Clicking Add Page in your dashboard is all it takes to add pages in most site builders. You should then be guided through the process of adding media and text by an intuitive content editor. Start with Terms & Conditions, FAQs, or other similar, less intimidating page types if you are unsure where to begin. Look at product pages from other online stores for ideas and inspiration.
As an online business, you must provide customers with multiple payment options. Many ecommerce builders include tools for automatically setting up these features for your website. Payments can be made by credit card, debit card, net banking, COD, etc., by the customer.
Also Read: Shop Pay Reviews: What is Shop Pay and How Does It Work?
For all websites that transmit data online, a Secured Security Layer (SSL) Certificate is Required. The SSL certificate ensures the safety of your website and builds customer trust. Today, even Google recommends that every website have an SSL certificate.
Choose Your Shipping Partner
Once you start selling products on your eCommerce website, you will need to use courier services to get those products to your customers. In order for you to maximize your share's profit value, find a partner who provides you with multiple courier agency options for shipping your product at the lowest possible shipping costs.
Checklist to Consider for Your eCommerce Website
You need products before you can build an eCommerce website. Since your eCommerce website is just getting started, you probably won't have product reviews right away. However, adding product reviews to your product pages is crucial whenever possible. This lets your customers see what other people think of your products and helps build trust with them. Multiple images of the product you are selling should be included. Customers can get a sense of what you're selling as well as its condition and scale by capturing the product from multiple angles. A big part of creating a great UX is using high-quality product images.
A comprehensive product description is also required for each and every one of your products. Customers need to read these descriptions, but search engine optimization (SEO) relies heavily on them as well. The most important part of your eCommerce website will be your product pages. After all, these are the pages that will ultimately result in sales and conversions. Take the time to make your product pages as comprehensive as you can. Your customers will feel more at ease when they make a purchase if they have access to more information.
The most crucial aspect of your eCommerce website is the User Experience, not just the product pages. You will find it hard to make sales and keep customers if they have trouble using your website. Additionally, eCommerce faces a lot of competition. You can be sure that your customers will look for an alternative eCommerce site with a better user experience if your website has a bad user experience. Take your time when designing the User Interface elements that will make up your website's overall user experience. Not only should your eCommerce website work as expected, but it should also look good and offer a user-friendly interface as well.
Customers are more likely to return and first-time visitors are more likely to become regulars on eCommerce websites that offer a streamlined user experience. Naturally, if a buyer is motivated, nothing will stop them from purchasing, but you cannot rely solely on motivation to generate sales for your eCommerce company. When building an eCommerce website from scratch, the user experience must be your top priority. If you don't want to spend time and money on creating a seamless user experience, you should probably just use a website builder. The advantage of custom development is that you can make experiences that are only one of a kind.
You must decide how your eCommerce website will handle payments before you can proceed with the product launch. You will need to use a payment gateway, but you can choose from many different options. Your eCommerce company's sales volume, processing costs, and other factors will all play a role in determining the best payment gateway. To find the best payment gateway provider for your business, take your time and investigate. Ensure that security is taken into account throughout this procedure as well. Customers' private financial information should never be compromised or lost for your business. This could cost you future sales and do serious damage to your brand's reputation.
Shipping is an important part of eCommerce. Your customers will come from all over the world as a result of the fact that your company operates online. You need to figure out how and for how much you'll ship your products, as well as whether or not you'll charge your customers for shipping. Many people who shop online come to expect free shipping. In fact, they are more likely to buy if you provide free shipping. You can include the cost of shipping in the product's price is one way to provide free shipping. Shipping wouldn't be free in this situation, but the customer will think so. The other option is to pay for your own shipping. Customers can also choose from premium shipping options like overnight or two-day shipping on many eCommerce websites. You must decide whether you will only offer standard shipping or whether you will also provide these options.
Your policies are an important consideration when building an eCommerce website. Will you, for instance, accept returns? If a product breaks during shipping, what happens? An eCommerce business can experience a variety of challenges. Being completely digital makes it harder to deal with some of these problems, but if you write clear policies, it will be easier to fix problems when they happen. Customer service should be taken into consideration at this point. It might be a good idea to hire support staff to deal with issues from customers. This will be determined by the volume of your sales and customer inquiries. Keep in mind that ignoring customers or taking a long time to resolve their issues will result in a negative customer experience and probably cause them to leave your eCommerce company in the future.
Best Practices for Building an eCommerce Website
Design Your Marketing Strategy
Setting the course not only for your marketing-related activities but also for your entire business requires developing and adhering to a marketing strategy. Your marketing strategy helps you stay in touch with your customers, create products that are right for them, and figure out how to share product information. You won't be able to find who your customers are, you won't make the right products, and you won't spend money promoting them if you don't have a clear strategy. In a nutshell, having a clearly defined marketing strategy increases success. Let us look at some of the marketing strategies you can follow for your business.
Search Engine Optimization
Optimizing your digital properties for a specific location is the goal of SEO. This makes it easier for people to find you quickly and easily, bringing them one step closer to making a purchase. SEO optimizations establish a viable medium for a brand's local messaging by focusing on specific neighborhoods, towns, cities, regions, and even states. You will receive more relevant traffic if your website is optimized to target keywords, the terms your ideal customers and visitors are searching for. SEO helps your website rank higher. A higher Google ranking immediately increases your company's credibility.
Content marketing is important because it helps you answer questions from your audience, establish relationships, increase conversions, and generate leads, as well as helps you build trust. Customers today expect consistent, high-quality content from their favorite brands. Your company can strengthen its connection to its target audience by producing content. You can interact with customers and answer their questions. Your audience will trust your advice and recommendations when you provide value for nothing in return. Leads can also be generated through content marketing. Your audience is more likely to make a purchase from you in the future if they view your content. Your sales team can also get new leads from calls-to-action (CTAs) embedded in your content.
Also Read: Best way to handle duplicate content in ecommerce site
Paid ads can help you reach a large number of people and position yourself in any location you want to be seen. Paid ads work best when combined with inbound marketing. Paid advertisements can be shared in a variety of places, including sponsored content, landing pages, banners, and social media. You have full control over how much you are willing to spend on PPC advertising campaigns.
You will get your money's worth because you only pay when visitors click the link to your website or landing page, which has a high conversion rate. Within hours of starting your campaign, you can rocket to the top of the SERPs with optimized PPC ads. PPC ads offer additional targeting options, such as past online activity or demographics, in addition to keywords. The creation of retargeting campaigns aimed at visitors who did not make a purchase after visiting your website is yet another excellent application of PPC ads.
Social media marketing makes use of popular social media networks to help you achieve your branding and marketing objectives. But it's not enough to just set up business accounts and post whenever you want. Social media marketing necessitates an adaptable plan with measurable objectives that include optimizing and keeping up with your profiles, putting up images, videos, stories, and live videos that show off your brand and reach people who are interested, and monitoring your reputation and responding to comments, shares, and likes. Build a community around your brand by engaging with followers, customers, and influencers.
The advantage of email marketing is that you can tailor your content to the needs of your audience. In order to get you more engaged, your emails may include different images or subject lines. You can even segment lists by geography or level of engagement. You need to send the right email to the right people at the right time to have a successful email marketing strategy. Personalization and segmentation can assist in this regard. Email marketing campaigns must feature products or services, entice customers to make a purchase after they have already added them to their cart, or send them special offers. Your email marketing campaigns can easily include messages to encourage a purchase from an audience that has opted in to receive updates and messages from you.
You can increase revenue and establish direct customer relationships by incorporating push messaging into your marketing strategy. Push notifications come with a plethora of advantages. They improve the user experience, drive user retention, keep users engaged, and increase open rates. Consider the overwhelming number of messages that the average person receives each day. Advertising on television, radio, billboards, social media, email, and other platforms never ceases to pique our interest. The majority of those messages do not particularly interest us. However, push messages differ. A mobile application has already piqued interest from users. Push notifications are highly actionable due to this interest.
Finding the Right eCommerce Platform
Finally, you are prepared to construct a website after conducting research and developing a strategy for attracting visitors. To build your online store, you can choose from a variety of ecommerce platforms based on your business's goals and size. There are four choices available to you.
You are able to customize your online store in the way that you want with online store management systems like Magento and OpenCart. However, tech wizards who are accustomed to coding would be better suited for them.
BigCommerce is a dedicated eCommerce platform that lets you scale your store and sell across multiple channels from a single dashboard.
SaaS eCommerce platforms like BigCommerce and Shopify are made for online stores and offer a plethora of options. Builtwith's popularity chart places Shopify second. It has advanced marketing and analytics features, over 70 storefront themes, and more.
WooCommerce is a free WordPress plugin that includes all of the tools you need to shop online. You can select payment and shipping options, create dynamic pricing, payment, and membership rules, and add product pages.
Although Squarespace and Wix aren't entirely focused on eCommerce, they do offer eCommerce themes and tools for selling goods and services.
eCommerce Website Features
Below is a list of features that need to be checked to make your site look good and perform well.
Home page
Log in/Sign up button
Push notifications opt-in prompt
Free shipping & Returns information
Loyalty program information
CTA to nudge people to important pages
Featured products block
Recommended products block
Links to About pages
FAQ, information about returns, shipping options, etc.
Contact information
Terms & Conditions
Privacy policy
Live chat
Newsletter sign up
Social media icons
Payment system icons
Secure HTTPS connection
Business logo
Clear UX with a navigation menu
Search bar
Phone number
Shopping cart button
Category page
Page colors
Navigation bars
Feature banners
Featured items/top categories
Category images
Descriptions
Breadcrumb navigation
Product filtering and sorting
Product page
Add to cart button
Return/free shipping information
Social share buttons
Product description
Customer reviews
Related products
Product title and description
Images with zoom-in functionality
Pricing and discounts
Product variables
Option to change the quantity of product
Checkout page
Billing address field
Shipping method
Payment details & methods
Field for a promo code
Cart details with a final price
Back-end features
Content management
Customer management
Store management
SEO management
Email marketing integration
Push notifications integration
Discount management
Payment management
Order & Shipping management
Make sure your product is needed and how much online traffic you can attract before you start a website. Make a list of your website's keywords. This can be accomplished with the help of Google Keyword Planner and Trends. Look at the websites of your rivals. Calculate the number of users they get from paid ads and Google searches. You can determine whether your product is in demand by estimating traffic and planning keywords. Additionally, it will assist you in designing your website in accordance with your keyword list. It would be preferable to develop a landing page if you only have a few keywords. You will need to assign a large number of keywords to various product and category pages.
Steps to Implement eCommerce to Your WordPress Website
To make your WordPress website an eCommerce site, you must install the WooCommerce plugin.
Step 1: Utilize the WooCommerce SetupWizard's instructions to download the plugin.
Step 2: You'll need to choose a theme, add extensions like Booking and Shipping, add information about the store and industry, and shipping and payment options.
Step 3: You can either add the most well-liked extensions or browse the Woocommerce marketplace's entire collection.
Step 4: The General, Shipping, and Payments tabs can be edited and updated once the plugin has been installed.
Step 5: Just like you add new posts in WordPress, you can add products. You'll also need to add images, prices, and product descriptions.
If you sell a lot of products, creating product categories will make it easier for customers to find what they're looking for. Sort them according to the qualities you think are most important, like their purpose or size.
Building eCommerce Website on Your Own Vs Doing it With a Website Builder
To put it simply, a brand-new website is custom-coded from top to bottom. An alternative is a website builder, which lets people who don't know much about technology make attractive websites without having to learn how to code. Hosting, domain routing, and DNS are just a few of the technical back-end services offered by website builders. You must set up and maintain your own server if you build a website from scratch. Providing your own security, pointing your domain name, email, and other web services at one another, and fixing your server if it breaks are all part of this.
Other useful services offered by website builders like Shopify include the integration of payment gateways, APIs, plugins, and a website that has already been optimized for eCommerce. When you start from scratch with an eCommerce website, you'll have to keep track of all of those things on your own. However, the APIs and plugin tools you can use may be restricted based on the website builder you select. When you start from scratch, you are responsible for more security and maintenance, but you also have a lot more freedom to select the tools you want.
Because there were not many customizable front-end options included in website builders, custom-coded websites looked much better in the past than websites built with a builder. Nowadays, most website builders let you use custom themes to completely customize the front end or look of your website without having to set up the server or code the back end yourself. Although there are many benefits to using a website builder, it might be more practical for you to start from scratch with your eCommerce website.
If you want to use APIs and other tools that aren't available on a website builder, if your checkout process is different from standard, if you want to choose a payment gateway with better terms for your business, or if you want complete control over your website's design and functionality, you should think about a completely custom build. It is essential to keep in mind that some website builders may impose commission fees or even impose limits on the number of products you can upload or list at once. Check to see that you are familiar with all of the terms and conditions before using a website builder if you do decide to use one.
Final Thoughts
Entrepreneurs have access to an infinite number of opportunities when starting an online business. When building an eCommerce website, you need to take into account the fact that there is a lot of competition. To launch an eCommerce business with success, you'll need to do a lot of things. Talk to a website development partner if you need help designing a great user experience, selecting the right payment gateway, or anything else. Your eCommerce website may benefit from their technical expertise and industry experience. There are a lot of businesses that can help you if you need professional assistance.
FAQs
Can I build an eCommerce website from scratch on my own?
Yes, you can build an eCommerce website on your own by following the above steps and best practices.
Are eCommerce websites free to build?
eCommerce websites are free to build but there will be the costs for buying a domain, payment processing fees, web hosting and other extensions.
Which is the best ecommerce website builder?
Shopify, BigCommerce, WooCommerce are some of the best ecommerce website builders available in the market.