In Snapchat, you can share photos and videos with your friends for a limited time before they disappear. But did you know that you can also make your profile public so anyone can see it? In this post, we'll show you how to make public profile on Snapchat. Keep in mind that if you decide to make your profile public, anyone who views it will be able to see everything you've shared on Snapchat, including snaps that are meant for your friends only.
Snapchat is dedicated to allowing you to stay connected with friends, so strangers cannot find you and the majority of the content you create is only accessible to people you are already friends with. You can, however, create a public Snapchat profile if you prefer. This makes it easier for other Shapchatters to find you and share your content.
It is also a great way to gain followers and share content. This way you can develop a niche oriented audience and make a business out of it. If you do not have experience doing this part, opting for a social media marketing package could be a great idea.
This will have several advantages for you, with so many trends and Snapchat updates coming every week, it is tough to stay on top of everything, a professionally managed account would ease your hassle. You could know everything from the meaning of yellow heart emoji to earning from your Snapchat in just a few clicks.
What is a Snapchat Public Profile?
Snapchat's public profile is a new setting in the social media app that lets other Snapchat users find you through the app's search and browse tools, or when your Snaps appear in the Spotlight. You can also share your public profile on other social media platforms, allowing you to grow your Snapchat following by leveraging your fans on other sites.
When you make your Snapchat account public, your stories and other content will be discoverable by all other Snapchatters, whether or not you are friends. You also have a new way for people to interact with you — rather than becoming friends with you, other users can subscribe to your account. You'll also be able to share content with friends without it being visible to subscribers.
Requirements For Creating A Public Profile On Snapchat
On Snapchat, almost anyone can create a public profile. There are only a few rules and restrictions:
You must be at least 18 years old.
Your account must be at least 24 hours old and not brand new.
You must have at least one friend who has also added you as a friend.
There must be no violations of Snapchat's community guidelines.
Furthermore, Snapchat has not yet launched public profiles in every country, so if you do not see the option despite meeting the eligibility criteria, you may live in a region that does not support the feature.
Also, Read: How to Unlock My Snapchat Account – Temporarily Locked or Hacked
What Are the Advantages of Having a Public Profile?
A public profile will include the following information in addition to making your profile visible to a larger audience:
A bio
Your company's location
Your company's nature
A subscription option
A web address
On a public profile, you can also include the following content:
Publicized incidents
Highlights from your most memorable photos, videos, and stories
Shopping links to your ecommerce store from Snapchat Lenses that you've created
It is also possible to separate your friend's list from the list of people who are subscribed to your public profile so that you don't get them mixed up. You can also access statistics about the reach of your content, the demographics of the people that watch it, the number of views and view time, and even which age range your public profile is most popular with.
How to Make Public Profile on Snapchat
With a few clicks, you can create your public profile directly from your phone. After you have set it up, you can edit it to make it more appealing to potential subscribers.
Step 1: Open the Snapchat app on your mobile phone.
Step 2: Click on your profile icon present at the top left corner.
Step 3: You will find a 'Create Public Profile' button in the public profile section, click on it and tap on Continue on the next screen.
Step 4: Tap on getting Started, then tap on Create to make your public profile on Snapchat.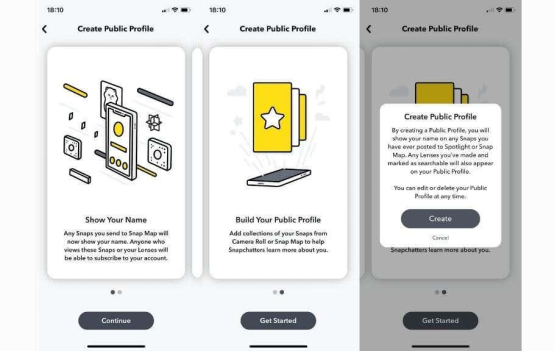 Step 5: On public profiles, tap on My Public Profile, then tap on Edit profile to fill in all necessary data.
That's all. You have successfully made your profile public on Snapchat. Now you will have a chance to interact with a wider audience.
How to Make Public Profile on Snapchat for Business?
Businesses can create public Snapchat profiles to promote their products and reach out to their target audiences. You can instantly connect with your customers and provide useful content that your target audiences may be interested in. A Snapchat business profile is where users can find saved stories and published lenses.
Furthermore, businesses can include Shopify links from which customers can make purchases. A business account created through Snapchat Ads should already exist in order to create a business public profile. Furthermore, only organization administrators are permitted to create public profiles for businesses. Here are the steps to take.
Step 1: Log into your Snapchat Ads Manager platform.
Step 2: Click on the Menu icon and select the Public Profiles option.
Step 3: You will be prompted to either link an existing business account or create a new business account. If you already have one, select Connect To Business.
Step 4: Prepare your Snapchat public profile by filling out the Profile Details page with your brand name, brand icon, address, contact information, and other information.
Step 5: Finally, select the Create Public Profile option. Your business Snapchat public profile should be made public immediately.
How to Edit Your Public Profile On Snapchat?
Editing a public profile on Snapchat is easy as you only need to perform a few clicks to do so. Follow these easy steps to edit your profile on Snapchat:
Step 1: Launch the Snapchat app and tap on 'My profile.'
Step 2: Tap on Public profile and then tap on Public Profile Card.
Step 3: Tap on Edit Profile to make necessary changes.
Step 4: When you are done, save the changes.
To check whether the changes have come into effect or not, we recommend you try posting some content and then visit your profile section to verify the changes. Snapchat profiles often take some time to refresh and posting content does so instantly.
How to Delete Your Public Profile On Snapchat?
There are times when you would not want to carry the operations with your Snapchat public profile and would want to delete it. If you no longer wish to make your profile public on Snapchat, you have the option to delete it so that you only remain with your private profile.
Here is how to do that:
Step 1: Launch the Snapchat app on your device.
Step 2: Tap on the Gear icon at the top right corner of the screen.
Step 3: Tap on Profile Settings.
Step 4: At the bottom of the page, tap on Delete Public Profile.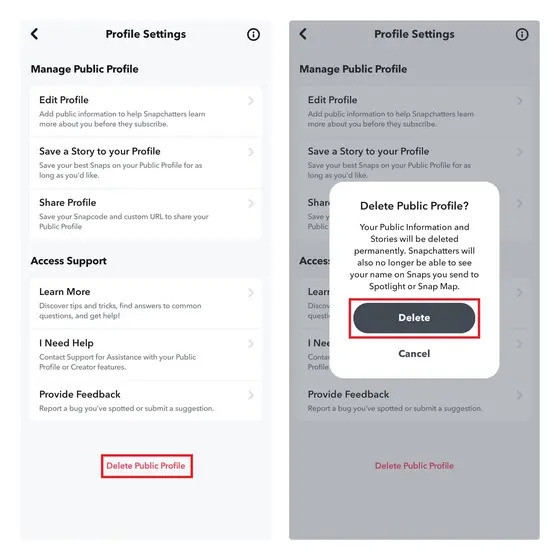 Step 5: On the next screen prompt, confirm your choice to delete the public profile.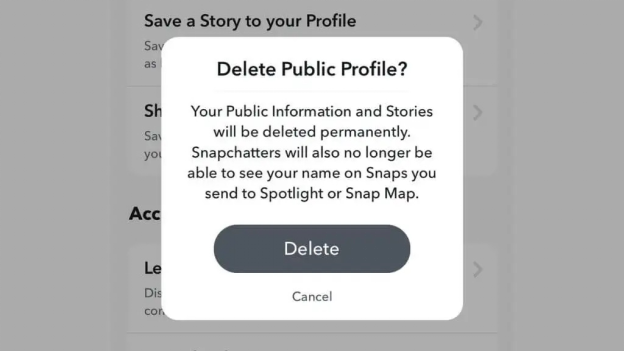 Once you perform these steps, your public profile will be deleted from Snapchat. You can create a new public profile whenever you feel ready to do so.
How to Make Subscriber Count Visible On Snapchat Public Profile?
Now that you have a public profile on Snapchat it is time to do a little bit of fine-tuning. You can make the subscriber count visible to the public. This will ensure that your subscribers can see how popular you are and will attract new views and attention towards your work.
Let's see how to make your subscriber count visible on your public profile. Here are the steps:
Step 1: Launch Snapchat on your device and tap on the story icon.
Step 2: Tap on My Profile and open Public Profile Setting, then tap on Edit profile.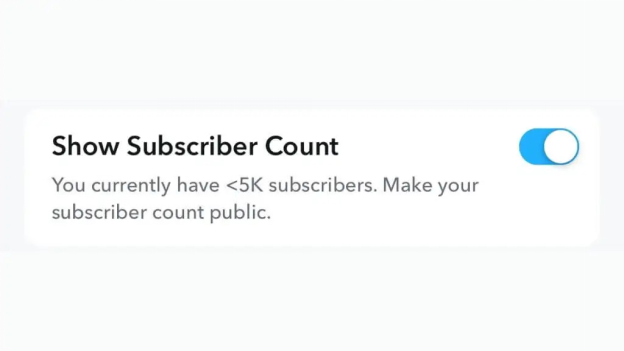 Step 3: At the bottom of Public Profile Management, click the Show Subscriber Count.
This is all. Your subscriber count will now be visible to the public. Anyone who visits your Snapchat public profile will be able to see the number of subscribers you have.
Converting your Snapchat account to a public profile comes with its own set of advantages, including increased discoverability and engagement. If you were having trouble figuring out how to make your Snapchat account public, we hope this article was helpful. If you are new to Snapchat and wish success with your personal or business account, we recommend you try PageTraffic's social media management service.
Frequently Asked Questions
Can you see who viewed your public profile on snapchat?
No, you cannot see who viewed your Snapchat public profile. However, you can see who viewed your story.
Why are Snapchat accounts ineligible for a public profile?
In general, any account should be able to make a Public profile. However, if the 'Create Public Profile' option does not appear on someone's profile page, the account is most likely not currently eligible. The age of the account and/or the absence of an existing relationship with another Snapchat user are two common reasons for this.
Can you change your Snapchat public profile to a private profile?
You can always go back from having a public Snapchat profile to a private profile through the app's setting. You will have to choose the 'Private Profile' option in the setting and your profile will soon be made private. However, if you have recently made your account public, you might need to wait for 24 hours before making it private again.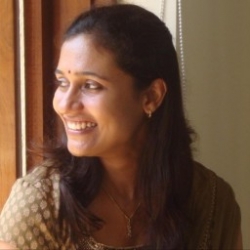 Latest posts by Ritu Sharma
(see all)