It is possible that you will encounter the error "Sorry, Something Went Wrong Creating Your Account" while creating an Instagram account, and seeing the message over and over could become frustrating. This post discusses all possible solutions to this problem. If you still cannot fix it, try getting social media management services from a reputed agency so that they can solve this for you.
Many Instagram users report encountering the Instagram error message "Sorry, Something Went Wrong Creating Your Account" So, here are some solutions to this problem. Try these steps one at a time. You may also contact Instagram support if the issue persists.
Why is My Instagram Showing "Sorry, Something Went Wrong Creating Your Account"?
If your Instagram account keeps reporting that something went wrong, there could be an underlying issue. On Instagram, if you frequently see the message, "Sorry, something went wrong when creating your account. Please try again soon," it could mean any of the following reasons:
There is no internet access.
Instagram is experiencing technical difficulties.
Instagram's servers are down for scheduled maintenance.
Instagram has disabled your account's activity.
Your device is affected by software bugs in the Instagram app.
Your device is incompatible with the Instagram app.
Other technical issues
"We're sorry, but something went wrong," Instagram says for the reasons stated above. This error could be caused by anything, from your internet connection to the Instagram app on your device.
You have no options in this situation. Wait until Instagram resolves this issue for you. This wait can last several hours. However, you can then create an Instagram account, update your profile, and post your content.
How to Fix "Sorry, something went wrong creating your account. Please try again soon." Error on Instagram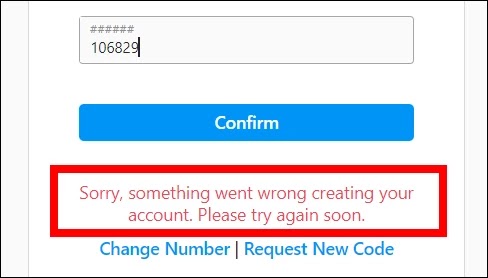 Check to see if Instagram is unavailable.
The first thing you should do is see if Instagram is down. Although it rarely happens for all users at the same time, Instagram occasionally goes offline due to a server issue. You can use the Down Detector and Twitter to determine whether Instagram is down. On both sites, you can see user reports of Instagram problems as well as the specifics of what they are experiencing.
There is no official Twitter account for Instagram help, so if you are looking for help, do not share any information with Instagram accounts on Twitter. You can see if the official Instagram account on Twitter has posted any status updates about it, but this is not always the case.
How do I resolve Instagram account issues?
Instagram frequently reports problems with account access. "We are aware that some people are having difficulty accessing their Instagram account," they typically say while investigating the errors. If you receive an email from Instagram informing you that you have changed your email address, click the link "Revert that change."
Following that, you should change your Instagram password to something more secure. You can also change your email address to ensure your Instagram security. Third-party app access must be revoked, and two-factor authentication may be required. Instagram we probably be working on such issues with a dedicated team. If you contact them for assistance, you will receive a response as soon as possible.
The following solutions address these issues:
Sorry, but something went wrong when you created your account. Please try again.
Something went wrong, I'm sorry. Please retry later.
We apologize for the inconvenience, but something went wrong. Please try again.
Give it a couple of hours
This type of error can occur as a result of Instagram updates or server issues. Unfortunately, there is no notification about this type of issue, which causes the app to crash at times. As a result, it is preferable to wait a few hours and then try again.
Clear Instagram cache
Extra files in the cache can occasionally cause an error in the Instagram app. So, clear all of your caches and try again. Although the process for clearing cache differs slightly between Android and iOS users. Here's how to do it:
Go to Settings > iPhone Storage, scroll down to Apps, and tap on Instagram; you'll see two buttons. The first step is to unload and delete the app. To clear cash, use the Offload App. Clearing cache has no effect on your data or documents, and it simply removes unnecessary files from your apps. By selecting offload apps, the app will be reinstalled on your device.
Clearing cache on Android is nearly identical to iOS, so go to Apps > Instagram > Storage > Clear Cache.
Uninstall the app and reinstall the most recent version
On your phone, Instagram and Facebook are constantly split testing different aspects of their apps.
When you download Instagram on your phone, for example, you are actually downloading several versions of the app at the same time, and Facebook is then making changes and optimizing the app directly on your phone using these different versions.
If you ever have problems with your Instagram or Facebook apps, you can simply delete and reinstall the apps from the App Store, and your problems will be resolved when you log in.
Sign in with Facebook
Since Facebook purchased Instagram, the relationship between Instagram and Facebook accounts has grown significantly. There are some features, such as Instagram ads, that should be used through Facebook.
If you were unable to log in or received an incorrect error message, try logging in through Facebook. It could solve the problem.
Download the Instagram app for Windows or Mac
You can use the app on either Windows or Mac. However, there are three ways to use the app on your computer. The simplest method is to download and install the Instagram apps for PC or laptop. Here's how to do it:
Method 1
Navigate to the Microsoft Store or the Mac App Store.
Look for and install the Instagram app.
Enter your login information.
Method 2
Download and install BlueStacks.
BlueStacks is another software that can help you get all of your apps in one place. You must do the following to install it:
Navigate to the BlueStacks website.
Install and launch the app.
Download Instagram and enter your login information.
Method 3
Use a third-party Instagram app.
To use an Instagram third party for additional Instagram actions, log in to the website and navigate to your dashboard. You are free to add as many accounts as you want.
Re-link your Instagram and Facebook accounts
Reconnecting your Facebook and Instagram accounts is a common solution to a variety of account problems. If you are having trouble connecting your two accounts, try on desktop first; this usually resolves any issues.
Perform a factory reset or update your phone to the most recent iOS/Android version
There have been reports of people completely resolving their Instagram action blocks by simply resetting their phone.
This does not require you to perform a hard reset on your phone every time. In many cases, a soft reset could be all that is required to resolve the issue.
Reset your signup credentials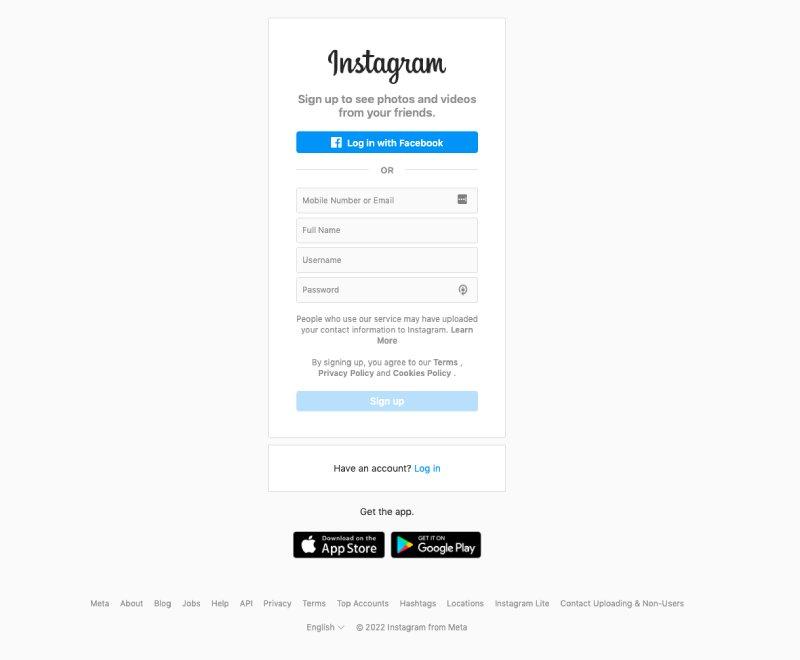 Check to make sure you do not have an active Instagram account using your email or phone number. If you have already created an Instagram account with your email or phone number, you will not be able to create another with the same credentials.
Did your Instagram account that you created using the same email or phone number get banned? Because you have been permanently blocked on Instagram, you will not be able to create a new account using the same phone number or email address.
Please sign up for a new Instagram account with different credentials. This trick occasionally works whether you sign up from your smartphone, desktop, or laptop. Choosing a different email, phone number, and strong password for another Instagram account is usually preferable.
Use another device
It is possible that your device is incompatible. As a result, you will be unable to create an Instagram account. It may appear strange to you, but it is true. If you discover that you are unable to create an account using your device, try again with another device.
For example, an out-of-date operating system on a phone could result in a message like "We're sorry, but something went wrong" on Instagram. Log in using the newest smartphone you have. If your device was causing the error, you would almost certainly succeed. You will be able to create an account, edit your profile, and post content.
Deactivate the account temporarily
You can temporarily disable your account to give yourself some breathing room while the problem is being resolved. In this case, you can use a browser to access the Instagram website and log in. Then, just beside the setting icon, click "edit profile," then "temporarily disable" my account, select the reason, and enter your password. And re-login in a few days.
Get in touch with the Instagram support team
If you have tried all of the above solutions and are still having problems, you can contact Instagram via their help center. However, getting a response from them would be difficult, and in some cases, it could take several weeks. Fill out the form on Instagram's official help page:
https://help.instagram.com/contact/505535973176353
Explain that you are having problems with your account and that you are unable to like, comment, make reels, and so on (whatever your issue is). You must explain that your business relies on Instagram and Facebook, and that this account issue is directly affecting your revenue and ability to generate income.
You can also try to go one step further and contact the official IG and FB pages.
How do I resolve Instagram app issues?
What should you do first when you encounter problems on Instagram? Here's a quick list of three things you can do to quickly resolve many Instagram issues.
Restart your device: To turn off your device, hold down the power button. Wait at least 20 seconds before restarting your phone.
Uninstall and reinstall the app: The next step is to remove the Instagram app from your device and reinstall it. You will need to remember your password because you will need to sign in again. Instagram will keep your profile and posts private.
Switch from WiFi to cellular or vice versa to test your internet connection: You can also enable airplane mode and then disable it to resolve the issue with your connection. You might want to give this one a shot before uninstalling the app.
Also Read
How to Solve Instagram Posting Issues
You may encounter an issue while posting on Instagram or leaving comments and likes. If you went on a posting, liking, and commenting binge, you may have run into an anti spam limit designed to protect the community. Find out if you can do anything else online. If you can access other websites and platforms, you may still need to troubleshoot Instagram.
If you are having trouble with other websites, it is most likely your internet connection. After that, see if you can upload from another Instagram account, or sign in with your browser and change something in your bio; this may resolve the issue and allow you to resume posting on Instagram.
If the app crashes when you try to upload a photo, try restarting your phone to see if that resolves the problem. If all else fails, you should contact Instagram support for additional assistance and to determine whether there is a problem with your account.
Conclusion
If you encounter an error on Instagram, first try to determine the source of the error. Try as many solutions as you can find; in most cases, it can be fixed. Contact Instagram help at the end because, in many cases, they refer users to the help center and provide all instructions there only.
Frequently Asked Questions
What can I do if my Instagram account shows an error?
Instagram can display a variety of errors including "sorry, something went wrong creating your account". If your Instagram account is showing any such error then you can take various steps according to the particular error displayed on your screen. We have covered several of these in the above post.
Whenever I try to register on Instagram it gives "an unknown error has occurred" message. What is some solution to fix this?
You can try doing the following basic fixes to make the error go away.
● Restarting your device
● cleared all data and cache of the app
● checked the internet connection
● checked the date and time
● network reset
● checked for an update for the app
If you have already tried these and your app still doesn't let you log in, it might be a good idea to consult an expert at PageTraffic.
My Instagram feed is not loading. Why is this happening?
There could be several reasons behind your Instagram feed not loading successfully. Following are some of them:
● Instagram is down in your country
● Your device internet connection is not working properly
● Instagram app is not working properly in your device
If you want to know possible fixes to this issue then read this blog to know about the 11 best ways you can resolve general Instagram errors.