TikTok has taken the world by storm, with seemingly everyone from teenagers to grandparents getting in on the fun. But have you ever wondered how much do creators on TikTok make? In this post, we'll take a look at some of the top earners on TikTok and find out how they make their money. You may be surprised at just how much some of these users are raking in!
With more than 1 billion MAUs (monthly active users), TikTok has become one of the fastest-growing apps. For many TikTok creators, it's a source of passive income which may eventually turn into a full-time career if they can build a huge audience.
Now, you're probably thinking, how much money can you actually make from TikTok? Let's try to find out.
What Is TikTok?
TikTok is a video-centered social media app owned by ByteDance, a Chinese conglomerate. A whopping 20.83% of the total 4.8 billion Internet users globally use it. As revealed by Appfigures data, it was the most downloaded app in 2020, with over 800 million new downloads.
In January 2021 alone, it recorded 62 million downloads. Young adults in the age group from sixteen to twenty-four are its most frequent users, occupying 41% of its total user base.
Until July 2021, TikTok creators were allowed to upload videos with a maximum duration of three minutes. However, now Tiktok has expanded the maximum length of videos to ten minutes to help the creators demonstrate more creativity.
Compared to other famous social media platforms such as Facebook, Instagram, and YouTube, perhaps the biggest advantage of TikTok is that you can get extremely creative. And the more creativity your videos have, the more views they'll get.
Content discovery plays a central role in the TikTok experience. TikTok algorithms curate a continuous stream of videos that are delivered by the "For You Page." Once you open the app, the video feed starts to play. It isn't mandatory for users to follow their preferred creators, as the feed is filled with curated clips automatically.
Similar to other social media apps, famous creators and influencers are also there on TikTok, commonly known as "TikTokers." And some of them make a significant amount of money from the app. The main sources of income for these people are outside the app.
How Much Do TikTokers Make?
While most of your earnings depend on your location, the number of your followers, and their locations, if you have at least 100,000 followers, you can expect to earn between $200 and $1000 each month. If the number goes to 1 million or more, you may earn $1000 to $5000 each month.
According to researchers, viral TikTok creators can make up to $1 million for every single post. Dixie D'Amelio, Charlie D'Amelio, and Addison Rae are some of the most successful TikTokers.
How Do TikTokers Make Money?
TikTok has quickly become one of the most popular social media platforms, with users spending an average of 52 minutes per day on the app. But how do TikTokers make money? While some brands have started to run ads on the platform, the vast majority of TikTok users are not making any money from their videos. However, that doesn't mean that there isn't money to be made on TikTok. Some users have been able to parlay their popularity on the app into brand deals and sponsorships. Others have used TikTok as a launching pad to pursue other opportunities, such as music or acting. And a small number of users have even been able to generate income through donations and tips from fans. So while most TikTokers are not getting rich from the app, there are still ways to make money on TikTok.
Let's see some of the common methods through which popular TikTok creators make money from the platform.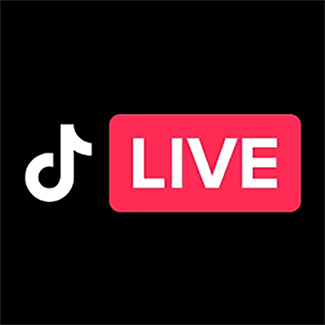 On TikTok, live broadcasts are the simplest method to make money. When famous TikTok creators broadcast live, they can be gifted "coins" by their followers. As a TikTok user, you can purchase coins by visiting your profile. The cost of 100 coins is $1.39.
You can buy 100 to 10,000 coins and send them to your favorite TikTok creators when they go live, as a way of saying "thank you" for their content. Once a creator accumulates a specific number of coins, they can use PayPal to exchange them for actual money.
It's important to note that, as a creator, the number of your followers has to be at least 1,000 to be able to go live. Moreover, you need to be active when you're going live, maintaining engagement with your followers by asking questions to them and calling them by name.
Nevertheless, TikTok has a limit on how much a creator can earn from live broadcasts. For instance, it's estimated that a TikTok creator can earn a maximum of $2,000 to $4,000 on live. You may also message your followers and ask for their donations.
In return, you'll give them a "shoutout" when you go live. If you have a large number of fans and you shout a username out on your account, the person may also gain many followers just due to the shoutout.
Influencer Marketing and Brand Deals
Also Read
Sometimes, brands reach out to famous TikTok creators and ask them to do influencer promotions in exchange for decent money. It's estimated that top TikTok creators with a huge number of followers earn between $50,000 and $100,000 for a single post by doing influencer promotions.
However, to earn this amount of money from a brand partnership, your content has to resemble the brand in some manner. For instance, famous TikTok maker Charlie D'Amelio regularly mentioned Dunkin' Donuts iced coffee on her account, even regularly doing performances with a cup in her hand. Dunkin' Donuts signed a brand partnership with her and created a drink called "The Charlie" to honor her.
Also, Dixie D'Amelio, who is Charlie's older sister and has a large number of followers, has a brand partnership with Morphe, a cosmetics company. The company's own line of makeup became very popular because of the deal, as it helped to increase their credibility and place their products in front of their pre-teen fanbase.
Sometimes, brands may try to alter a TikTok creator's voice, but the followers of the creator quickly figure out that it's a paid advertisement. Because of this unnatural advertisement, the creator may lose lots of followers. That's the reason it's very important for TikTok creators to maintain an authentic voice.
Attending Sponsored Events
When it comes to promotions or new product launches, many brands prefer to organize events. They easily capture a great deal of attention by inviting influencers to the events, having them post about an event, or talking about their brand or product in some manner.
Brands generally approach famous creators to attend events that serve a particular market, such as Comicon or Beautycon, and pay them a decent amount of money.
Some TikTok makers organize their own meet and greet sessions to give their fans an opportunity to meet them. For example, Charlie D'Amelio organized a meet and greet, and her followers could meet her by paying $100 each. Although Charlie donated all the funds raised from the event to charity, it greatly helped her increase the number of her followers and the awareness of her personal brand.
TikTok creators are also viewed as new bloggers by many brands. A significant number of leading brands have invited popular TikTok makers to their brand events. For instance, Charlie D'Amelio received an invitation to attend Milan Fashion Week and sat front row at the Fall 2020 fashion show by Prada.
A large part of the show was documented by Charlie which benefited both Prada and her. Later, Charlie created TikTok videos with three models dancing to the famous "What The Hell" by Avril Lavinge, which went viral.

The TikTok Creator Program is built to help brands connect with TikTok creators. This is an invitation-only program, and you can only get an invitation from TikTok if you have more than 100,000 followers.
Although you can always partner with brands outside of the program, it gives brands an excellent opportunity to figure out whether working with you will benefit them or not.
The concept of the program is quite straightforward: the more engagement one of your posts receives, the more your income potential will be. In addition to having 100,000 followers, there are other eligibility criteria also, such as your age needs to be at least 18 years, you need to have at least one authorized digital payment account, adhere to the Community Guidelines Standards, etc.
A lot of debate is going around the program about whether TikTok creators should join it or not. According to many creators, this program reduces the number of views per video. This is because it helps beginner creators increase the number of their followers quickly, meaning people receive more videos in their feeds than usual. As a result, they spend less time watching a single video.
However, the results of joining the program may vary from one TikTok creator to another. So, you need to join it to verify its effectiveness.
Selling merchandise (also called "merch") is another popular method to earn money on TikTok. TikTok creators adopted this trend from YouTube, where popular creators sell merchandise based on their brands. You only need to add the link to your store to your TikTok profile and place it on your social media accounts.
Famous TikTok maker Addison 'Rae' Easterling formed a collaboration with a company called "Fanjoy" that has partnered with content creators of other social media platforms. The website sells shirts, sweaters, hoodies, phone cases, joggers, etc., between a price range of $10 and $50. Based on the number of followers of Addison Rae, it's estimated that her earnings from the merchandise store are around $25,000 each month.
Arguably, this is the most effective method to earn money on an app to have a company. It's also highly important to focus on "cross-promoting." A large number of TikTok creators simultaneously upload their videos on their YouTube or Instagram channels to garner more attention and followers.
With some of the popular TikTok creators earning a huge amount of money each year, it's proven that being famous on the app may lead you to make large profits. However, to reach that level, the first thing you need to focus on is creating exceptional, engaging content.
If you're a TikTok creator and looking to make captivating content for your brand to make money, a reputable social media content creation company can do wonders for you. Such a company can help you understand exactly what kind of content you need to create to increase views on TikTok and the number of your followers.
Frequently Asked Questions
What is the TikTok Creator Program?
TikTik Creator Program (TikTok Creator Fund) is a monetary fund for the TikTokers. It's not an arts grant, and it's different from ad revenue sharing programs like YouTube's AdSense. To put it simply, it's a way for TikTok to share some income with creators who are doing great on the platform.
How do I earn money from TikTok?
To earn money from TikTok directly, a user must be at least 18 years old, should have a minimum 10000 followers, and accrue 100,000 video views in the last 30 days. Once this threshold is met, they can apply for TikTok's Creator Fund,
To be verified on TikTok, how many followers do I need?
The truth about getting verified on TikTok is that there isn't a set follower threshold – instead, you'll need metric growth and activity. It's the daily TikTok follower growth or longer video watch times that matter.