If you frequently use Google, it's very likely that you've seen the feature namely, "people also search for." This belongs to the search engine optimization strategy of the tech giant.
With Google continuing to add different elements to make the SERPs (search engine result pages) increasingly dynamic, many people feel a little overwhelmed with keeping pace with the updates. But elements like "people also ask for" can open the door to new SEO opportunities when leveraged properly.
The addition of the PAA feature in Google together with other features like featured snippets can help you get more exposure to searchers. Therefore, to maximize the results of your SEO efforts, it's important to try to make the most out of these features.
While the PAA feature may appear to be slightly complex at first, you can utilize it to drive more organic traffic to your site.
With this in mind, we've created this guide to help you get a good understanding of this feature so that you can modify your present SEO strategy accordingly.
What Is People Also Search For Feature?
The PAA feature started its journey in 2012 as part of Google's introduction of knowledge graphs. It was designed to display a set of image thumbnails related to a particular search term.
Over time, this became an independent box with the primary objective of working for searches related to the domain of music. Somewhat similar to Spotify's algorithm that we see today, the concept of people also ask for was to suggest music tracks according to the searcher's taste in music. The independent box would also show other albums having similar names or tracks by the same artist.
In today's SEO landscape, the PAA feature in Google has transformed into a goldmine. We cannot see the thumbnail images anywhere in the search result pages as they have been replaced with real topics having relevance to the actual search term.
The people also search for box only becomes visible when a user revisits the result page immediately after clicking on a search result. According to Google, the user instantly comes back to the result page because they were unable to find what they were searching for. And Google provides them with suggestions based on the search term they entered in the initial search to help them find useful results.
The user intent plays a central role in developing the recommendations. Google offers options to find accurate search results by identifying the user intent of a searcher. From the outlook of a business owner or website owner, this can be incredibly helpful as it displays topics encompassing a particular search phrase and/or keyword.
Examples of People Also Search For
PAA boxes display questions associated with the actual search query. Note that the suggestions vary depending on the device you use to conduct a search. If you're using a desktop, you're likely to get six results. But with mobile devices, the number may go up to eight results.
Although the exact reasons behind this are somewhat unclear, we can assume that probably Google wanted to stay away from creating a lengthy SERP on the desktop. And as the PAA results appear like a carousel on mobile devices, they can accommodate eight results without creating a long SERP.
Initially, the PAA feature in Google was placed right above the "searches related to" list. While the former helped us see several topically-relevant recommendations, the latter helped us expand or refine our present query.
However, in today's time, the PAA is placed independently, as shown in the below image.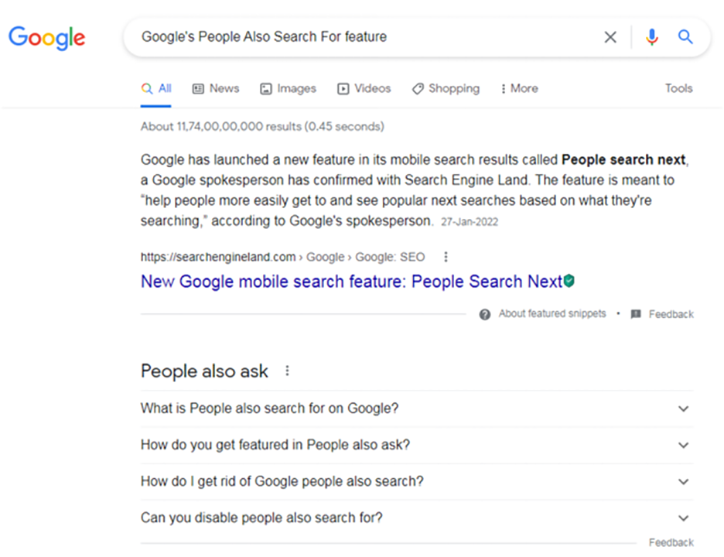 Google has abandoned the thumbnail images and attached the related topics to individual organic results. Now, the topics appear to be a combination of "searches related to" and the actual people also ask feature in Google.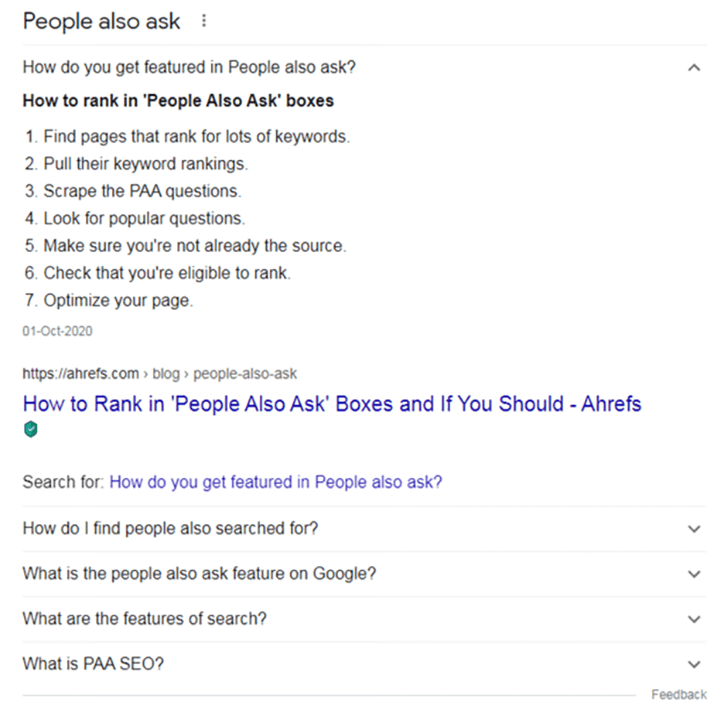 In the examples above related to the query "Google's PAA feature," the suggestions stuck to the organic results.
PAA and Featured Snippets
The only way to materialize the people also ask for feature is to navigate back to the SERP after clicking the organic search result. When testing the process, we observed that the people also search for boxes were not displayed by the featured snippets.
The featured snippets remained the same. This means you need to continue trying to appear in the featured snippet while optimizing your content for PAA feature in Google.
Also Read
Why Should You Prioritize People Also Ask For?
If you're finding it hard to boost your site's SEO performance, investigating the people also search for feature can open alternate avenues for you. Here are the top ways it can help you accomplish your SEO goals.
It Helps To Reduce the Number of People Bouncing Off Your Site
If you find that a large number of visitors bounce off your pages for particular queries or keywords, it should be a good indication that the pages are failing to provide the searchers with answers to their queries or what they are looking for.
In that case, you should closely observe the questions suggested by the PAA box and try to craft content to address them. This tactic should make your pages more relevant to the search queries and, in turn, more useful for your target audience.
If it becomes difficult for you to create more useful content or to find the right topics and formatting methods, looking at the content published by your direct competitors or sites that rank better than yours will be an effective idea. Check for things such as topics, length, style, and language used in those pieces.
Be sure not to copy what your competitors are doing. Instead, deeply research their strategies and use the insights gained from them as foundations to increase the efficiency of your content. And always maintain a user-first approach when creating your content before trying to serve the search engines.
It Helps To Identify Relevant Keywords
People often find it difficult to identify relevant keywords to craft useful content to satisfy the needs of their site visitors. If you too belong to that league, the PAA feature brings you a wonderful opportunity to find relevant keywords.
Think about relevant topics associated with your primary keyword and type them in Google's search box. For instance, we used the topic "how to appear in people also ask for" and received the following suggestions.
As you can see, we got the answer to our query. Based on this information, we can try to create pieces of content to provide the searchers with the information they need.
To identify relevant keywords, first, you need to scrape the PAA questions, and spot the most popular ones. Once you click one of those questions, the box displays a brief answer to your query together with the source URL from which it pulled the text. Then you need to visit the site to identify the keywords based on which those answers are crafted. Once you've identified the right keywords, start optimizing your content if you aren't already one of the sources.
You can also get a clear idea of how to restructure your website or a particular landing page to drive more traffic. Additionally, you can understand how to categorize web pages based on diverse areas of interest.
It Helps To Establish Authority of Your Site
Note that initially, the people also ask for box appears with four questions. Once a searcher clicks one of the questions, a couple of more questions are automatically added to the box by Google. Then the people also search for box becomes ever-expanding, meaning every time a searcher clicks a question, the more items get added to the box.
Here is what we got after clicking three questions in the box.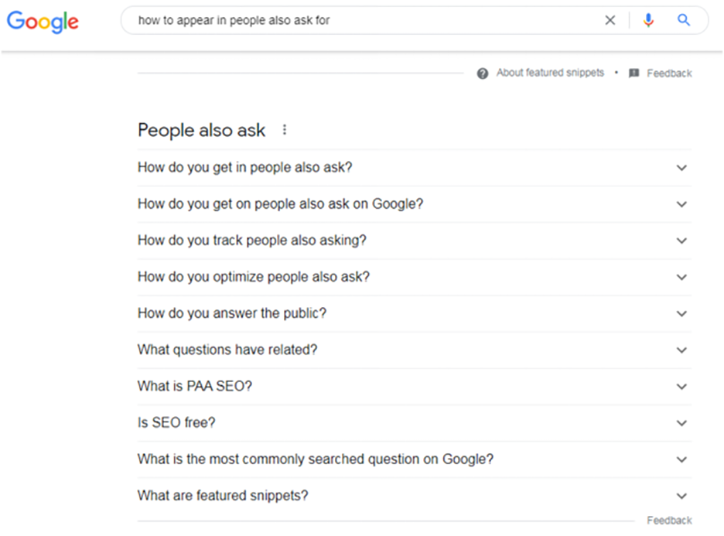 From an SEO perspective, this gives you an indefinite pool of questions that you can try to answer to draw more traffic to your site and establish authority in your niche.
Once you get a clear picture of what your target audience is looking for, you need to create valuable, informative pieces of content to keep them engaged with your site. Such pieces of content can also help you compel them to come back to your site whenever they need information related to your industry.
Improved user engagement and increased authority of your site together can easily help your pages rank higher in the SERPs.
Although the number of PAA questions doesn't have any relation to keyword verticals or patterns at this point in time, this may change in the future. There may be comparative keywords that are somewhat related to a particular number of people also search for results.
Essential Things You Need To Understand about People Also Ask For
Here are the key facts you need to know about the PAA feature in Google.
People Also Search for Positions May Not Be Fixed Always
People commonly believe that the PAA box can always be found at the bottom of the search result pages. However, the truth is its position changes depending on the way Google's algorithm perceives the lack of search results that were intended in the primary search.
Therefore, unlike featured snippets, PAA box can be seen anywhere on a page. This change may play a vital role for your site because the placement of the box may influence your present SEO campaigns.
For example, if a good number of users indicate that the third search result on a page doesn't offer any practical value, the positions on that page might be simply changed by Google's algorithm.
People Also Ask For Can Often Repeat Featured Snippets
It's a fact that the majority of PAA questions use featured snippets. However, how often the same featured snippets get repeatedly displayed for related searches isn't known to us. For a particular set of keywords, the same set of search terms and answers might be displayed repeatedly. Therefore, you need to change your content on the web pages accordingly.
People Also Search For May Display Video Results
Although the suggestions displayed in the PAA feature in Google generally appear as text results, video results may also be included sometimes. This usually happens when a particular action is associated with the search term, and the term itself comprises words such as "where can I find," "how to," and the like. This knowledge may help you create videos encompassing your keywords to increase their chances of appearing in the PAA results.
Merge People Also Ask With People Also Search For To Improve SEO Performance
Ideally, you should collect everything you can get from "people also ask for" and "people also search for" while reviewing the results displayed in the "related searches" boxes of each. Combining these two features of Google and using the insights can greatly help you build your keyword lists, create content that can cover a diverse range of topics, and ultimately drive traffic to your site.
Final Thoughts
Much like SEO, PAA boxes can be used to boost organic traffic. To be effective with this type of marketing strategy it's important that data-driven decisions are made and nothing else besides research goes into the process.
Give people what they want and Google will notice you!
Frequently Asked Questions
What is Google PAA?
People Also Ask or PAA is Google's way to prompt users surfing the internet and make them consider other related queries that are frequently asked online.
How do you get on People Also Ask?
In order to appear in "People also ask questions," provide concise and informative answers that meet the searchers' expectations. Use HTML headings to direct Google to the right section.
Why is PAA important?
Results from People Also Ask can give you a better understanding of what your audience is interested in, which will help when doing keyword research and recommending content that should go on website pages.