If you frequently use Google, it is very likely that you have seen the feature namely, "People Also Search For". This belongs to the search engine layout strategy of the tech giant, Google. If you are having difficulty using PASF keyword in your website content, consider using professional SEO services. To get your web page to rank higher, you need to include topically connected terms and different questions that people use on search engines
The reality is that organic traffic of sites is going down because of these dynamic search features like Featured Snippets and People Also Ask. Google continues to add more elements to make SERPs (search engine results pages) increasingly dynamic. Elements like "people also ask for" can open the door to new SEO opportunities when leveraged properly. Some of these are also among the most asked questions on Google.
While the people also search for (PASF) features may appear slightly complex at first and is often overlooked but is an important feature in Google's search results which you can utilize to drive more organic traffic to your site.
What is "People Also Search For (PASF)" In Google Search?
People Also Search For (PASF) is a Google Search feature that started its journey in 2012 as part of Google's introduction of knowledge graphs. It was designed to display a set of image thumbnails related to a particular search term.
Over time, this became an independent box with the primary objective of working for searches related to the domain of music. Somewhat similar to Spotify's algorithm that we see today, the concept of people also searching was to suggest music tracks according to the searcher's taste in music. The independent box would also show other albums having similar names or tracks by the same artist.
Here's how it works?
Today, People Also Search For Keywords are related search queries that people make about a specific topic that is being searched about. It is Google's attempt to assist those searching for topics in discovering related searches that they might be interested in. This is what appears in the SERP (search engine results page) when someone searches for "content marketing":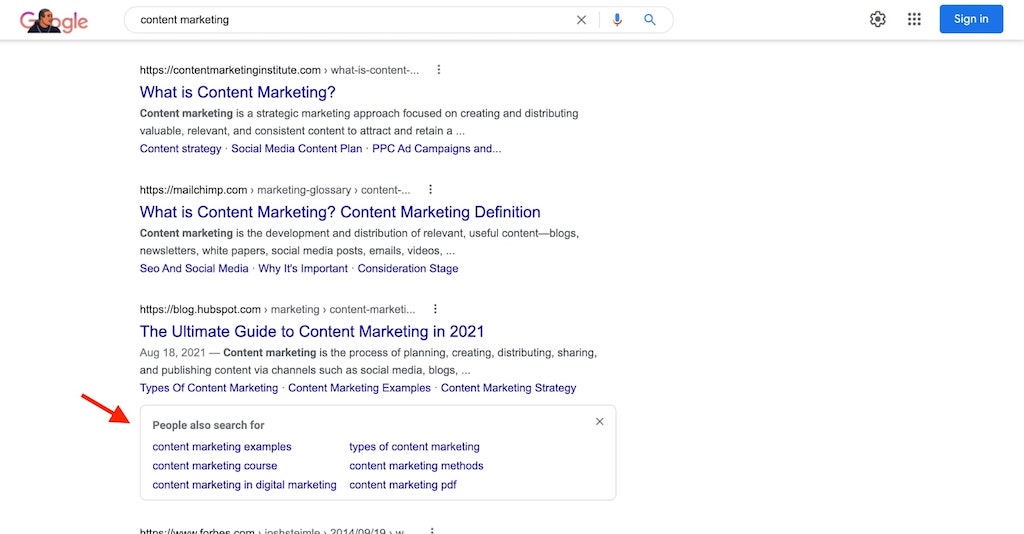 The PASF pop up comes when you click on any result that comes after searching for 'content marketing' and press the back button.
Why People Also Search For (PASF)" Is Important For SEO?
PASF keywords are taken directly from Google's database. They are the search terms that your target audience uses to learn more about your topic. Keeping an eye on these keywords is therefore, critical for understanding your target audience's preferences and interests.
PASF keywords for any topic can be found by manually searching it, clicking a result, and returning to the search pages.
People Also Search For (PASF) vs People Also Ask (PAA)

People Also Search For (PASF) is a Google Search feature that aims to assist users in finding the information they seek. When a user enters a keyword into Google Search, it returns the organic search results for that topic. If a user clicks on one of the search results but quickly returns to the search page, Google assumes that the result did not satisfy the searcher's query.
This is when the PASF snippet appears beneath the search result that the user previously clicked. This snippet includes additional relevant keywords that users frequently used while searching for this topic.
The People Also Ask (PAA) Box, on the other hand, is a question-and-answer box that assists users in discovering additional information related to the topic they are searching for. It suggests questions related to the user's original search query and typically provides concise answers with a link to the webpage from which the answer was taken. The People Also Ask section provides a good overview of other related questions that people ask Google.
The PAA Box includes 2 to 5 questions in an accordion format. When a user clicks on a question, an accordion appears with a brief answer and a link to the source. When you click on a question, it usually adds two or three more relevant questions to the bottom of the list. It may appear that Google has an infinite number of questions and answers to display at times! The responses are usually paragraph-oriented and occasionally include images and lists.
Meeting Searcher's Needs with QA Content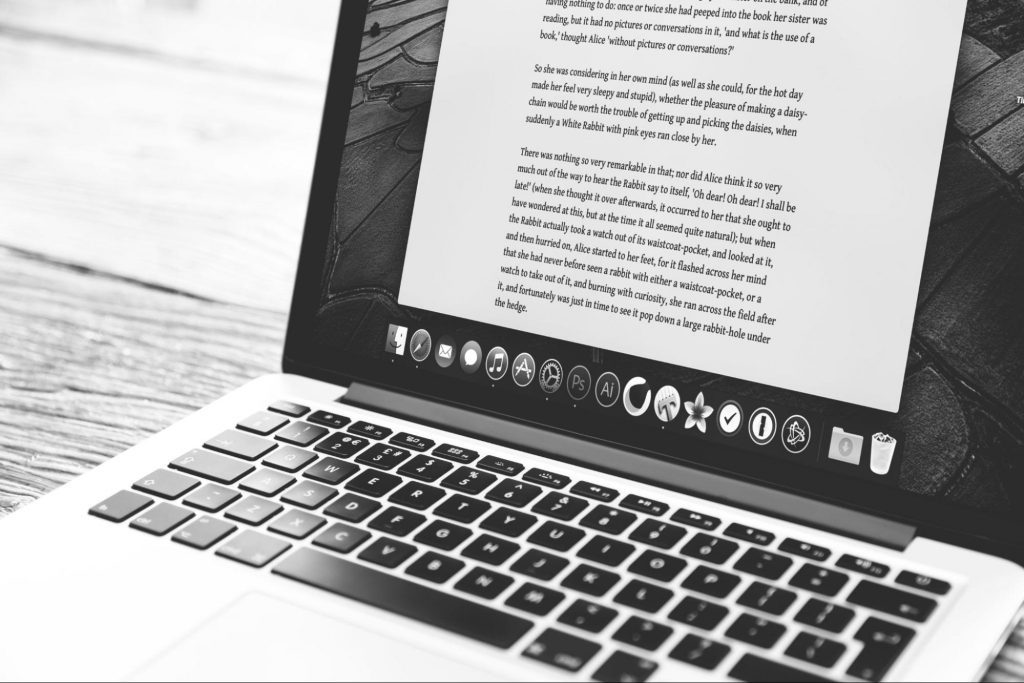 The PAA and PASF, reward reliable content in a reliable manner. Because they ask questions, users end up with the PAA box. If you respond to those questions succinctly and definitively, you have a good chance of becoming an answer to a related question.
Similarly, because they did not find what they were looking for, they end up with PASF boxes. You are more likely to end up in the PASF and bring users to your site if you provide authoritative content. Furthermore, all users prefer direct and comprehensive responses to their questions. You can cultivate customer loyalty to your company by optimizing your content for PAA and PASF.
Create Content Depth with a Purpose
PASF keywords are useful when writing long-form blog posts and articles.
How? A long-form article is typically between 2500-5000 words long. As a result, if you want to write a valuable long-form post, you must cover multiple sections, sub-headings, and topics.
You can easily construct a long-form post, find sub-headings, and discover relevant topics to cover in your content by using PASF keywords.
PASFs offer suggested answers for complex tasks
When it comes to determining which questions your content should address, you do not have to reinvent the wheel. Instead, simply conduct relevant Google searches and compile the questions you encounter.
It really is that easy. Simply conducting your own searches and noting what you find in the PAA box will reveal what users are looking for. Then all you have to do is create fantastic content that answers those questions!
This is especially useful when it comes to revising existing content. An afternoon spent compiling PAA questions found through various searches can reveal exactly what you need to add, change, or revise!
People also search for in Mobile SERPs
"People Also Search For" was shown 67.3485% of the time on mobile, a Rank Ranger report claimed. For each listed thing, it will display either a brief explanation, photos, or text, depending on the searcher's query. Additionally, it could show how the query and the listed item are related. This place in our current tests is designated for "Related searches."
Pay attention to the little three dots above the PASF box on the right. They are described as "These are related searches that other people have done" if you click on them. In addition, Google explains: "Your search & this result"
This outcome includes recommendations based on your search keywords and user intent.
The outcome is in English.
Not an advertisement, but a search result. Only advertisements are paid for, and they are always marked as "Sponsored" or "Ad."
Send input on this information is available lower down in line format.
History of People Also Search For
Google introduced a new feature called "People Also Search For" in early 2018, which appears only after the user has clicked on a search result and returned to the Google SERP immediately. The keywords in the PASF box are keywords that have been searched for by people who have also searched for the main query, and it is a way for Google to suggest other related queries that the user is unaware of so that people keep using it as their preferred search engine.
What are people also searching for keywords?
The People Also Search For (PASF) SERP feature assists users in finding a better search result if their initial search intent was not met. It is a search engine feature that appears after someone clicks on a SERP feature and then quickly returns to the result page.
This feature, like all universal SERP elements, typically commands a significant amount of space on page one of Google.
3 Ways To Use "People Also Search For (PASF)" To Rank Higher In Google Search?
PASF ranking is very similar to PAA ranking. Your goal should still be to anticipate user questions and provide prompt responses while also fleshing out answers in a thorough manner.
The main distinction between ranking for PASF and ranking for PAA is how you research what users are looking for. To get Google's suggested PASF listings, you must conduct your own searches, click on websites, and quickly hit the back button.
After that, you can proceed with the PAA ranking process. This way, you can increase your chances of ranking for both PAA and PASF while also increasing traffic to your website!
Create an outstanding outline
Once you have decided on a keyword and understand the search intent, it is time to create a content outline.
You can create an SEO outline for your article using a tool. All you have to do is type in your desired keyword and generate a report. The report will show you related keywords you should include in your article as well as ideas for what you should discuss.
It is an excellent way to ensure that your articles are fully optimized for Google. Optimization is essential for driving traffic to your articles, so if you are serious about driving organic traffic to your website, you should definitely use the best SEO tools.
You must first capture Google's attention before you can impress audiences with your answers. That includes writing headlines that attract the attention of Google's web crawling bots.
To put it simply, the headlines you use should include specific keywords. These are the primary keywords on which your content will be based. However, the headlines must also be descriptive. You cannot simply stuff keywords into there. Instead, descriptive headers and subheaders are required (ideally, ones formatted as questions).
This method of formatting your content is a true "win/win." It boosts your overall SEO while increasing your chances of ranking.
Search Intent
The most important ranking factor is determining intent for a given keyword. Simply searching for a keyword in Google will reveal search intent.
For example, if I search for "content marketing," the top three ranking web pages are articles about "What is content marketing?" This tells that Google prefers to rank articles about "what is content marketing" for this keyword. Google has determined that this is the search intent of people who search for this term.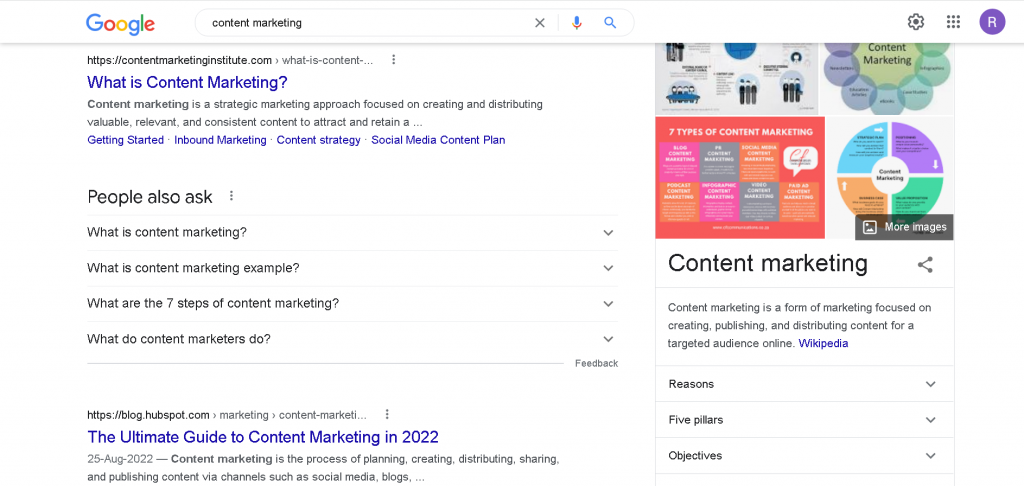 That means that if you want to target the keyword "content marketing," that would require you to write a post about it.
Finding PASF topics to go after
You can begin by simply revising your existing content. However, whether you are revising old content or creating new content, you must focus on selecting the appropriate topic and keywords. This will help you create a knowledge graph and show Google that you have topical authority over a given topic.
Some of this entails sitting down and brainstorming "common sense" questions that audiences might have about a specific subject. This can assist you in developing content to write about (as well as keywords to use) that will answer the questions they are likely to have.
Always keep an eye on what your competitors are up to. If they are not answering certain questions or explaining certain topics sufficiently, your company can take the lead in these areas.
3 Best Tools to Find PASF Keywords
If you are still not sure about how to find PASF keywords, then read this section to know about the 3 best tools you can use for the task. These tools have free as well as paid versions available that can complete your task in just minutes.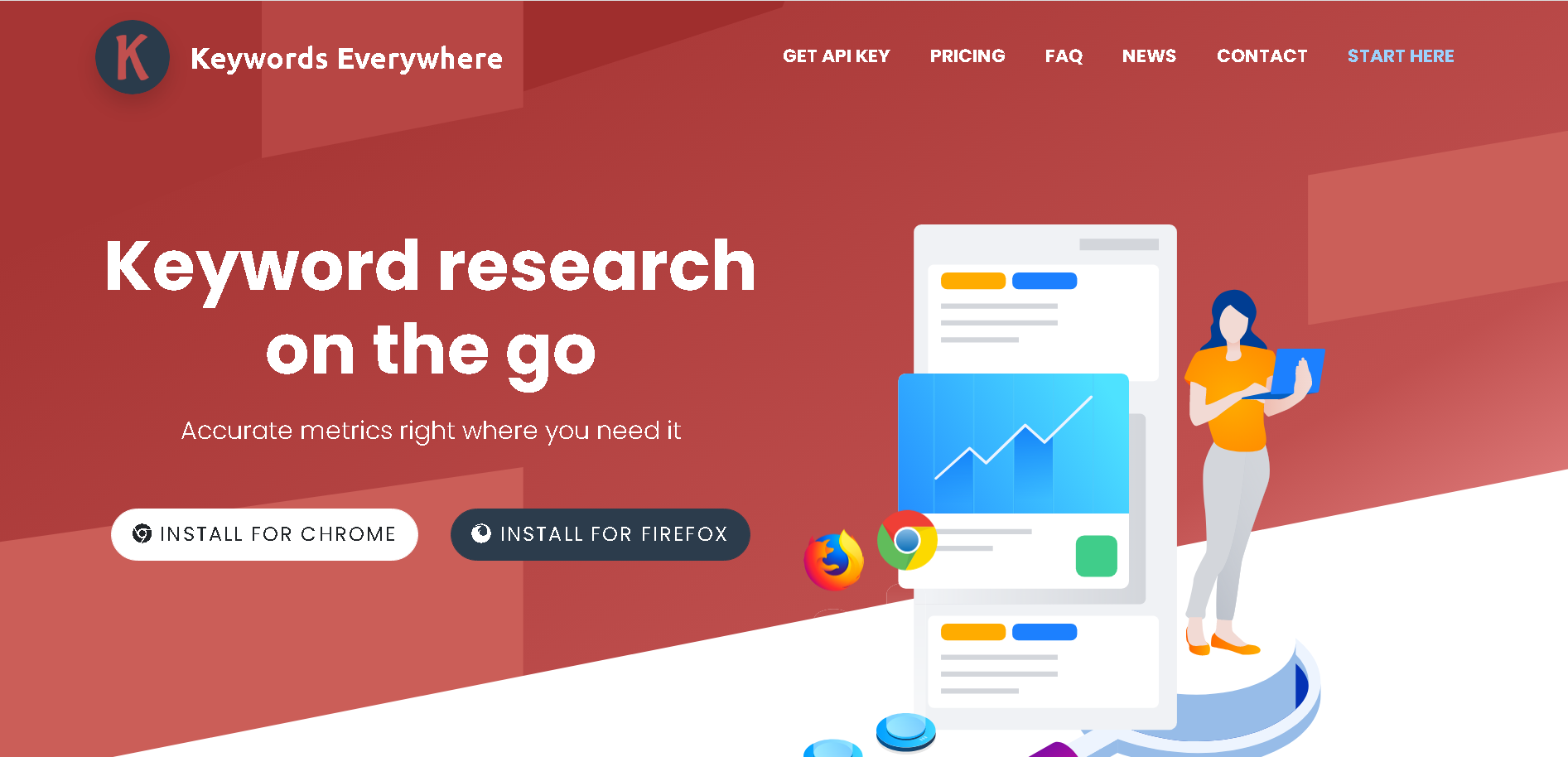 One of the best SEO tools for viewing data directly on your search page is Keywords Everywhere Google Chrome extension. You can get access to both 'Related Keywords' and PASF keywords with this tool. These outcomes are generally pretty similar and easy to understand.
Every search result on the SERP pulls up six related topics (PASF keywords) that go with it. You can see the six keywords related to your search query by clicking on the top widget that contains the related terms to your search query. The Keywords Everywhere browser extension automatically finds the six keywords embedded in the SERP for each search result, gets rid of the duplicates, and shows them to you on the right side of Google in a widget called "People Also Search For," along with the monthly search volume, CPC, and competition.
Google SERPs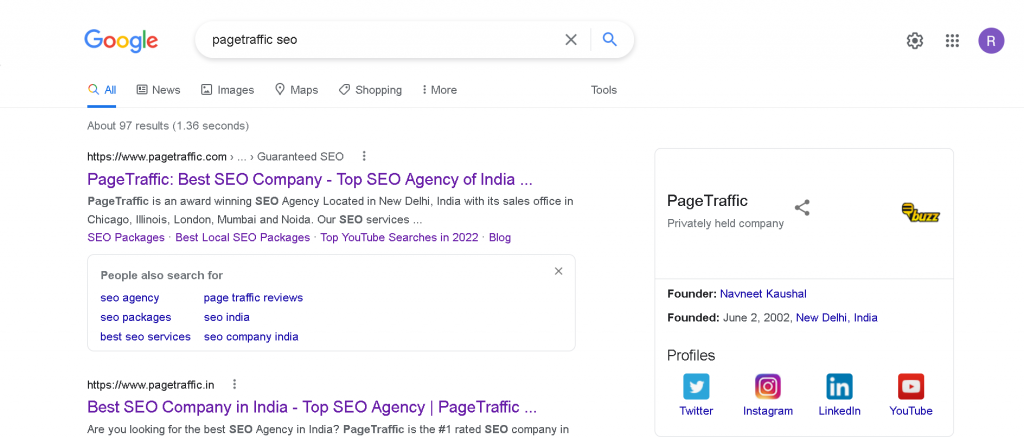 There are instances when the Search Engine Result Pages (SERPs) provided by Google are the most effective tools for locating PASF inquiries. Using Google search, you can find other relevant queries and related pages that people look for. These are the terms that people are using at the moment to find things online. Because they can be the terms that have only been searched very lately, keyword research tools might not always be able to uncover them.
The People Also Ask (PAA) section of Google is yet another resource that can be utilized for the direct discovery of keywords. With the assistance of the PAA section, it should not be difficult to come up with material and ideas for blog posts to explore.
Google's search engine results page (SERP) is updated constantly with fresh results and search strategies. One more time, this is because Google strives to bring an end as quickly as possible to the search experience of its users.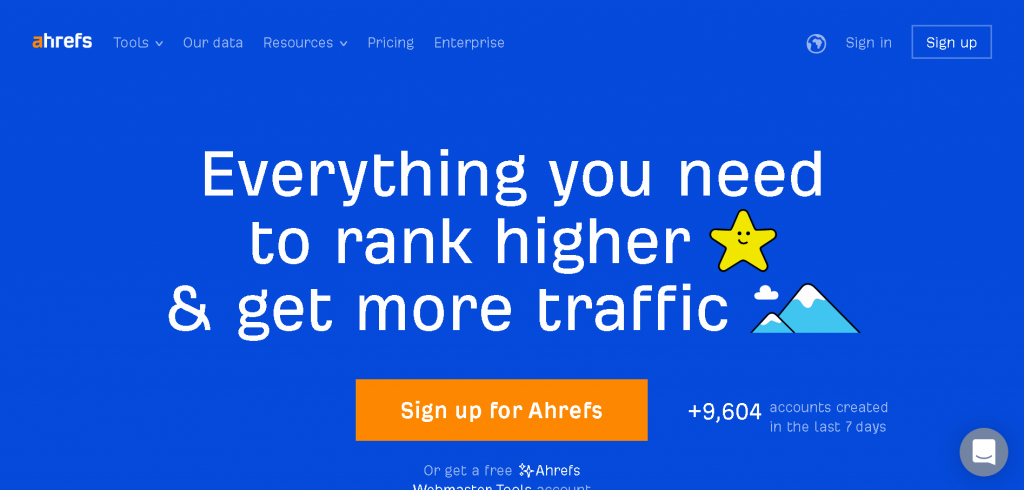 There are not many tools that are as useful and efficient as Ahrefs when it comes to keyword research. It is one of the tools that content management teams use the most frequently since it has produced the best results for helping websites obtain high search rankings that increase traffic.
You will see more than simply PASF keywords with Ahrefs. It can display a wide range of other keyword suggestions as well as items like 'Questions,' which are taken from Google's People Also Ask (PAA) section.
Conclusion
People Also Search For is an excellent way for marketers to discover keyword ideas that they might not have discovered otherwise.
The great thing about PASF keywords is that they provide information directly from Google. It is not the result of a keyword research tool. As a result, these keywords can be extremely valuable because they are terms that people are looking for in real time.
Frequently Asked Questions
What is Google PAA or PASF?
People Also Search For or PASF is Google's way to prompt users to surf the internet and make them consider other related queries that are frequently asked online for different keywords. We have discussed all that you need to know about PASF in great detail in the post above.
How do you get on People Also Search For?
In order to appear in "People also search for questions," provide concise and informative answers that meet the searchers' expectations. Use HTML headings to direct Google to the right section.
Why is PASF important?
Results from People Also Search For or PASF can give you a better understanding of what your audience is interested in, which will help when doing keyword research and recommending content that should go on website pages. Gaining a featured snippet in PAA and PASF answers is an easy way to increase search visibility and organic share of voice.