Google chrome's Omnibox is one of its most loved features. Using it, users can either search Google or type a URL to look up something on the internet. Sometimes, instead of 'search Google or type a URL', the Omnibox could come in a slightly different variation but the function of it remains the same.
There's a debate among internet users about the best way to find what you're looking for online. Some people swear by Google search, while others prefer typing in a specific website's URL in search box. So, which is the better method? Let's take a look at the pros and cons of each option to see which one comes out on top.
What is an Omnibox?
Omniboxes are similar to the address bar of any traditional web browser, but they can also be used as search engines. Omnibox in Google Chrome can also perform mathematical calculations and provide answers to questions.
Omnibox also offers the option to "Search Google or type a URL" for added convenience. Sometimes the user may prefer to type the full address of a website for a faster approach, while other times the user may prefer to search for parishes and keywords to get the precise results they seek!
What is the Difference Between Search Google and Type a URL?
Search Google or type a URL' is the default words or suggestion you see displayed in a web browser's address bar (also known as the Omnibox due to its multipurpose function) before you type in the word or words or URL you want to search.
Instead of seeing "search Google or type a URL," it may appear in a slightly different variation such as "search or type web address," but the import is the same – for you to key in the words you want to search for on the address bar or search bar if you prefer to call it that and then click enter, or put in the link to a specific website that you want to access on the web browser (such as Chrome) and click enter.
While there are numerous ways to obtain information from websites on the internet, such as social media platforms, other websites or apps, and so on, these two options stand out: Searching Google or entering a URL are the most common ways to find websites that contain the information you seek on search engines such as Google.
The question posed in this piece is: which of the two roads leading to a website is a better choice? Should one type in the name of the website and press enter, then click on the relevant search result to get to the website, or should one simply type or paste the full URL of the website into the browser address bar or search bar to be connected directly to the desired website?
Indeed, whichever method you use, you will get results, but there are some subtle differences that we will look at in this article to help you decide whether to search Google or type a URL. Let's take a close look at the advantages and disadvantages of searching Google or entering a URL.
Using the Google Search Option
Search engines were created to provide quick access to information with the tap of a screen or the click of a button. There is no limit to what you can do on the internet, from websites to email to pictures. Web indexing is the process of using a search engine to access or find websites on the internet.
This option necessitates entering the keyword or name of the site you want to visit into your browser's search bar. This option is for you if you do not know the specific URL address or if you have forgotten the exact name of the website or the URL address's composition. All you have to do is type the website's name or a word that is closely related to it into the address bar of your web browser.
After that, the search engine goes to work, and you must sift through the search engine result page to find the one that best answers your query or leads to the site you are looking for.
However, if you know the exact URL of the site you want to visit, you should save yourself the trouble of going through the above-mentioned lengthy process of searching through search engine result pages, looking through search results, and then clicking on the correct link. Simply enter the desired website and you will be directed to it.
Searching Google can be time consuming and requires more information. You would have to load two or more pages before reaching the site you are looking for. Entering a URL into the search box, or search bar as some call it, can help you save that data, energy, and time.
Using the 'Type a URL' Option
When you are on a website, URL is the link that appears in the address bar or search box. As previously stated, this option is ideal if you know the exact combination of words and phrases that comprise the URL, or if you can copy it from somewhere else and paste it into the browser's address bar.
Simply enter the URL into the browser's address bar (now known as Omnibox) and press enter. As long as the site is still active, it will undoubtedly reopen. This is a quick way to get access to any website you want, unlike the Google search option, where you may not even see the website you want in the search results because it was not ranked high in the search engine optimization index.
This means you would have to sift through several search results or type in more specific keywords to find the website you are looking for. When looking for a website, entering a URL is not difficult. If you do not have the full URL, you can type in the shortened version of the link and then press enter to be directed to the website.
If you want to access specific information on a website, the best way to do so is to type the website's URL followed by the keywords into the search bar.
How to Search for a Specific Word or Phrase in Google
You have probably encountered the situation where, while searching for a specific word (e.g., best SEO agency) in the Chrome browser, you received suggestions for various websites, after which you discovered that there is so much content that you cannot find the originally searched phrase at all.
After all, going page by page is a waste of time. So, what are the options?
It is important to note that the Chrome Omnibox is an effective mode to search for information. You do not need to open the page of the search engine; simply enter the desired word or phrase in the omnibox and press the Enter key.
How to Search a Website in Google?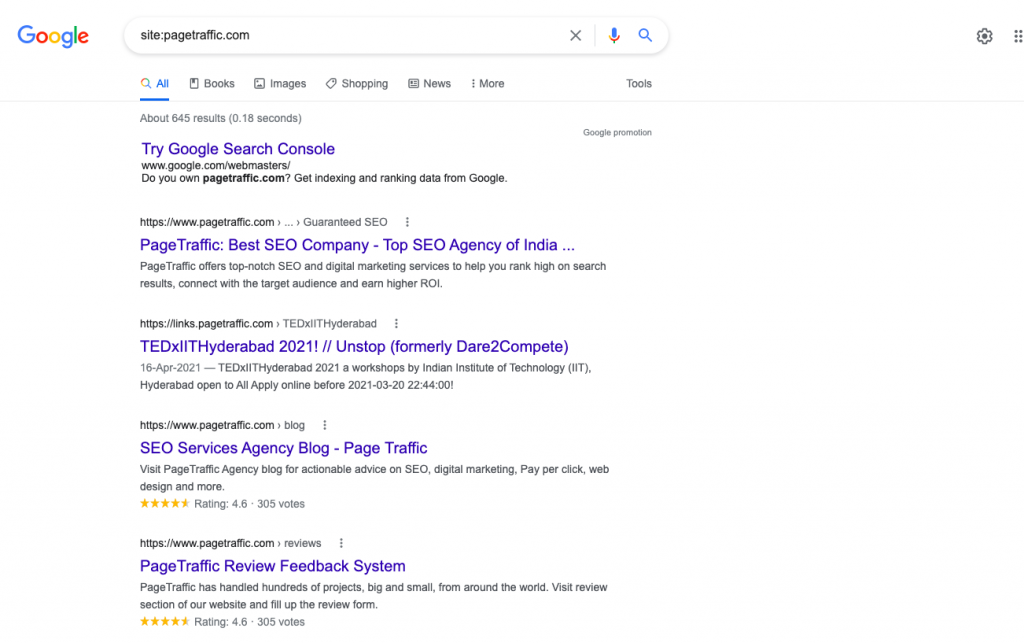 If you want to search a website, the simplest way to do so is to type in the website's URL. In our case, for instance, typing pagetraffic.com allows you to search not only the page that is presently being displayed, but also any and all of the subpages that this address may include.
Simply add "site:pagetraffic.com" (or any other domain name you want to search) after your search phrase, and you will obtain results for every occurrence of that term in that particular website. It is planned to exclude the results that can be seen on the remaining Search Engine Results Pages (SERP).
Google Autocomplete Predictions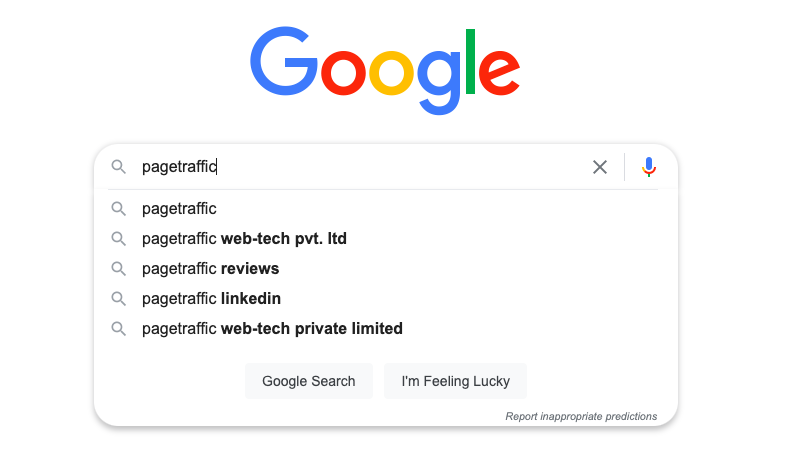 The phrases that appear in Google autocomplete predictions are based on the search terms' popularity. Whether you are using Search Google or typing a URL, the auto-complete algorithm works on its own. It is possible that the proposed predictions will not appear after entering the query. This occurs when the search term is relatively new, not widely used, or violates Google policies.
Google autocomplete prediction is a permanent and integral feature of the Google search engine, the legitimacy of which is based on making it easier for users to find the most relevant information as quickly as possible. Google allows us to exclude popular threads; as a result, the pool of hints in the autocomplete will immediately become noticeably smaller.
The browser's address window also serves as its search box, and you can dynamically customize and drag tabs. The entire programme leaves a favorable impression. It also has another feature that is extremely useful when browsing the internet.
Using Voice Search

Aside from the previously mentioned Search Google and type a URL method. It has been possible to search with your voice for some time now. This method works on both mobile devices and computers. To begin, you must first install it on your device. Click the microphone icon in Chrome's search bar to do so.
Google will request authorization to use the device's microphone. After selecting "allow," click the microphone icon in the search bar again and say the search phrase into the microphone. Google uses appropriate messages to guide the user through the voice search process. When you ask a question, the search engine returns relevant results.
Did you know that you can use Chrome extensions to improve the Omnibox in ways other than searching Google or typing a URL? There are additional tools that provide additional functionality, allowing you to spend less time browsing options and windows.
How Can Search Google or Type a URL Enhance Your Experience?
When it comes to looking up information, what if you do not already know that Google has a great deal more in store for you than you now realize? You have gained knowledge from this post on how to make it simpler to work with the browser by utilizing the Search Google or type a URL feature, as well as what to do in order to obtain even more specific results.
Your day-to-day interactions with Google will provide you with further tips and methods that will make your regular use of the internet more convenient.
It is a fairly quick and easy approach to Search Google or write a URL for any website on the Internet that will deliver more meaningful results for a certain subject matter. You may do either one of these things using this method.
If you will have the searches preconfigured, the amount of time that you will have to spend sifting through the results will be drastically cut down. You simply need to adjust the search string in accordance with your own requirements.
Also, Read
Which Way is Better?
Both searching and entering a URL have advantages and disadvantages. If you already know the URL of the website you want to visit, typing it in can be faster. However, if you are not sure where to look for the information, searching Google can be faster because it will bring up a variety of websites that may have what you're looking for.
Conclusion
There is a significant difference between searching Google and entering a URL. When you use Google to find websites that match your query, you are harnessing the power of the world's largest search engine. When you enter a URL, you are going directly to that website without the assistance of a search engine.
Frequently Asked Questions
What is Google URL search?
The URL Inspection tool informs you about Google's indexed version of a specific page and allows you to test whether a URL is indexable. Structured data, video, linked AMP, and indexing/indexability are all examples of information.
What are the uses of Omnibox in Chrome?
An omnibox is similar to a web browser address bar, but you can also use it like a search engine. The omnibox in Google Chrome can also perform mathematical calculations and even answer general queries such as converting "ft to cm".
How do I open Google Omnibox?
To quickly open Omnibox everytime you open a new tab or restart your browser, you need to do the following steps:
● Open Chrome browser
● Tap on the three dots on the upper right corner
● Select 'settings' from the drop-down
● Go on the 'search engines' tab and select 'Manage search engine and site search.'
● Now, scroll down a bit and set Google.com as the default search engine for your browser