One of the challenges that marketers often face is how to handle negative comments from followers on social media platforms. Picking up tips and tricks on how to deal with such issues can help build a strong online presence in an effective way.
Moderating comments is an important part of preserving your online reputation, and any inappropriate or negative messages should be addressed quickly and appropriately. But did you know that deleting comments on Instagram can sometimes be necessary as well? In this blog post, we'll walk step by step through how to delete a comment on Instagram accurately and efficiently so your brand's image stays intact. Professional social media marketing services can also handle this task skillfully.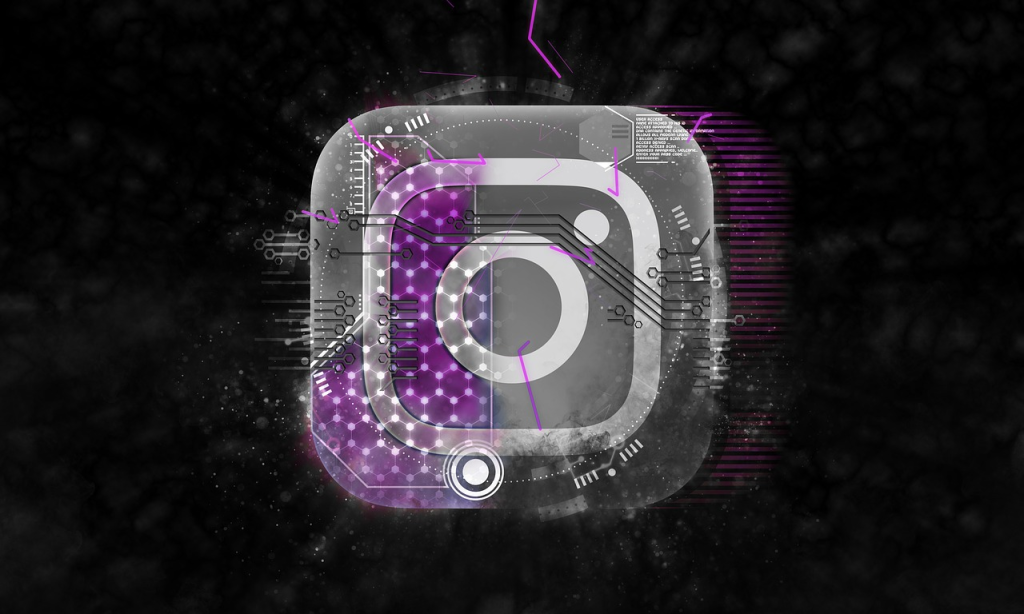 Things to Know about Deleting Instagram Comments
You can quickly remove a comment if you accidentally said or wrote something incorrectly or posted a wrong fact
You can only delete your own comments and the comments of others on your posts
You cannot remove comments from posts that do not belong to you
Instagram users are unable to edit comments. But you can delete the unwanted comment and add a new one in its place
You can bulk delete comments with the maximum limit of 25 comments at a time
If you are facing any other issue with your Instagram account, you can always contact Instagram support via email.
How to Delete Comments on Instagram on iOs and Android Device?
Step 1: Find the Instagram post in question by opening the Instagram app on your Android device.
Step 2: You can find the most recent comments that have been left on your post by going to the Notifications section after opening the Instagram app.
Step 3: To view each comment associated with the post, tap the Comments icon while viewing the post.
Step 4: Locate the comment you wish to delete here, whether it be your own or that of another person.
Step 5: To select a comment, tap and hold on it on your smartphone.
Step 6: iOS users can delete a comment by swiping it left. A trash symbol will appear, tap on it.
Step 7: To remove the comment on Android Phone, tap the Trash Can icon in the top toolbar.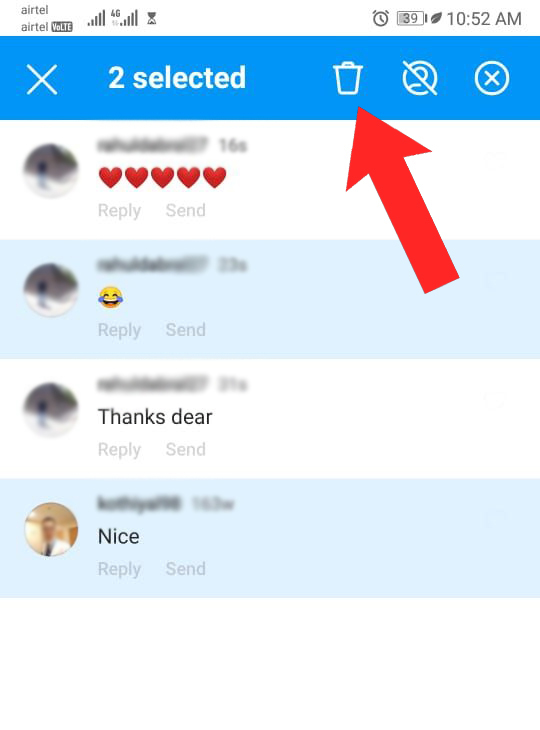 A banner informing you that the comment has been deleted will appear at the top of the screen. You have a few seconds to tap the "Undo" button to restore the comment if you change your mind.
Also, Read: How to Recover Deleted Instagram Account – Instagram Account Recovery Process
How to Delete Instagram Comments on PC?
You can still remove objectionable comments with just a few clicks if you're using a web browser rather than the Instagram mobile app.
Step 1: Navigate to the post with the comment you want to remove by opening Instagram in a web browser.
Step 2: When you click a post, you can view all of its comments in a single window.
Step 3: Click the three dots to the right of the comment you want to remove by hovering your mouse over it.
Step 4: In the window that pops up, select Delete.
How to Delete Instagram Comments in Bulk on Android and iPhone?
Instagram made the decision to provide a means of simultaneously deleting multiple comments. If that's what you need, use it in the following manner.
Step 1: Open the Instagram application on your Android or iPhone.
Step 2: Click the three-dot icon in the upper right corner of the post where you want to delete comments.
Step 3: Select "Manage Comments" by tapping the icon with three dots.
Step 4: You can now mark all of the comments you want to remove.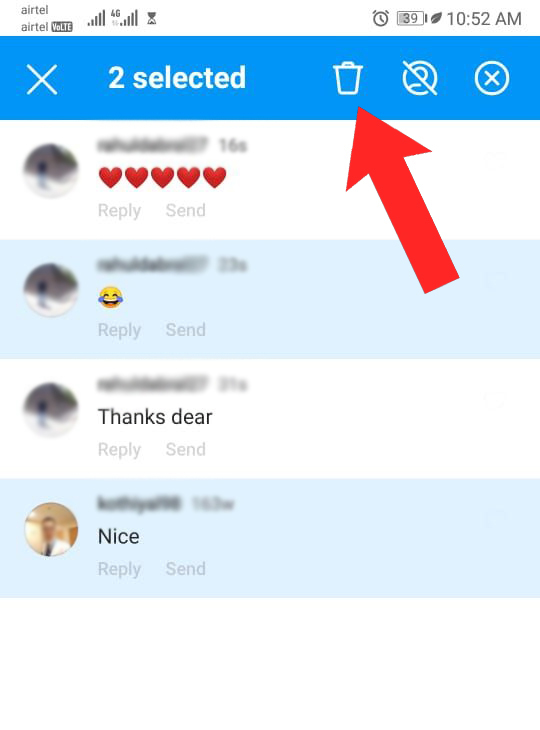 Step 5: To remove the ones you've chosen, tap "Delete Comments".
A maximum of 25 comments can be deleted from Instagram at a single time.
Also, Read: Free Instagram Followers Hack 50k Free that Works in 2023
How to Disable Comments on Instagram?
Turning off Comments for Live Instagram Post
You can't disable comments on all of your Instagram posts at once with a single button. Making your profile private is your closest option. However, Instagram allows you to disable comments per post.
Step 1: Open the Instagram app on your iPhone or Android device and browse to the post where you want comments to be disabled.
Step 2: Tap the menu button with three dots in the top-right corner of the post.
Step 3: Select the option to "Turn Off Commenting" from the menu that appears.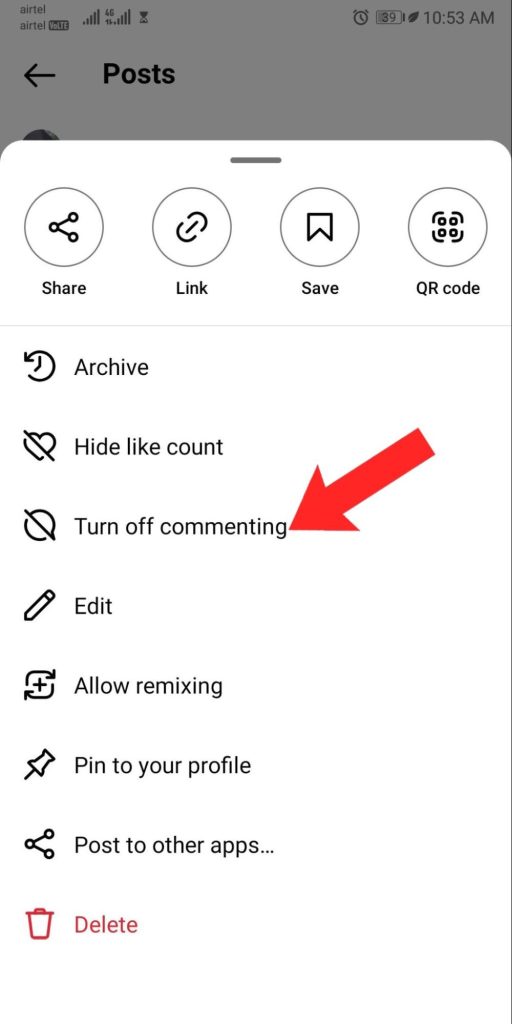 The comment section will disappear immediately. Your followers will no longer be able to post new comments, and previous comments will be unavailable to everyone.
This choice can be changed at any time. To restore all comments, tap the post's menu button with three dots and select the "Turn on Commenting" option. Try the Restrict feature to hide comments from a specific profile. You will still be able to view public comments after this, if you need.
Turning off Comments before Posting on Instagram
When you're about to publish a post, you might already be aware that you don't want people to comment on it. Instagram will allow you to disable comments just before the post goes live in that case.
Step 1: You will arrive at the "New Post" screen after selecting the media you want to include in your post. Here, you can add a caption and tag users.
Step 2: At the very bottom of the screen, select the option labeled "Advanced Settings".
Step 3: Click the "Turn Off Commenting" choice and hit the Back button.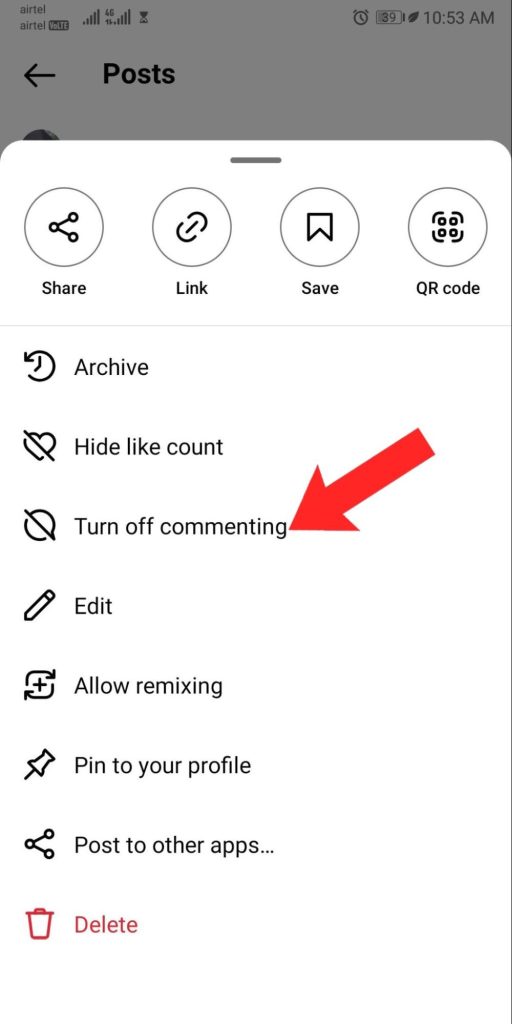 Step 4: To share the post with the comments feature disabled, tap the "Share" button when you are ready to post.
You can enable comments again at any time if you change your mind later. Select "Turn on Commenting" by tapping the menu button in the top-right corner of the Instagram post. Moreover, you can restrict comments to only your followers or people you follow in Instagram settings.
Comments Not Visible on Instagram
Reasons for Comments Not Visible On Instagram
You may not be able to view comments for a variety of reasons such as,
On a specific post, the account owner has blocked comments
The user might have blocked the option to get comments on their posts
A comment on a post will not immediately appear to you if they have a poor internet connection
If the account owner has hidden offensive comments and if they are used in the comments section, it will be removed and you may not be able to see them. Instagram empowers users to notice their comment section by giving them the choice of "hide offensive comments". The app will conceal any offensive comments left by users
The user can select which words in the comment should or should not be shown by using a "manual filter"
A user can hide their comment by filtering it with the Instagram comment filtering tool
It's possible that a user won't be able to see a comment on a post for a variety of technical reasons such as server problems or app glitches
If you have not updated Instagram to the latest version, you might face some issues in viewing comments
How to Fix Comments Not Visible on Instagram?
Update Instagram to Latest Version
Instagram suggests checking for app updates as one of the first steps. It's possible that a lot of users have complained about their Instagram comments not being posted or shown. As a result, Instagram might take action and include the required bug fixes in the most recent update. Aside from that, an out-of-date Instagram app may cause issues related to comments.
Test and Change your Internet Connection
Yes, commenting on Instagram does not need excessive bandwidth or speeds. However, the Instagram error message "Couldn't post comments" can frequently be caused by a weak connection. In addition, it is evidently one of the primary reasons why the comments section becomes stuck while loading. Take the following steps to improve your connection if you find that your internet speeds are reasonable.
Restart your Internet/Wi-Fi router
Switch between Wi-Fi and Mobile Internet
Turn on Airplane Mode, and then turn it off
Clear Instagram Cache
Instagram stores and accumulates cached data as much as you use it. Especially if you spend a lot of time looking at pictures and scrolling through your feed. As a result, if you've been using Instagram for a long time without clearing this, you might notice that the app's navigation feels sluggish. It has also been observed to obstruct certain app functions, such as preventing Instagram comments from loading or showing. This can be cleared from the system settings for Android users. For iPhone users, you have to reinstall Instagram to clear the cache.
Follow Instagram Guidelines
To avoid getting banned or blocked on Instagram make sure of the following,
There can only be up to five @ mentions per comment
You should not leave the same comment on multiple posts at the same time.
You can only use up to 30 hashtags in your comment
Don't publish multiple comments at once. Try to space your comments out
You can use these tips to make your app comments and interactions appear more genuine. As a result, your chances of being identified as a bot are lower. Also keep in mind that the number of comments you can leave each day is limited to 180 to 200 at the moment. This number will rise as your followers grow and your page appears more genuine.
Conclusion
You are now aware of how to remove a comment on Instagram. You can delete both your own and other people's comments on your profile page. You only delete your own comment from user pages. You can't get any of the comments back, if you don't restore when the undo button is visible. When you block a user, comments are also lost forever. Everything the user wrote under your content is lost forever in this scenario. Comments that contain offensive words can be hidden.
Do you often need to delete a comment on Instagram? Share in comments.
FAQs
Can I Edit a Comment on Instagram?
It is not possible to edit comments on Instagram, even if they are your own. However, you can simply add a new comment in its place. But, all the likes and replies associated with your original comment will be lost when it is deleted.
Can I restore the deleted comment?
Yes you can restore the comments you deleted but you only have a few seconds to tap the "Undo" button to restore the comment if you change your mind.
Will Instagram send a notification to the user if I delete a comment?
No, Instagram does not send any notification to anyone if you delete a comment. They can(not) find it only if they search for that particular comment.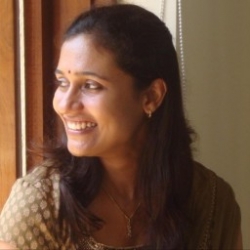 Latest posts by Ritu Sharma
(see all)