If you're a dentist, you know it's hard to find many dental patients with just traditional marketing. Patients are now smarter and internet savvy. A large customer base waits for your dental practise online.
It all begins with choosing the right intent keywords for the right audiences.
This guide shares everything you need to about dental SEO in 2021, to rank on page one of Google. Follow this guide to drive the right organic traffic and generate leads for your dental practise.
Let's get started now!
Focusing on the Dental Services You Offer:
Focusing on how you want to present your services to your target audience is essential.
It would be best to find a specific dentist profile that suits you and your audience's requirements.
If your website pages match the requirements of your local audience, then it's a clear win.
So it would help if you optimized your website pages with keywords that the search engine would find easily and bring to your audience.
You may include the followings to your website service page:
You need to add all your dental practices like dental cleaning, dental implant, orthodontics, and others on your service page.
With the help of Google Keyword Planner, you can find profitable keywords related to your practices and use them to optimize your service page.
So once a local customer searches with any of those keywords, your business will be visible.
In this way, you will get more and more people to visit your website and generate increasing revenues.
Google My Business Setup:
You already know why it is essential for your business to appear on search results.
So let's see how you can get your business on the Google search results whenever a local customer searches for a dentist.
Step-1:
First, you need to create Google My Business account for free.
Step-2: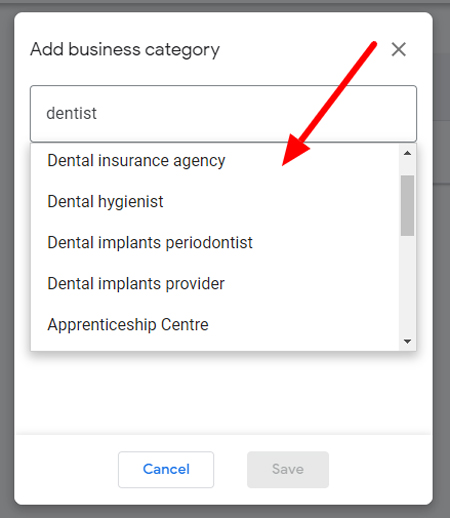 Choose the same category of your business and add a unique description that sums up your business details, including a link to your website.
Step-3:
Add your permanent business address and the local phone number so that your audience can reach out to you.
Step-4:
Upload some professionally clicked pictures of your dental clinic, dental instruments, and how you work.
Step-5:
Add a high-quality profile picture and a cover photo.
Step-6:
Add the schedule of your opening times and days.
Step-7:
Post some patients' reviews and feedback.
Structured Schema Markup Data: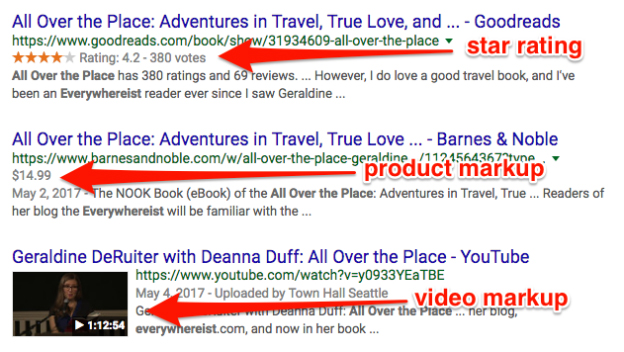 Structured data or Schema is a markup of HTML that provides the search engines information about your business and content.
Google's web bots crawl millions of results before showing the search result of any search phrase.
Schema lets Google's crawler know that you are a dentist practicing at this location.
Schema provides your business's geographical information, including location, contact number, opening hours, etc.
Once you markup all your schema information, you can check if Google can read it or not with Google's Structured Data Testing Tool.
Local Keyword Research:
You need to update your keyword strategy frequently to ensure that you are using the best keywords for your dental local SEO results.
Your website's traffic directly depends on how relevant your keywords are.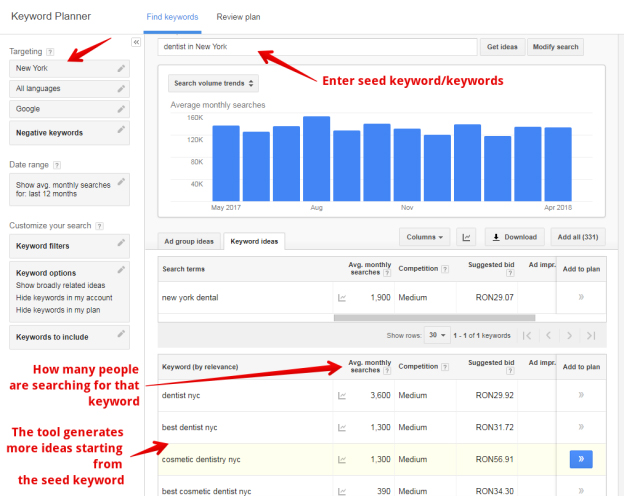 You should always keep an eye on your keyword rankings and improve the strategies continuously.
Here are some of the best keyword tools:
KWFinder
SEMrush
Google Keyword Planner
Ahrefs
SpyFu
KWFinder is a great tool to find potential keywords for any local business.
To promote your local dental clinic in a better way, you should choose keywords with commercial and research intent.
Keywords with commercial intent are for people who are actively looking for the service like:
"Family dentist service in NY."
While keywords with research intent mostly solve the problems, people face terms like "how" or "why."
Long-form Content to Get Google Reward:
Long-form content is the way to go, as Google always keeps rewarding it.
According to the study, top-rated and highest-ranked posts consist of at least 2000 words.
Yes, the top 5 content for a specific keyword has more than 2000 words.
So, you can understand why it is vital for you to create long-form content on your dental services.
Here are the key benefits of long-form blogging content:
Longer posts rank higher and are more visible than others.
People engage with long posts in a better way.
Longer posts make you appear as an expert to your audience, and they keep coming back to your site for help.
Generally, longer posts gain more internal links, which results in a higher ranking.
Google includes longer posts in its in-depth content feature.
What Type of Content Should Be Created for Dentists Website to Rank on Google 1st Page?
Google ranks content based on the format and keywords of the piece.
To decide which type of content to create for your dental practice, you can use SERP intent analysis.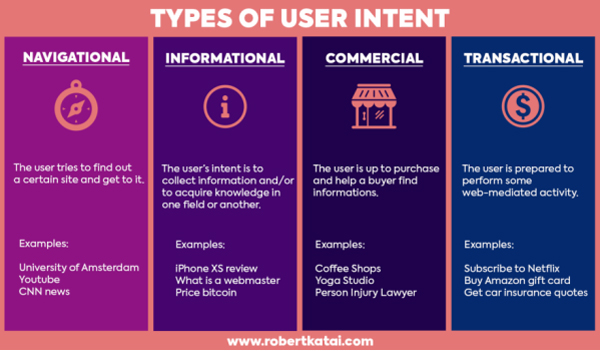 A topic can be used in different content with different intents.
To promote your dental implantation practice, you can create these types of content to get ranked on the Google 1st page.
Costs of dental implants-the patients searching for this type of content are ready to fix their dental issues.
Dental implant procedure-these dental customers want to know more about how you work and finally decide for themselves or recommend someone.
Dental implants, [ a location]- these patients are actively looking for a dentist to book an appointment and undergo the dental implant procedure.
So, you see, different people can search differently for a single dental help.
You need to create unique content that includes pricing, procedure, social proof, customer reviews of your dental practice.
Technical SEO Analysis:
Technical SEO analysis is essential for improving your visitor's experience and ranking high on Google search results.
Don't get scared with the word technical; you need to improve your dental site's technical aspects.
Here are a few technical things to consider to improve your SEO ranking:
Include "Dental services" in the navigation menu so that people can easily find it.
Put all the services you provide in the first menu as it makes your content more visible on search results.
Arrange all the content in an orderly manner so that visitors stay more extended time on your site.
Increase the page speed of your website as it directly affects the ranking.
On-page SEO Optimization: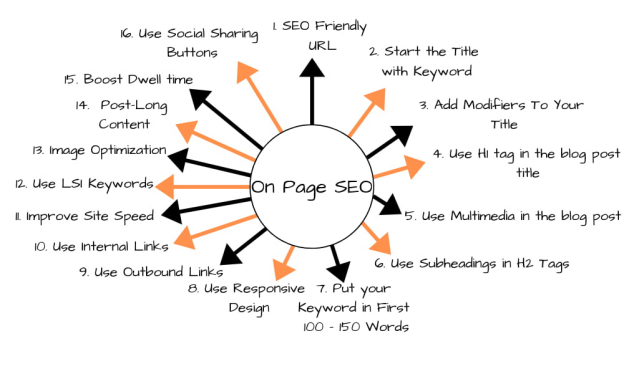 You have chosen potential keywords and the format of your content.
Now let's use those keywords to make your website more SEO-friendly.
Here are a few suggestions you should consider for on-page SEO optimization:
Choose a title tag that suits your content the best and also features top keywords.
Ensure that the meta descriptions are appealing to the patients so they can choose you over your competitors.
As you already know, the Schema should be on point and Embed a Google Map, including NAP (Name, Address, Phone Number) to all pages of your website.
Create the content on top topics that are longer than your competitors'.
You can also try getting a new URL with the help of professional internet marketing agencies.
Increase Positive Reviews: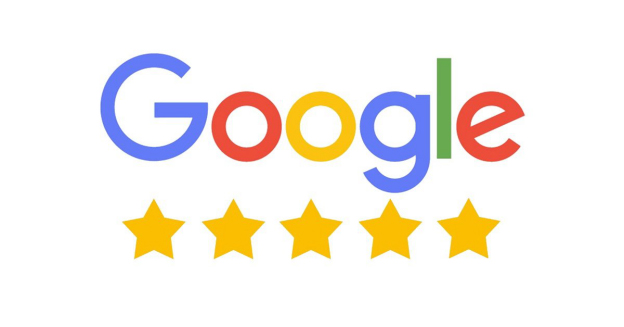 Positive reviews are something you can't miss.
Even the most unoptimized content can rank high with some excellent 5-star reviews.
It would help if you tried to get reviews of your dental services on Google, Yelp, and other local listing search engines.
To get some reviews, you should first reach out and ask your current and past patients and write a dental service review.
Here are some tips on how to ask patients for review:
Create a pop-up or landing page on your website for writing reviews.
Train your employees to ask for a review once they complete helping the patients.
Stick a "Find us on Yelp" wallpaper on the door.
Ask the patients for review with a special discount offer or gifts.
Search on Google for any local review website or opportunity.
Build Backlinks for Dental:

Links are one of the most important ranking factors for any website.
There are numerous ways to get backlinks for your dental website.
Let's explore link building for your dental website.
Link building is the process of obtaining links from external websites to your website.
You can create content that would make other website owners link to your site.
A link can be an image, a text wrapped hyperlink, or anything.
Guest Posting for Dental:
Guest posting is when you post your content on someone else's website and obtain links.
It would help if you found reputed websites that are interested in letting you post your content.
In this way, you will find a broad audience for your dental website quickly.
Examples of Guest Posting Search Terms for Dentists:
Creating a scholarship program is one of the most abused methods of link building by digital marketers.
It would help if you created a scholarship and contact schools and universities to add that to their websites.
You will get some authoritative Edu links and positive reviews.
Infographics Backlinks for Dental:
Infographics are charts and diagrams through which you can show interesting data about your dental practice.
You can design high-quality infographics that are appealing and accurate.
You can get some useful backlinks by promoting these dental infographics.
Help A Reporter Out, aka HARO, helps you create content and reach them to your audience.
Dentists can use HARO to get backlinks and be visible to a large number of patients.
Testimonial or Review Backlink Building for Dental:
You can write reviews on different websites to get linked.
Dental instruments, medicines, clinic supply, and other things would enjoy getting reviews while you obtain links.
Local and Citation Directories:
Local or citation can show your dental clinic to your potential local patients.
Yes, local directories are often the most used directories, including reviews, contact details, navigation, and description.
Examples of Top Local Business Listing or Citation sites for Dentists:
https://www.ada.org/
http://www.dentistdirectory.com/
https://www.everydentist.com/
https://www.superdentists.com/
https://www.thedentisthub.org
https://www.freedentalcare.us
https://www.freeclinicdirectory.org
https://www.ehealthscores.com
https://www.dentists.com
https://www.everydentist.com
https://www.dentalclinics.org
https://www.labdraw.com
https://www.fsnhospitals.com
https://www.implantdirectory.com
https://www.geodentist.com
https://www.medevnet.com
https://www.nearbydental.com
https://www.dentpedia.ca
https://www.discoverdentists.com
https://www.911dental.com
Podcast Backlink Building:
Producing dental podcasts can bring you link opportunities.
You can get these links from podcast hosting companies and blog transcriptions.
Bonus: Dental SEO Trends Not to Ignore in The Future (2021- 2025)
Two SEO trends are not only going to help you now but also soon, it is going to be an integral part of SEO.
With devices like Alexa, Siri, Google Play, voice search has become a standard way of using the internet.
Half of the people who search for local businesses use voice search, so you must practice and include voice search in your local business.
Currently, Google evaluates content based on three things- Expertise, Authoritativeness, Trustworthiness, or EAT.
Your dental content should have expertise on your topic, an authority over the website, and transparent for the audience to engage.
FAQs About SEO For Dental:
What is SEO for dental websites?
SEO for your dental website refers to how SEO optimization of your website can improve the visitors' experience.
SEO optimization also helps Google crawl your site quickly and gets you a higher rank in search results.
So eventually, SEO will get your dental website more traffic and a higher conversion rate.
Is SEO difficult for dental websites?
There are cases where a dental practice gains a high SEO ranking within a very small-time span.
But generally, it takes 3 to 6 months to achieve a sustainable high SEO ranking.
It would help if you always preferred getting help from SEO experts as the Google algorithm keeps changing.
Can I do my dental website SEO?
Yes, you can do your SEO.
Anyone can do their SEO if they do some research and practice.
But before jumping into the SEO work, make sure you have proper knowledge about the fundamentals of SEO.
Why is SEO important for dentists?
With SEO, you can reach not only your local patients but also a broader increasing audience.
You can provide useful dental care information and keep your audience engaged in your content.
What are some ranking factors for dental websites?
The most important ranking factor is nothing but content.
Yes, content is king!
Apart from the content, here are some of the most useful ranking factors:
A strong backlink profiles
Website speed
Targeted audience
Unique content
All device-friendly website
Crawlable website
Conclusion:
If you're interested in local SEO, you must use them for your dental practice today.
If you find it's useful for dental business owners, please share this guide with your social media today!
Do you think that your dental website hasn't implemented these strategies yet?
Start implementing all the above strategies to super change your local SEO ranking!
If you have any questions about dental website SEO, please comment below!