Nowadays, businesses worldwide invest in Search Engine Optimization(SEO) as it is one of the most effective techniques to drive website traffic and generate leads. As you run an online business, it is necessary to implement different marketing strategies, such as local SEO and national SEO.
Unfortunately, many businesses have the least knowledge of SEO and consider it only a process to reach a maximum number of people via search engines such as Google and Bing. SEO services not only increase your profitability but benefit your business in many more ways.
SEO is mainly about your online business and website. Over the recent years, an increasing number of online businesses have started investing in digital marketing and website development. But many businesses are not aware of the right digital marketing channel to grow consistently.
So, here is a detailed comparison between local SEO and national SEO highlighting their differences and similarities that would help you to understand the better option and how to use them to fulfill your business objectives.
Let's dive in.
What is the difference between Local SEO vs National SEO?
Both local SEO and National SEO have the same purposes and can position your brand on the top of Google SERPs or somewhere close at least. The few topmost search engine ranks on Google get the highest number of clicks and thus, tend to make huge profits. You can implement both these SEO approaches to rank high on SERPs.
The key difference between them is from where the visitors come. To improve local search, you need to focus on people who live near to your business, which benefits if you work or require leads from that location. On the contrary, brands use national SEO to get as much as traffic possible across the country.
Local SEO brings the most desired search results for SMEs that depend mostly on local utilization. National SEO is perfect for online stores and companies that deliver their products and services to any part of the nation.
Now, let's discuss the main features of local SEO and national SEO.
Local SEO Features
This type of SEO is perfect for small online stores and businesses that target only local customers. Companies that tend to make profits from local search are beauty salons, car mechanics, restaurants, bars, and others. In some cases, a small service trader makes more profits from national exposure than local, depending on the target audience.
When running a local SEO campaign, the experts focus on relevant keywords to your company's physical office details(such as an address, city name, and area) on local search results. This marketing approach helps you gain a prominent position in the local community so target customers can find your business easily on local search results. If you do SEO correctly, users can see your store if it is near to their current location.
Local SEO is quite an easier process than national SEO because of less competition. Google displays all the local companies in SERPs that match users' search queries and is located near them. Thus, regional SEO is inclusive rather than exclusive.
Follow these strategies below to improve your local SEO:
Add your company's location and address to your website's Contact page.
Add your organization's city and address to your website's Contact page.
Add your city, address, and neighborhood to your website's Service page.
Add other relevant information (such as phone number, working hours, and map) for local users.
Submit your business information to Google My Business, review websites and local directories. Ensure your business information is consistent.
Build social media profiles featuring your company's contact details.
When it comes to working on local SEO, you should be visible to Google in a specific geographic location. The search engine needs to understand that you are a legal business that is based at a specific location. As said earlier, Google adds as many regional companies as possible until they offer the required services and information to users. It displays the most relevant search result for your niche.
Local SEO also works well for national brands who want to rule local areas building location-centric web pages for your website across the nation.
National SEO Features
National SEO is the perfect strategy for large organizations, franchises, and online stores. They also want to reach a maximum number of target customers through their websites. The big companies aim to increase the total number of online visitors irrespective of their locations, they tend to boost their profit.
Companies, which can safely and quickly move and deliver their products to distant locations prefer to implement national SEO. They also use this SEO approach to set up an international SEO basis.
It's quite difficult to optimize your website on a national level as you need to prove to Google that you are one of the top companies in your nation. Nowadays, It is much tougher to mislead Google with cheap strategies such as keyword stuffing and link building. Google refers to user engagement and signals as determinants for web pages relevancy. Thus, you need to create some intriguing content and products that can engage maximum users. They would also feel like sharing them on social media.
All these required activities make national SEO much more difficult, costlier, and time-consuming than local SEO. But if you succeed in fetching the top search engine ranks for certain highly lucrative terms, you can take your brand to the next level online in a short time.
Follow these strategies to improve your National SEO:
Ensure your website has a proper framework so you can easily access any page in a few clicks.
Build a mobile-friendly website so all its pages load fast for users.
After you are done with the primary activities, invest time in building ethical links from genuine websites in your niche.
Optimize your content for specific keywords.
Use semantics properly.
Identify and fix all errors
These are some of the tips that you should follow for national SEO. It takes time and effort to gain prominent national exposure. No matter what you do, you can never do SEO quickly. As it is a slow consistent process, you need to wait for months and even years. If you are okay with long-term investment, this robust marketing strategy can turn out to be one of the most lucrative sources of income.
Which Companies Should Work on Local SEO?
Every company owner dreams to have national exposure, be it a small or big organization. But, national exposure is not always the best solution for any company to grow as it demands a lot of time and money.
You should work on local SEO in the following cases:
If you have a small company and can't deal with excessive business operations. When you supply your local community, you form a solid base that can help you later to extend your business.
When you can't or don't want to leave your physical office or travel to any other location to offer services. Local optimization is perfect for only some kinds of businesses.
If you are not interested in a huge investment, you should focus on SEO presently and until you can't afford to pay a lot as required.
When you don't feel like waiting for implementing national SEO, even if you want to extend your online presence nationwide. With Local SEO, you can make profits initially which helps you to boost your marketing campaign later.
If you value regional brand development over national, you should start with local SEO.
Which Companies Should Work on National SEO?
National SEO is different from local SEO. The former is a much more complicated process and is prone to larger and more frequent changes, which gets tough for experienced business owners to handle.
Here are certain points that will help you decide if you should focus on national SEO:
To make huge profits in the crowded marketplace, you should sell your products and services on a national level. This SEO approach works well for franchises and corporations as they already have local offices in different cities and locations.
Brands that are focused on consistent growth and want to expand need to always work on national SEO. This SEO approach helps you to extend the outreach of your company even if you don't have the right framework to manage incoming orders.
If you are capable of surviving competition nationwide, you should focus on national SEO. One of the major difficulties with this SEO strategy is that many other companies will strive hard to display on the first page of Google SERPs. Thus, you need to be capable of competing and investing in national SEO over a longer period.
National SEO is an excellent technique to enhance your brand recognition and position yourself in the crowded marketplace.
National SEO is an excellent strategy to build and position your brand in the online market. This process boosts your sales and leaves a significant impact on your business that helps you to improve your brand image in the eyes of target customers.
If you have a high budget or limitless fund, national SEO can be a great approach to implement for business growth. National SEO is a never-ending process. So, you should keep on investing in the SEO process as long as you want to boost sales and grow your business.
Now, let's discuss the comparisons between Local SEO and National SEO depending on various factors.
What are the Key Differences Between Local SEO vs National SEO?
National SEO (also known as traditional SEO, onsite SEO, or on-page SEO) is a process that is perfect to boost the SERPs visibility of your website on a national scale. On the contrary, local SEO mainly depends on listings and platforms other than your website and aims to boost search visibility in a local market.
When you work on local SEO, you need to prioritize reputation management and NAP consistency until you run your business. While working on national SEO is mainly about creating and optimizing valuable content and boosting domain authority.
But before explaining these two SEO approaches in detail, you need to understand where local SEO results and national SEO results display on the SERPs.
Difference Between Local SEO Results vs National SEO Results on the Google SERP
If you are seriously thinking about implementing local SEO or national SEO, you need to clearly understand the different types of search results that display on the Google SERPs. Though local SEO and national SEO work together in several days, you see certain things on the SERP that are there mainly because of the influence of the SEO effect of one type or another.
The points below discuss the impact of three different platforms on the SERPs:
The paid search advertising at the top of SERPs appears as a way courtesy of the Google Ads platform. Paid search ads are an example of expanded text ads.
"Local Pack" or "Local 3 Pack" displays in the middle of the page which is a way courtesy of Google My Business(GMB). When it comes to local SEO, GMB is the most crucial platform that helps a business to increase its online presence and attract maximum target customers.
The top on-page SEO result appears towards the bottom of the SERP.
These search results are mostly related to the website content and structure rather than coming from platforms like Google My Business. The content on a domain (be it Squarespace, WordPress, or any other CMS) directly impacts the display on SERPs.
So, now you know what is on the SERPs. Let's discuss two key concepts that help local SEO results to display over there.
Also, Read
Local SEO Big Concepts
The two big local SEO concepts are a thorough reputation management plan and consistent NAP citations. Find below the explanations of each of these concepts so you can make it big on local SEO.
The Role of Reputation Management in Local SEO
Reputation management is the process to monitor, manage, and generate reviews on different business directory listings. The most crucial platforms to manage reputation are GMB, Yelp, Facebook, and other online platforms.
Reviews, mainly positive ones, matter to attract maximum target customers. According to research, a single negative review drives away 22% of prospects, i.e. approximately 30 customers, and three negative reviews drive away customers by 59.2%.
The total number of lost customers increases with an increasing number of negative reviews. Target customers tend to read reviews before buying products or avail of services from a new company. They will filter reviews most of the time to check the negative ones first.
Reviews are quite crucial to improve local search visibility. Google does not reveal clearly how these factors affect local search visibility. Online reviews affect 93% of consumers' purchasing decisions.
Various researches have found a significant change in local visibility depending on if a business website receives more or less than 4 average ratings on Google. There seems to be the same magic line which is positioned at the 4.5 ratings, with companies at 4.5 or more than that number getting noticeable importance over 4.4.
But you must be happy knowing that ⅓ of all reviewers would be interested to change negative reviews to positive or neutral reviews if they receive an empathetic or professional reply from your business. So, you should have and implement a proper reputation management plan to convert the negative reviews into positive ones.
The Role of NAP Citations in Local SEO
Name, Address, Phone (NAP) citations play a significant role in improving your local SEO. Search engines trust those businesses with proper listings across over 60 online directories. When all platforms tell Google the same things (for instance, your phone number), the search engine feels great about displaying your business to users searching for a specific service that your company offers.
Approximately 46% of all searches on Google have local intent. Almost half of those searches include a physical location visit in a day. With a high visit intent, you can easily understand why there is a thing like a premium on correct contact details.
If Yelp has a former home number or Bing Places has an old address, and the name on Facebook is different from the others, search engines will be more careful about displaying your business. A cautious search engine won't give more preference to your business when displaying the search results.
Besides the name, phone number, and address, other crucial components of a website are its URL, business category, and operational hours. Consistency is equivalent to search engine trust and increased local search visibility. Are you interested to know how your business looks? You can check NAP consistency through a free business listing scan.
National SEO Big Concepts
With the growing implementation of national/on-page SEO, you need to create and optimize high-quality content that helps search engines and humans to understand it. If your website has enriching content, it can attract high-quality inbound links that boost the domain authority.
The Role of High-Quality and Optimized Content in National SEO
Content affects almost everything about national SEO. This subject is less about implementing the most effective techniques and more about drafting excellent content that adds value to users.
If you create enriching short pieces of content(400 to 600 words), they can rank high on the SERPs. But the top reading content on the SERPs is 1500 to 2000+ words. You should aim for creating valuable content to share information and give answers to user queries rather than drafting content with excessive words. Remember, filer content will never help but hurt SEO.
Your content should be of high quality and able to solve user problems. You must optimize your content so search engines can understand it. According to Google, you need to build a website to benefit your users. Any kind of content optimization should aim for improving the UX. Search engines are also one of such users that helps other users to find your content. SEO is about making it easy for search engines to understand and display content.
On-page content optimization is working on factors such as keyword density, meta descriptions, title tags, H1, H2s H3s, and internal linking. If you are not aware of these elements, you need to study in detail SEO content writing.
The Role of Domain Authority(DA) in National SEO
DA is a metric developed by Moz which predicts the chance if a website is about to rank on the SERPs. DA scores vary from 0 to 100 with the most authoritative websites having the highest authority.
This concept is dependent on the point that all websites are not equal for search engines. For instance, Google positions a 3000-word article from the New York Times quite high on the search results page. But when the same article gets posted on a brand new website with a less readership, the content will not display high on the SERPs.
Have you ever wondered what drives DA? Links as they are the popular votes online. If your website has more links, it gets more votes of "trust". Thus, when your content gets displayed on a trustworthy website with a high DA, you give it an edge over other content in terms of the chance of ranking high on SERPs.
But what should you do to get the maximum number of links? You should create excellent content. Your web content should be such that other webmasters will wish to link to it as it adds a high value for readers. You will surely be happy to receive links as that continue to improve the linked page authority and overall domain.
What are the Similarities Between Local SEO and National SEO?
Local SEO and National SEO have differences as well as similarities. The biggest similarity is that search engines aim to deliver the finest UX which means they look for quality. The last thing which Google prefers to do is send a user to an average website because of which they get a reason to use Yelp or Yahoo or Bing in the coming days.
Thus, you must always think about what search engine bots can do when they crawl the internet. The bots look for signals that represent listings for local SEO and enrich the content for national SEO so users can have a positive experience.
When it comes to local SEO, the search engines measure authoritative and relevant results depending on signals such as photos, geographic location, average rating, and frequently updated operational hours. They emphasize less on the real verbiage density. Thus, other signals measure relevance and authority.
A top search engine ranked piece of on-page SEO content on the SERPs tends to have 2000 words. While a GMB listing description only permits 750 characters. In the national SEO scenario, most of the content gets displayed with a detailed website copy. You need to learn and implement the most effective on-page optimization practices to help search engines understand your website content.
To rank high on SERPs, you should have high-quality, unique, informative, authoritative, and helpful content. If your content meets all these criteria, your website tends to fetch a high search engine rank.
Which are the Best Platforms to Use for Local SEO and National SEO?
As branded search is high intent, it tends to convert more than non-branded search. When prospects make up their mind that a company is the perfect provider of the products or services they want, the target customers tend to be in a conversion stage rather than only a research stage.
When it comes to the value of organic traffic to a company, organic search gets valuable views via this lens. But, SEO can't win new customers for a company in the same way as such people were already thinking regarding the company. In this view, branded organic traffic can work.
Local SEO Platforms
Here is a list of local SEO platforms that you can use to get the desired results:
Google My Business(now known as Google Business Profile in 2023)
Google My Business(GMB) is the only crucial platform for local SEO which makes it one of the most crucial platforms for local and overall SEO. According to the Local Search Ranking Factors study, the importance of GMB listing for local SEO is growing. The image below shows the top 15 factors to making it big in the Local Pack from the latest version of the survey.
Yelp
Yelp is not as important as Google's business listing. Yelp helps you to build a comprehensive and precise listing. You need to add elaborate information, attractive images, keywords, and relevant categories. As reviews matter, you need to formulate a proper reputation management plan.
Yext
In Yext, all directory listings are not equally created. After using GMB(one of the most important platforms) and certain secondary listings like Yext, you may not have great benefits in managing the other platforms individually. That's when you should Yext as a directory listing platform as that helps you maintain consistency and accuracy in data across over 60 other directories such as Yellow Pages, City Pages, and Bing Places.
When you use Yext, you can easily fill out the relevant information for a business located in a particular place and then sync information across a broad network. If you do so, you have time because of access consolidation in a single place. It also improves local SEO making it easy for NAP consistency to get into those listings.
National SEO Platforms
Here is a list of platforms that you can use every day to improve your national SEO:
Moz Pro SEO
Moz Pro SEO is a paid software platform that works well for keyword research, competitive research, SEO campaign tracking, and other things. The platform also helps with technical SEO website crawls. You can also use it to analyze separate pages for optimization.
A wide variety of SEO platforms, including SEMRush, are easily available. If you experiment with both Moz and SEMRish, you will understand that the former is better than the latter. When you do research, you can learn from any available resource and then make an informed decision.
Google Analytics (GA)
Google Analytics is a source of truth for all your digital marketing initiatives. Moz is perfect for understanding the ways keyword ranks fluctuate. Moz is perfect to understand the ways keyword ranks move after you implement the On-page SEO strategies.
But GA gives a better understanding by displaying how it converts into traffic and website conversion activity originating from organic search. GA has turned out to be a must-have platform to measure the exact ROI of any on-page SEO format.
Google Search Console
Google Search Console(GSE), earlier called Google, is the perfect place to go for organic search results directly for the large Google machine. Google Analytics measures all web activities on a specific web property. GSC displays only keyword and traffic information for Google organic search.
With the help of GSE, you can see the ways landing pages perform depending on the organic traffic trends and which keywords get clicks, and the impressions for those pairs. You can find ranking and how non-branded and branded organic search is stealing the show.
Moreover, you can conduct other crucial website activities such as submitting the sitemap to Google. Moreover, you can review inbound links coming to your domain from other websites.
WordPress
WordPress is a popular CMS. Every on-page SEO effort demands access to your website to optimize content. This is when you need to use a CMS like WordPress. You should know how to use this CMS to optimize your onsite content.
Google Tag Manager (GTM)
Google Tag Manager functions like Google Analytics when it comes to assessing the impact of your SEO initiatives. Have you checked if the organic clicks on your blogs result in conversions on the website such as clicks-to-call, submitted forms, and white paper downloads? Most of these activities need setting up button click tracking and other events in Google Tag Manager which then get transferred along into Google Analytics.
The best thing about GTM is that it is a free platform. You can start immediately but it takes a long time to master this platform.
How To Assess Both Local SEO and National SEO?
You need to have proper measurement plans and processes to measure both local SEO and national SEO efforts. Find below how you can assess both these types of SEO to understand where your business stands in the online marketplace.
How to Evaluate Local SEO?
Here are the tips to evaluate your local SEO performance. Though the first two tips are related to Google My Business, the third tip is focused on Yext.
Include UTM parameters in your website links
You should add UTM parameters to your website links in your Google Business listing to isolate that traffic in Google Analytics. Your parameters for medium and source need to still be Google and organic so traffic rolls up in organic search traffic channels.
But include a campaign like utm_campaign=gmb_locationname to see this traffic in the Campaign reporting section of GA. The image below shows what the reporting may look like.
Record GMB monthly insights data
Keep a track of your GMB insights data every month so you can assess performance on a monthly and yearly basis. It is advisable to evaluate Discovery vs. Direct search visibility (usually drives a larger share of the former over time), calls, clicks to the website, direction requests, and photo views.
The image below is an example of Customer Actions reports, where you can see activity occurring on the listings such as direction requests and calls.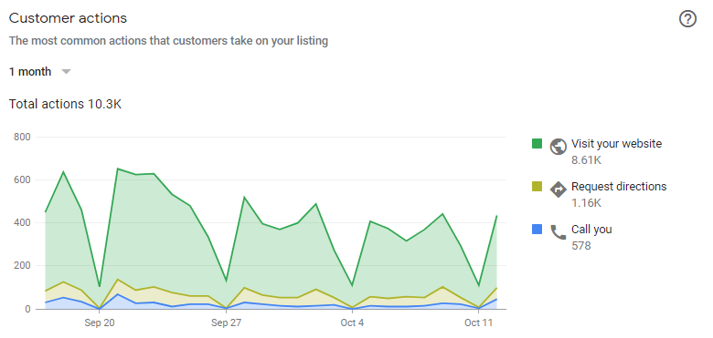 Use in-built reporting tools
If you use platforms like Yext to handle directory listings, use the in-built reporting tools to assess and weigh user activities over time.
The image below shows that when you use Yext, you can evaluate certain conversion actions such as Order Now buttons, Mobile clicks to call, driving direction requests and Uber ride requests.
How to Evaluate National SEO?
Besides national SEO, you should always assess keyword ranks, total traffic from Organic search, and your conversation from organic search.
Here are the tips that you should follow:?
Initiate with the crucial business theme
Identify the most lucrative search themes for your brand and track their ranking for different keywords used on this platform. The image below shows the natural keywords ranks for trending keywords related to the content. Due to this, you can see how certain optimization efforts convert into SERP positioning that ultimately converts into more click volumes.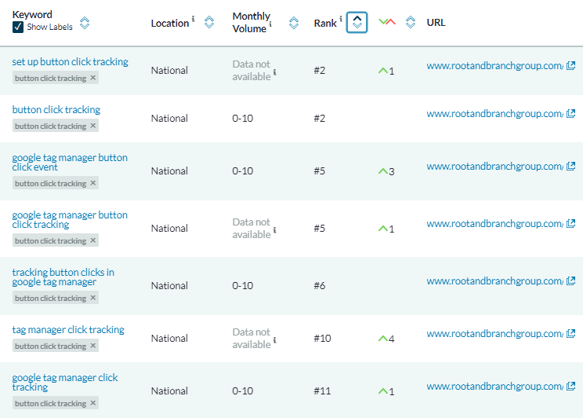 Use Google Analytics to assess your web traffic coming from Organic Search every day
As you invest time, money, and efforts in on-page SEO, you need to eventually see that translates into more organic traffic gearing to your website.
Utilize GA Acquisition Reports
Use the Acquisition reports in GA to check if your reports are not getting the desired outcomes. Create a customized segment in GA to assess how Organic Search drives manor conversion actions.
Finally, you will have to understand if increasing the total number of keyword ranks and fetching more organic traffic also drive more conversion activities. To get an understanding, you need to set up proper Goal Tracking in your GA view.
Once you are sure that those goals are perfectly configured, you set up a customized segment to distinguish organic traffic and find exactly what your SEO initiatives create.
The image below is an example that shows organic traffic drove 128 out of 195 newsletter subscriptions in a 14-days period which is quite a good number.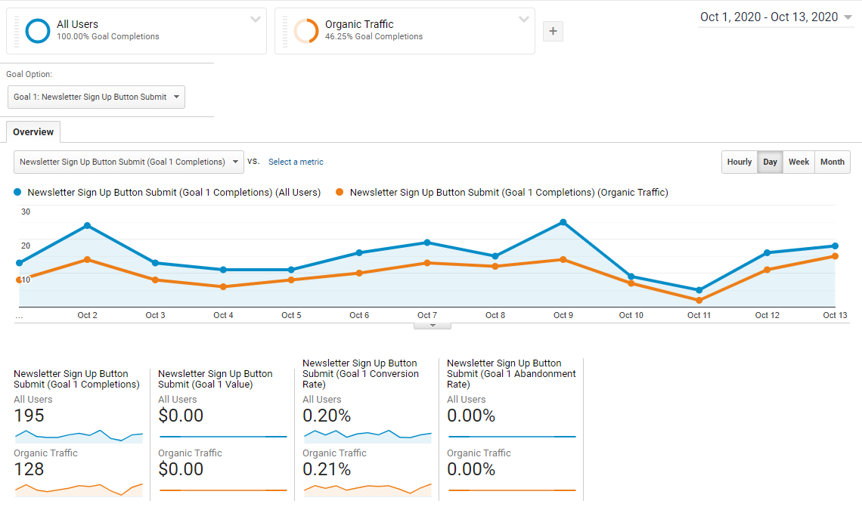 In a Nutshell
Both local SEO and national SEO can work well for your business if you implement them effectively. You must have understood that by now through this post.
When it comes to local SEO and national SEO you need to keep in mind that search engines always intern to serve top-not results to users on the SERPs.
The key ranking factors for local SEO are high-quality images, listing frequency, listing updates from your business, review quality and quantity, and user relative's location to the listing location. While a high-quality result for national SEO will be primarily predicted depending on the authority, expertise, and reliability of the corresponding content.
When working for local SEO, focus on NAP consistency and attracting countless positive customer reviews. When working on on-page SEO, focus on generating detailed and unique content that would help many people. After working dedicatedly on the specified things, optimize the content for search engines and rank high on search engine results.
You can work on either local SEO or national SEO suited to your requirements, but you must have a measurement plan to assess their performance frequently.
Hopefully, this detailed comparison between local SEO and national SEO helped you to understand which can benefit your business. So what are you waiting for? Start implementing the best SEO strategies to improve your brand presence locally or nationally.
Frequently Asked Questions
Is local SEO relevant?
As per a study, 33% of local search clicks are on Local Pack, and 40% are on organic results. It implies the importance of local SEO to improve rankings for local businesses.
Who needs local SEO?
If you have a physical location or serve a specific area, local SEO can be helpful for your business. If search results for keywords relevant to your business show a map with 3 listings, local SEO is for you.
What is national SEO?
National SEO is the best way to make your company's website appear higher in Google results for broad keyword terms that do not have specific geographic terms.