A strong local SEO presence is critical for driving more customers to your store, whether you operate locally or globally, especially if you have physical locations. When you consider that the majority of customers use the internet to learn about a company, it may seem weird for brick-and-mortar stores to focus on growing their online presence. Local SEO tools can help you improve your visibility and engage your audience. These are some of the best SEO tools that can also help you manage rankings, gain insight into competitors, generate SEO-optimized keywords, track performance, and drive client involvement.
What is Local SEO?
Local SEO refers to the process with which SEO experts rank your brick and mortar store at its physical locations. You can expect the local results to appear in Google's search, Maps, and other similar places.
The importance of SEO in your online marketing activities cannot be overstated. As a result, many marketers opt to track, measure, and analyze their SEO efforts using various SEO tools, including free local SEO tools. Some of the best local SEO tools, such as Google Analytics, may already be in use. You should not, however, overlook your local SEO efforts.
Why Do You Need Local SEO?
Local SEO is critical to your SEO strategy, especially if you are a small to medium-sized firm that relies on local clients. You can use a variety of local SEO tactics, from incorporating local SEO keywords in your content to submitting your NAP (name, address, and phone number) to various local directories. Use these essential local SEO tools to assist manage and streamline your local SEO operations.
In this post, we have shared the best local SEO tools for 2023. With a little knowledge about local SEO and the industry best practices, you can excel with these tools. However, if your business does not have a professional SEO setup, yet, then we recommend you seek SEO services from an experienced company or go for paid SEO tools. It will help you get good results in the short duration. You are also more likely to achieve better local search rankings with an established company than by doing it yourself.
Importance of Local SEO
In 2021, about two third people who searched about a local business or service went to a retailer within five miles of their location. In this digital age, 97 percent of individuals learn more about a local business online than anyplace else. This presents you and your business with a unique marketing opportunity. Utilizing this, you can promote your store among relevant customers who are looking for the exact or a similar product or service.
Another advantage of SEO is that it can market your business 24 hours a day, 7 days a week, both online and offline. Consumers undertake a variety of queries as they progress through the buying funnel. You may boost your brand's online presence by effectively using local SEO.
8 Best Local SEO Tools for 2023
Deciding which local SEO tools are best in the industry is a difficult task. These tools vary by large due to different features and services they provide. We have made a comprehensive list of the best local SEO tools for businesses to make the selection easier for you.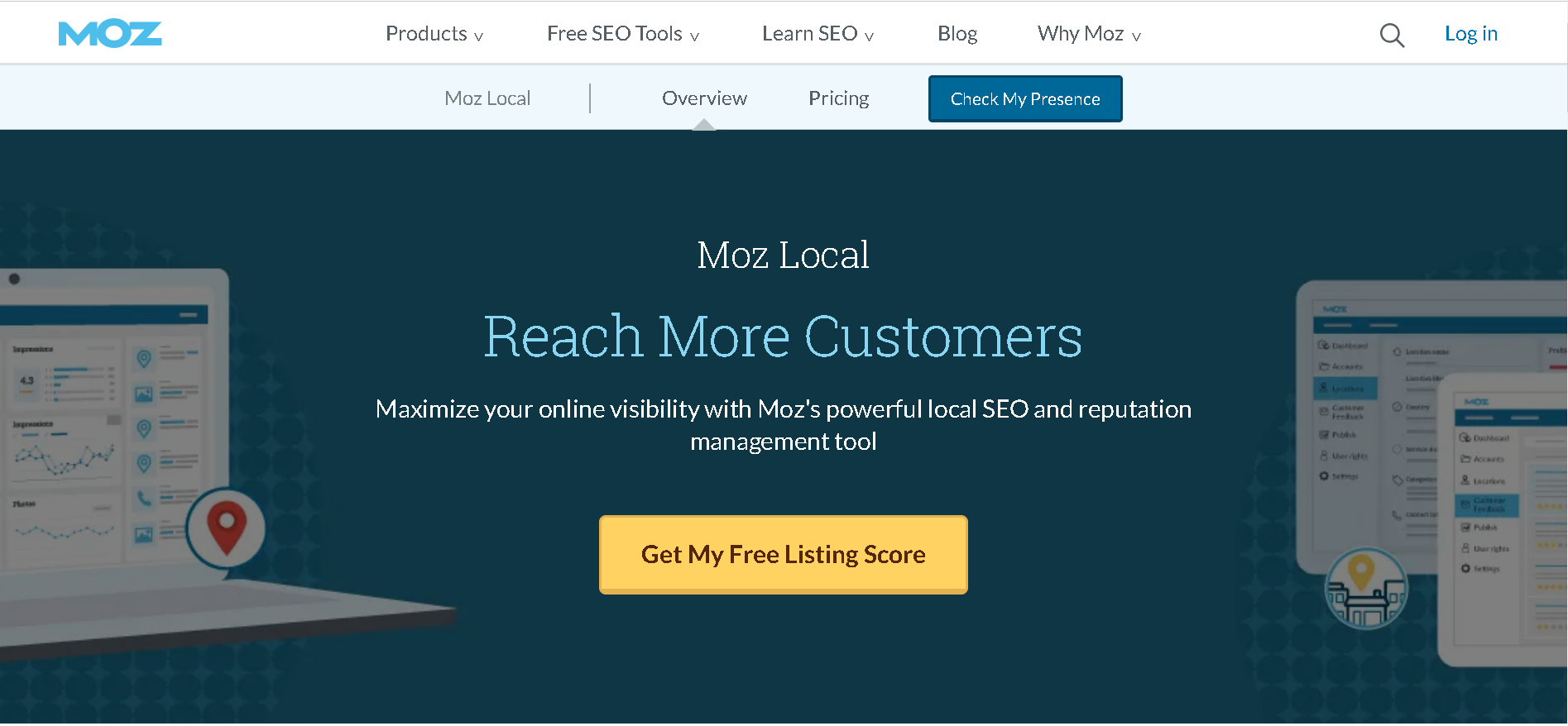 Moz Local is a popular local listing management tool that lets users manage local listings, as well as claim and validate entries. The tool works with data aggregators to help promote listings, ensuring that your business is always visible. Furthermore, the tool will examine your citations and alert you to any problems it detects, which could be harming your local SEO.
Finally, Moz Local will provide you an overview of the categories and media that were used in your citation. Compared to other local listing management tools, Moz Local can be purchased at a reasonable price. The company also runs several promotions during which it gives a free trial of the tool.
Advantages of Moz Local:
Track & measure your brand's user sentiment
Instant alerts for new customer reviews
Wide network of partner websites for local listing distribution
Helps keep local listings actively updated and maintains relevance by deleting duplicate listings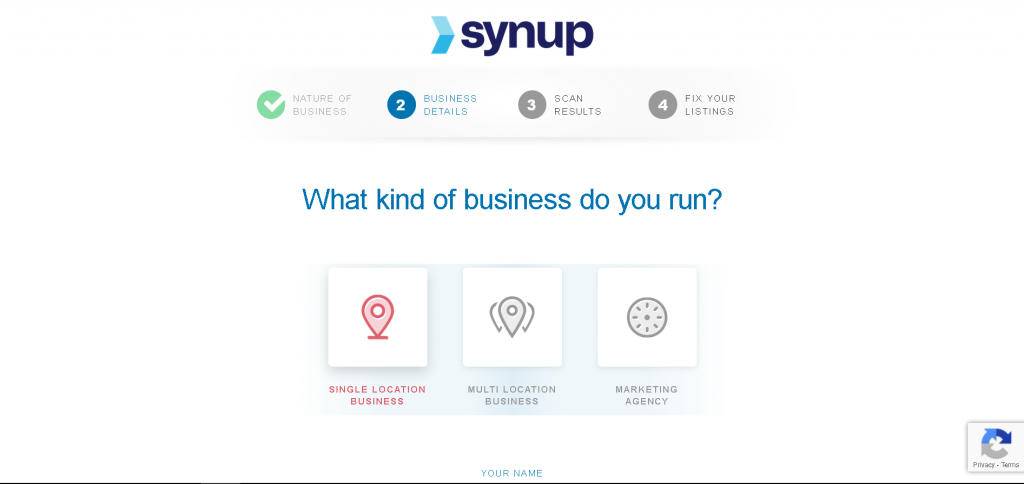 Synup comes in handy when it comes to submitting your NAP to local directories. It's a platform that lets you manage, monitor, and analyze your local listings and NAP data with ease.
It's one of the most comprehensive directories you'll ever find. Synup also allows you to review listings for existing citations, determine whether you should add your NAP to listings, and amend erroneous data on current listings. It is a monthly fee of $25, but it is a really powerful tool.
Advantages of Synup:
Respond to reviews from the tool. This saves time and helps manage review replies efficiently.
Presents a better-managed dashboard that syncs business and location data from different websites.
Track web rankings, traffic, and other analytics
Display location and reputation data anywhere with Syncup widgets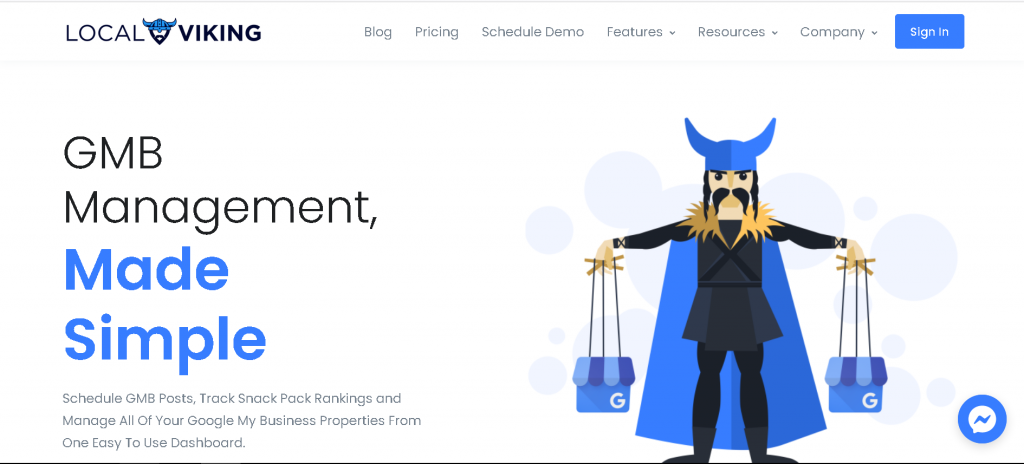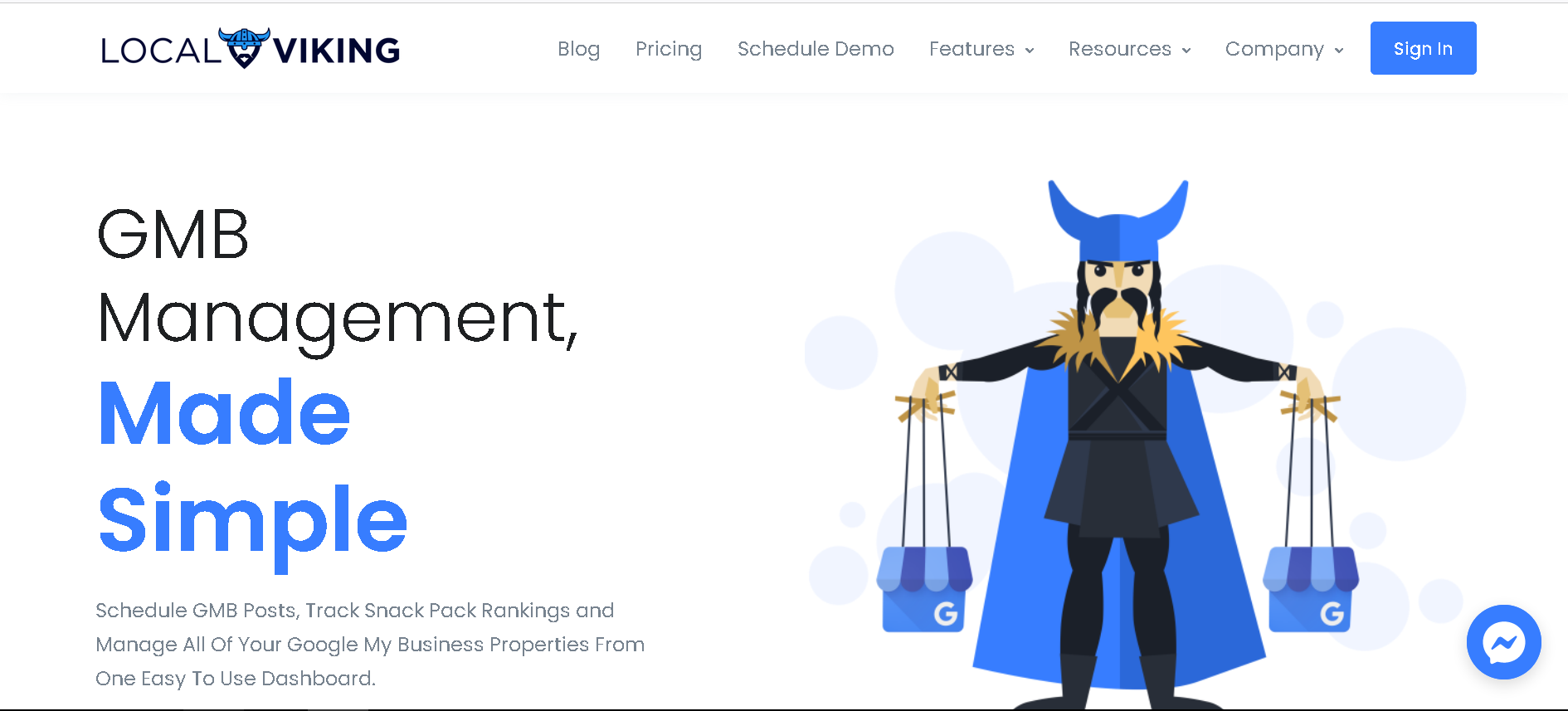 Local Viking is a Google Business Profile management tool that can assist you in ranking higher in local search results. You can manage reviews, upload photographs, track local pack rankings, schedule Google Business Profile posts, and track rankings from a single dashboard. It is one of the main causes why so many Google Business experts employ Local Viking. Multiple Google Business Profile listings might be challenging to manage, but with Local Viking's assistance, this tiresome work becomes much more doable.
Utilizing Local Viking can help you establish a strong online presence and give you the knowledge you need to easily outcompete your rivals by learning more about their strategies and how to mimic them.
Advantages of Local Viking:
Comprehensive Google Business Profile management with several great features
Pocket friendly tool that starts at just $20/month
Schedule Google Business posts and save time
Get email alerts on changes and bad reviews so you can respond to them promptly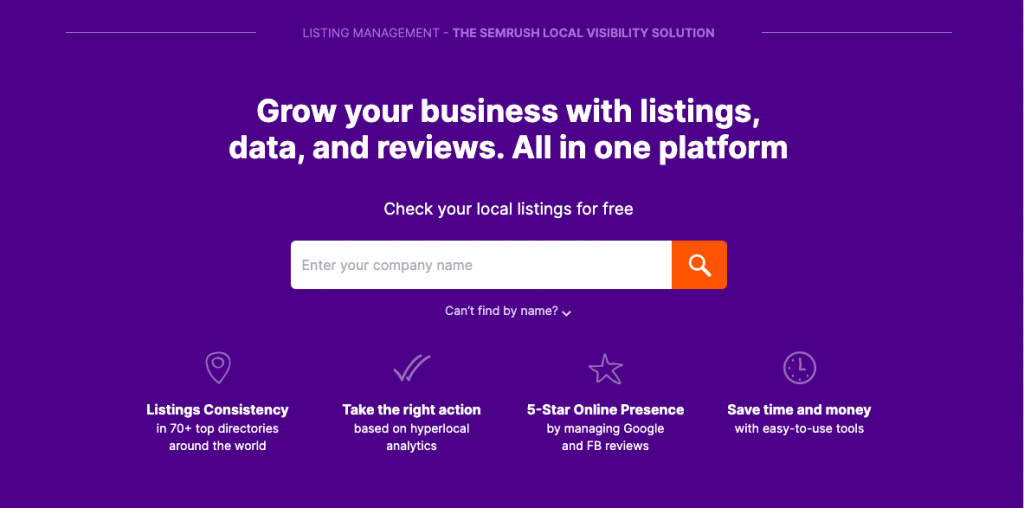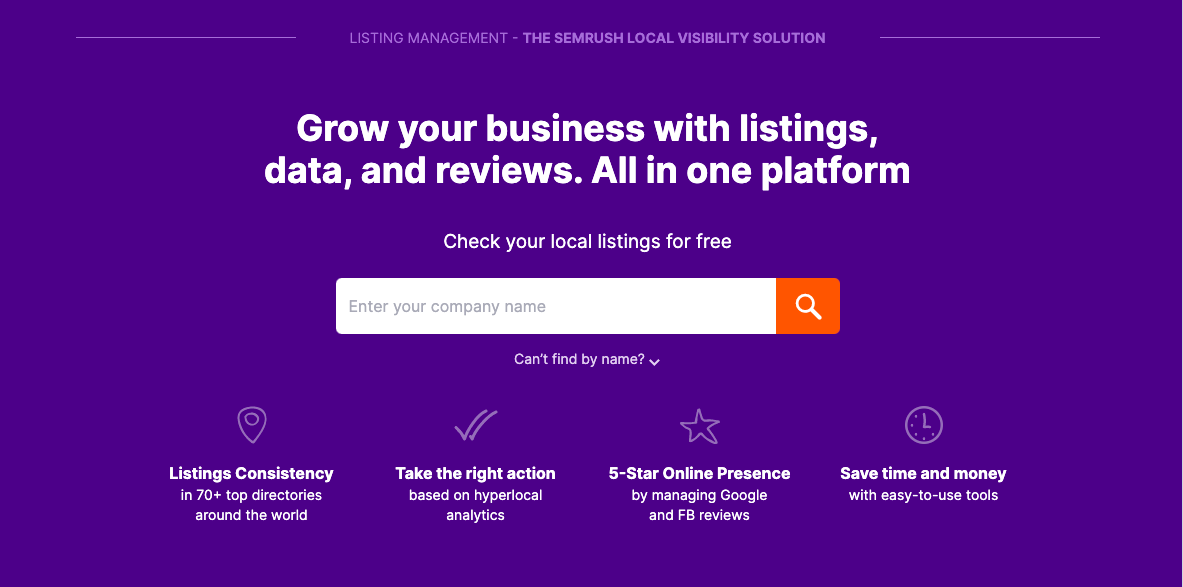 Semrush is a popular search analytics and local SEO management tool. It is favored by several leading corporations to manage their SEO and local listings. Moreover, Semrush has developed this tool in collaboration with Yext. So, you get the expertise and management from two different teams at the price of one.
Semrush listing management tool also comes with a free trial during which you can assess the utility it provides to your business. Once the trial is over you can choose from their paid subscriptions. Taking a monthly plan would cost you more than with an annual plan. You can save upto 20% by choosing an annual plan.
Advantages of Semrush Listing Management:
Analyze local search performance of your business
Display and monitor business ranking in the target city
Monitor and reply to customer reviews
Track keywords on hyper-local network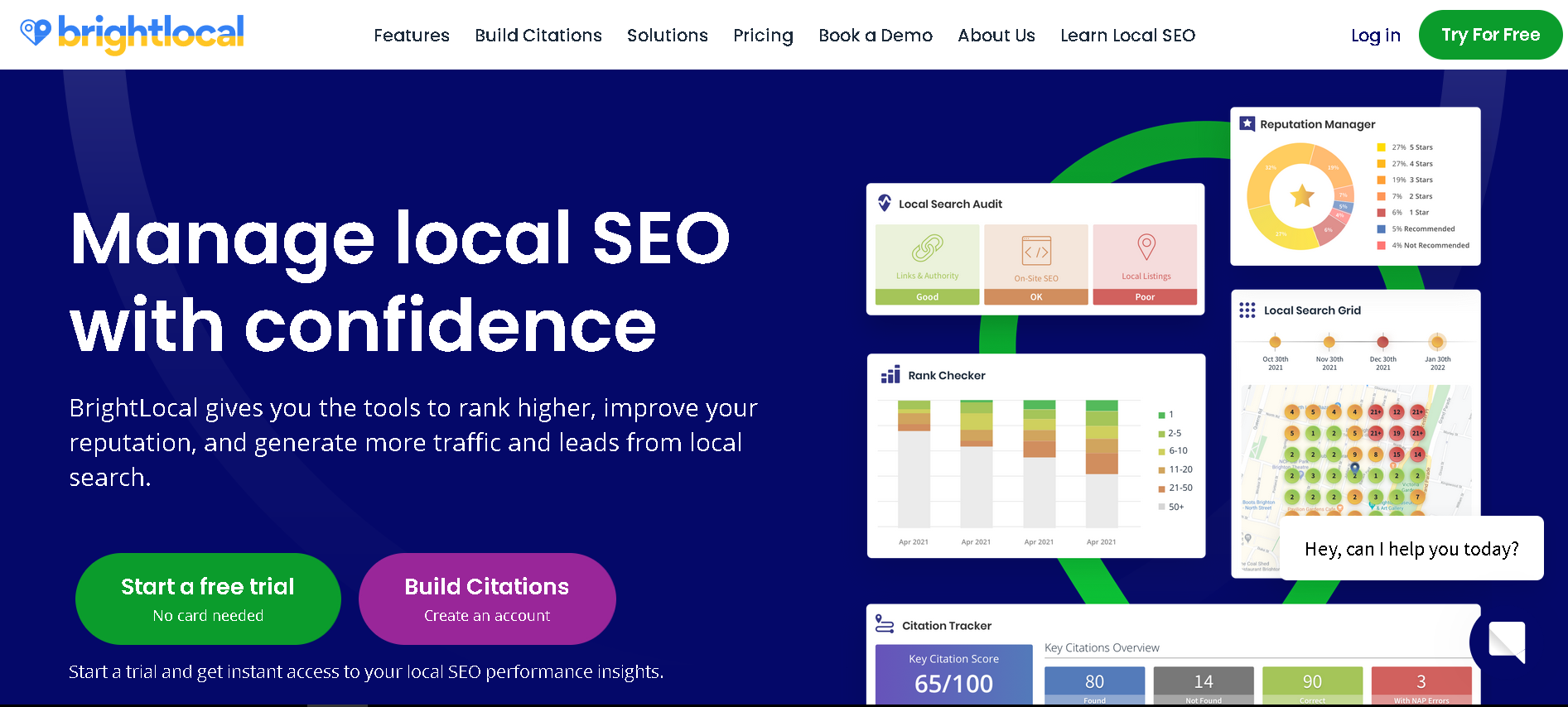 Founded in 2009, Bright Local is a popular one-stop reporting platform for Local SEO solutions. The platform has over 60,000 users that use it to monitor, plan and execute their local SEO strategies. Bright Local pricing starts at $29/month for a single business. You can also opt for a 14 day free trial to analyze the tool and its benefits before getting a paid subscription.
Bright Local offers a range of features including- citation building services, local SEO tools, and aggregator submissions. With it, you can track local citations, identify duplicate listings, and mark NAP issues with ease.
Advantages of Brightlocal:
Take a look at how much local search visibility your company is claiming.
With a simple statistic, you can track your improvement over time.
Scan and audit directory sites to see if any modifications are required.
Keep track of rankings by city or postal code.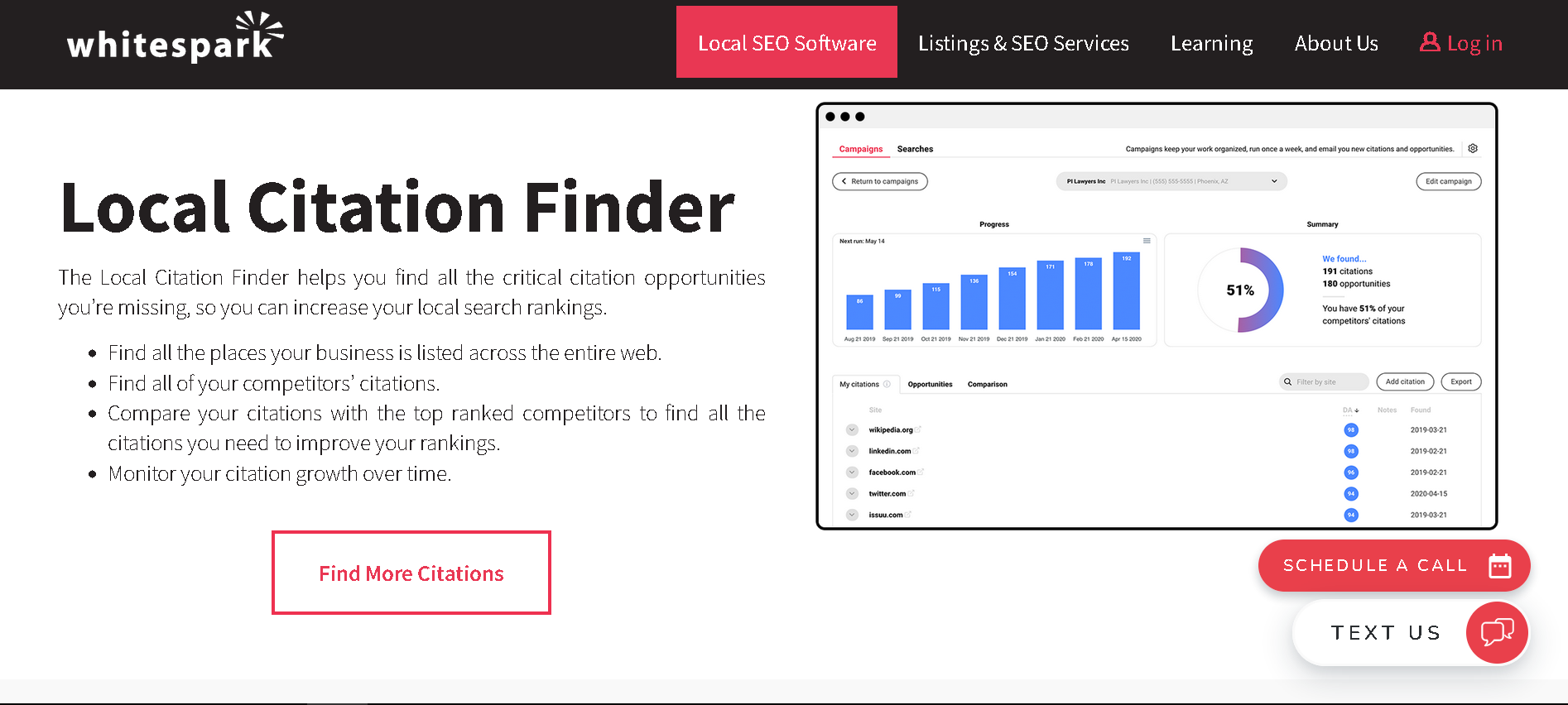 After starting as a web design firm, Whitespark expanded its services to provide SEO software tools that helps businesses with their local search marketing. The company's Citation finder tool is extremely popular among marketers and is used by businesses and agencies worldwide.
It assists you in identifying citation chances that you may be overlooking in order to boost relevant local search rankings. The tool is free to use for three searches each day with limited search results, which is ideal for individuals just getting started with it. Paid subscriptions start at $33/month for five campaigns, 20 searches per day, and unlimited search results when invoiced annually.
Advantages of Whitespark:
Track your search engine ranks throughout the local pack, local finder, maps, and organic on Google and Bing in any city.
Reputation builder enables you to easily expand your online reviews, consumer comments, and testimonials.
Find and increase your local ranking factors by swiftly locating key citations that your competitors have.
Get more reviews by sending customers straight to the Rate & Review area of your Google listing.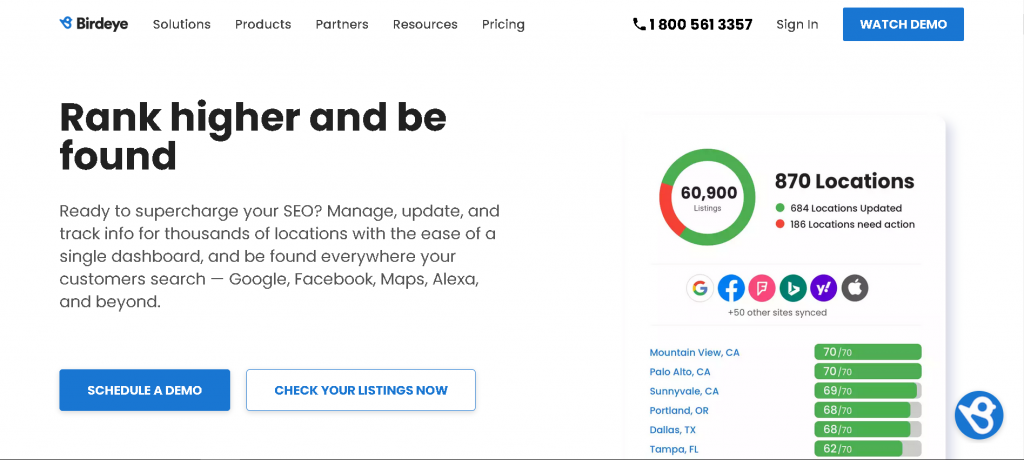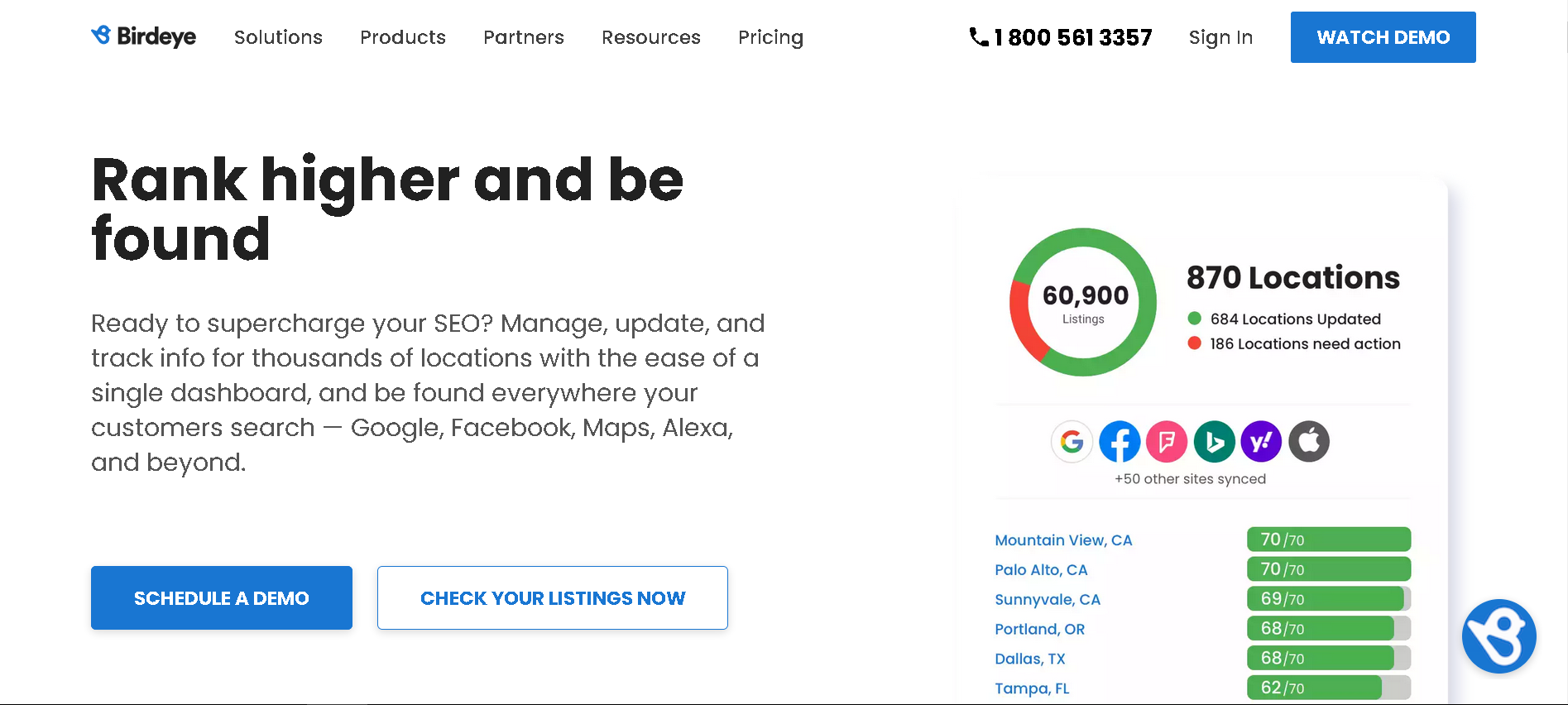 Birdeye, which is used by 70,000+ companies including BMW and Nissan, provides a bird's-eye view of local SEO for multi-location enterprises. Customers' experiences can be tracked and reviews can be managed through the platform.
Birdeye's messaging platform, which offers many ways of contact, sets it apart from other local SEO tools. This allows organizations to use an omnichannel approach to attracting leads, converting them into customers, and delighting them.
Advantages of Birdeye:
Integrate data from multiple websites into a single dashboard for more effective monitoring.
Collect and manage reviews from over 200 platforms.
Text messaging, email, webchat, live chat, and chatbots are all supported by Birdeye's communications platform. This makes it easier for a small team to handle the responses. To manage all client experiences, all messages come in through one inbox.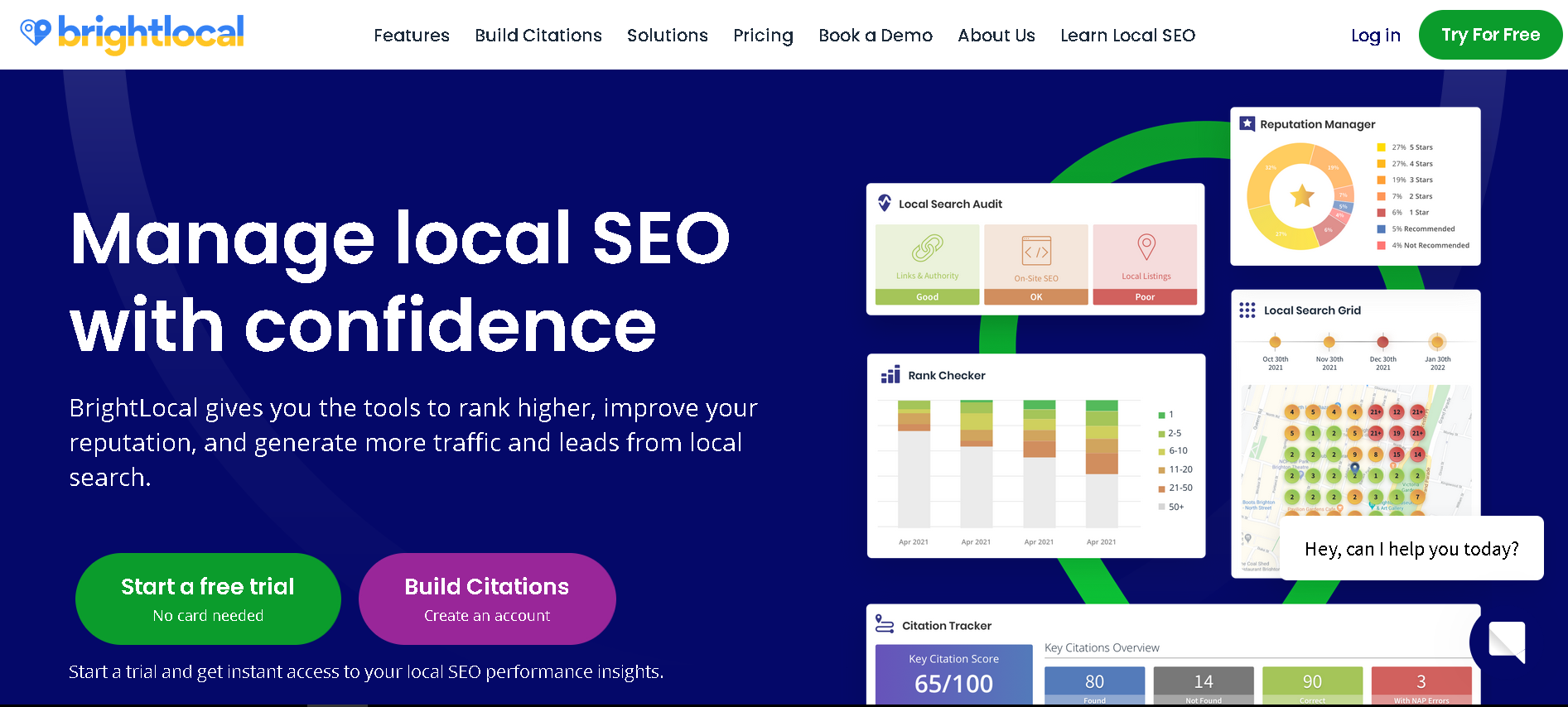 A local rank tracking tool for local SEO analytics, Local Falcon provides real-time organic results to aid in your understanding of the market you are competing. Yan Gilbert, the company's founder and a top SEO, identified a need for Google Business Profile listing rank tracking. Local Falcon is aware that map results are significantly influenced by how close a searcher is to the results, and that this can cause rankings to change.
This helps you get a better sense of how to enhance your rank on search results because the results that this local SEO software provides are designed for local search, meaning that they are particular to the area where your Google Business Profile is located.
Advantages of Local Falcon:
Know where you stand in the listing and understand the factors associated with your ranking
Get over 100 data points visualized with one scan
Can find businesses for local citation generation
Conclusion
We hope you now understand the importance of local SEO and the various tools available to help you apply it. You may save a lot of time improving your online listings and maintaining your local SEO strategy with these local SEO tools at your disposal. You can use these tools to improve your business visibility, track analytics, and generate more leads and conversions. Whether you operate a brick-and-mortar store or an online one, local seo can help you get better relevant traffic.
Frequently Asked Questions
What is a local SEO tool?
Local SEO tools can help you improve your visibility and engage the local audience. These tools can also help you manage rankings, gain insight into competitors, generate SEO-optimized keywords, track performance, and drive client involvement.
Which is the best SEO method for local business?
6 Techniques to Improve Your Local SEO Strategy
1. Claim and improve your Google Business Profile. It is the most important aspect of your local SEO plan.
2. Keep your target audience in mind while framing new content.
3. Gather a large number of customer testimonials.
4. Concentrate on establishing local links.
5. Ensure that your NAP/citations are consistent.
6. Utilize social listings to their full potential.
How do I rank higher locally?
Here are four things you can do to improve your local search position and attract more customers.
1. Improve the visibility of your Google Business Profile listing.
2. Use local review sites to your advantage.
3. Make your website more localized.
4. Ensure constantly updating listings while adding new ones.
How do I optimize my website for local searches?
Here are some best practices you can follow to optimize a website for local searches-
1. Put a sharp focus on your internal linking structure
2. Analyze website URL, Meta Description, Content, and Title Tags
3. Add location to website pages when you create local content
4. Maintain consistency when updating business information on various websites
5. Get high-quality relevant backlinks
6. Make your website mobile friendly