To get more Instagram reel views, you must create and share compelling content that other users would want to watch. However, because Instagram's algorithm is constantly changing, if you do not post at the right time, your followers may never see your posts. So, how do you determine when is the best time to post reels on Instagram?
Do not worry if you are not sure where to begin with Instagram posting. We have put together a comprehensive guide to Instagram posting times, including the best time to post by day of the week. You will soon be posting like an Instagram expert in no time if you follow our tips. If you do not have expertise in managing social media, it might be better to opt for a social media marketing service.
An experienced company will provide you more benefits than just getting your posts live at the right time. With them, you can also look for the best Instagram followers hack and grow your audience base.
Why is Timing Important for Instagram Reels?
Each brand has a unique sweet spot for posting on Instagram. This is because each brand on social media caters to a distinct audience with distinct behavior patterns. But do not lose hope! There are some best practices that social media marketers can use to achieve excellent results across the board which also include the best time to post reels on Instagram.
Because the Instagram algorithm prioritizes recency, it is critical to post when your followers are online. This means that, assuming everything else is equal, a newer post will appear higher on the newsfeed than an older one. When it comes to optimizing a post for success, one of the quickest and easiest wins is recency.
Beyond that, it is critical to define your goals for your Instagram marketing strategy. Do you have specific goals for increasing awareness, increasing engagement, or driving traffic? What does success mean to you, and when have your posts been successful in the past? Your previous victories are an important guideline for when you should post overall.
Best Time to Post on Instagram According to Data
Every Instagram account has a unique audience from different cities and time zones, so determining the best Instagram posting times is fairly tough. While the best time to post on Instagram is different for each account, certain times tend to correlate with higher Instagram engagement.
We have compiled a list of high engagement posting times according to each day of the week. If you post your Instagram reel during these slots, it is likely that your content will be visible to more people than it would be if you posted at any other regular timings.
Monday: 6 a.m., 10 a.m., and 10 p.m EST
Tuesday: 2 a.m., 4 a.m., and 9 a.m EST
Wednesday: 7 a.m., 8 a.m., and 11 p.m EST
Thursday: 9 a.m., 12 p.m., and 7 p.m EST
Friday: 5 a.m., 1 p.m., and 3 p.m EST
Saturday: 11 a.m., 7 p.m., and 8 p.m EST
Sunday: 7 a.m., 8 a.m., and 4 p.m EST
According to a HubSpot study, the highest engagement rate (6.47%) is on Sunday, followed by Saturday (6.05%) and Monday (5.95%). The rest of the week is expected to be around 5.6%.
Weekend posts typically receive the highest levels of engagement. Wednesday, on the other hand, is the best weekday for posting.
The best time to engage in North America is between 5 p.m. and 12 a.m. and evenings continue to be the most popular time for Instagram engagement.
As engagement on Instagram has a direct correlation with your location, there could be some differences in the engagement rates creators experience while posting at the same time. If you want to know how much to expect, it is essential to learn more about the Instagram reels algorithm to understand how the platform ranks reels based on views, posting time, interaction, and more.
How the Instagram Reels Algorithm Works?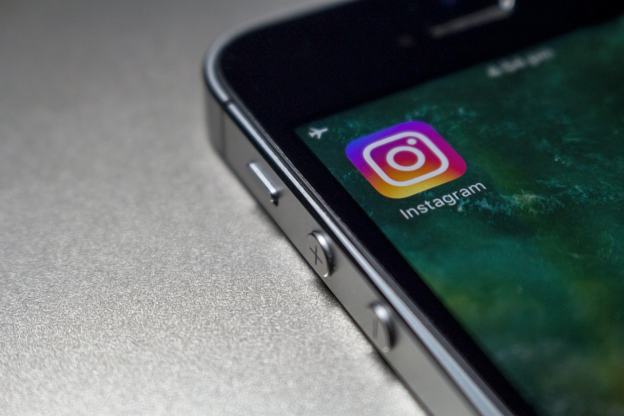 When your audience is most active on Instagram, this is the best time to post. The Instagram algorithm considers both timeliness and relevance when determining where your post appears in your followers' feeds. And the higher your posts appear in the feeds of your followers, the more impressions your brand receives.
More impressions may result in increased engagement. Furthermore, the more engagement your posts receive, the more impressions your future posts may receive, creating a snowball effect.
Factors That Influence the Best Time to Post on Instagram
Knowing why certain times are more popular is just as important as knowing the times themselves. To determine the best time to post on Instagram based on your industry, audience, and time zone, you must first understand:
When you have an online audience: Determine when your audience is most active and post compelling reels at those times.
Demographics of your target audience: Use Instagram analytics tools to learn about the demographics of your Instagram followers.
Your target audience's location: Knowing where your target audience lives allows you to publish during peak engagement hours in their respective time zones.
Matching your audience's daily activities: How well does your content match the interests of your audience at that time of day? If you're a juice company that sells a breakfast smoothie, posting about a morning routine that includes your drink may be appealing to your followers.
How to Find the Best Time to Post on Instagram Reels in 6 Easy Steps
It is not difficult to determine the best times to post on Instagram for your brand. You must consider two factors:
Shifting to a creator or business account on Instagram
Determine when your target audience is most active on Instagram.
Make an educated guess about what type of content would be most appropriate for those occasions.
Test your hypothesis.
Analyze your findings to determine the best times for your content.
Continue to experiment with new times.
This information will give you an idea of your best posting times, which you can then test and refine.
Let's go over each step of determining your best posting times together.
Step 1: Shifting to a creator or business account on Instagram
You can fine-tune your posting strategy by accessing vital information about your followers, including their location, with an Instagram company or artist profile. If you do not yet have a creator or business account yet, here's how you can convert your personal account into one:
Open Instagram and select your profile. Then, in the top right corner, hit the three horizontal lines.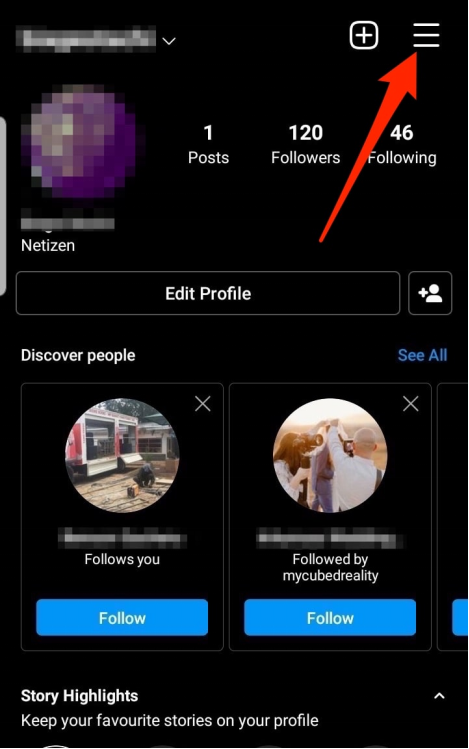 Now, tap on the 'Settings' option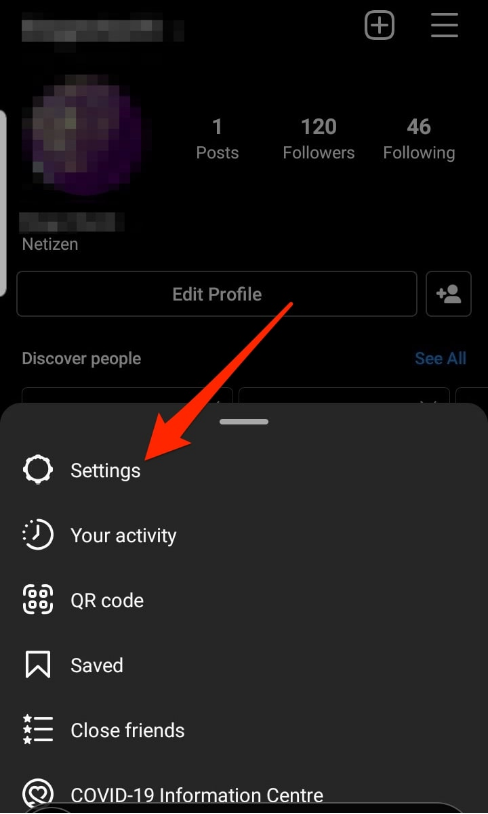 For the next step, click on the 'account' option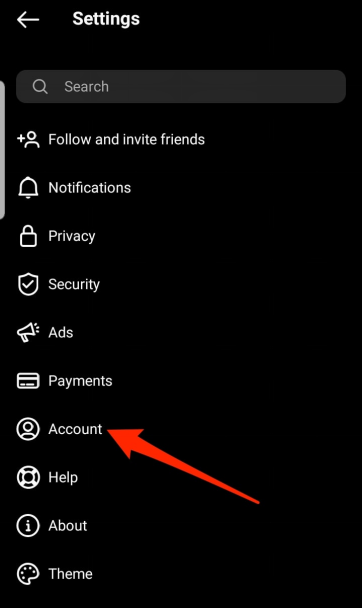 Tap on 'Switch to Professional Account'. You will find this at the bottom of the screen.
Now, select a niche which best describes you or your business. You will have several options to select from, if your business niche is not available in the menu, select one which matches closely to yours.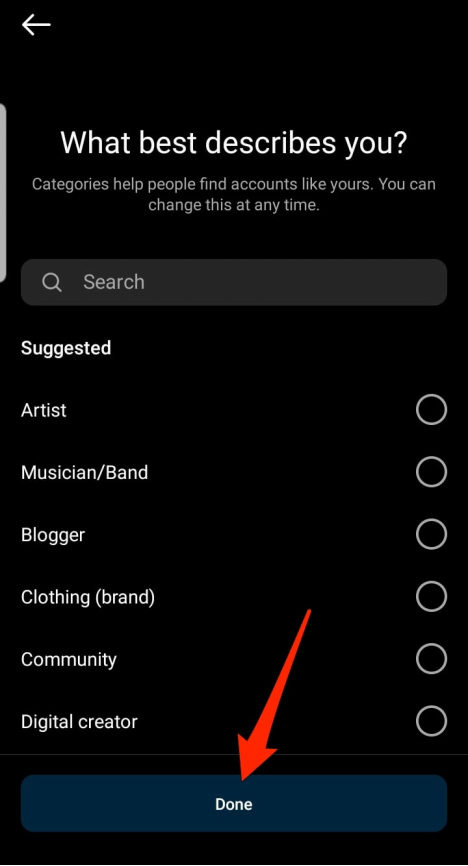 Note: If you already have a business or creator account, you will get the 'switch back to personal account' option instead. Ensure you do not click on it else your business account will get converted into a personal account.
Step 2: Determine when your target audience is most active on Instagram.
When you look at the insights provided by Instagram, you can see when you have the most followers. This information is available for business accounts by clicking the Insights button.
On the business account profile page, click the Insights button.
You can then click Insights to see data broken down by content, activity, and audience. Select the Audience tab to see information about your followers, such as when they access Instagram, their location, age range, and gender. You can switch between hours and days to see when they are most active.
Instagram Insights shows audience information for the previous seven days.
Keep in mind that the data in your Instagram account only shows for the last seven days. This provides limited information, but it is a start. Before making any decisions based on data from such a short timeframe, consider the impact of special occasions and seasonal behavior.
Step 3: Make an educated guess about what type of content would be most appropriate for those occasions.
The best time to post one type of content on Instagram differs from the best time to post another. And there's a good chance you have a variety of content to offer.
Create a hypothesis at this point. Nobody knows your target audience better than you. What time of day do they have the problem that you solve? When is it appropriate for them to think of your brand?
Step 4: Make a plan to test your hypothesis.
You now know when your followers are online and what content you believe will be of interest to them at those times. Try it out with an Instagram posting schedule for a set period of time, such as three weeks.
Assume you manage an eatery's Instagram account. We have proposed some content ideas that we believe will resonate with your followers at various points throughout the day.
The idea is to think about when your followers want to hear from you. If you own an eatery, your followers may be looking for healthy inspiration in the afternoon when their hunger is dwindling or in the morning when they must choose between getting out of bed and cooking breakfast or ordering from your outlet.
Reminding them of upcoming menu changes can assist them in planning for the coming days. And perhaps you would like to post content that encourages people to come to your outlet on Tuesdays and Thursdays, when it is usually less crowded.
You are not required to publish a certain number of times per day. Once you have identified your peak times, you may be able to publish less frequently and with greater impact. Remember that hashtags based on days of the week can also be an effective way to increase your following.
Step 5: Analyze your findings to determine the best times for your content
After a few weeks of testing your Instagram posting schedule, you will have a good idea of which content is resonating with your followers and when.
Then, you can fine-tune your schedule. Continue to share content that resonates with your audience while changing up what isn't working.
Where can you find the information? Instagram displays engagement numbers for each post under the Posts tab in your business account's Insights section.
Step 6: Continue to experiment with new times.
Your posting performance data is based on your previous postings. So, check your best times every month or so, and experiment with new times on occasion. This allows you to continue learning about your target audience.
Is it true that if you fail to post at a certain time each day, your posts will be lost in the feeds of your followers? No, not always.
True, analytics data pinpoints the best time of day down to the hour, and consistently scheduling your posts is critical to hitting your best time of day—every time—to maximize engagement. However, the time on either side of this exact point is frequently very favorable as well. While not ideal, publishing within a range could still have a positive impact.
Tips for Getting Better Engagement on Instagram Reels
You have excellent video material; now is the time to ensure that viewers see it. With the knowledge provided above, you may modify how you create Instagram reels and when to post them in order to boost their visibility and expand their audience.
In addition to posting on the appropriate day and at the proper time, use the following tips to increase engagement on your Instagram Reels:
First, share the Reels to your feed.
Include appropriate geo tags and hashtags.
Post Reels that your target market will find appealing.
Based on the time zone of your audience, post material at the appropriate time of day.
Discover the appeal of your best-performing content by analyzing it.
Examine your competitors' posting schedules to determine the ideal days and hours. Check their posting schedule and the level of engagement.
Keep an eye on things and experiment with different publishing days and times to see what works the best.
Before changing your approach, test for at least a couple of weeks.
Follow the Instagram Community Guidelines.
Also, Read
Nothing is more aggravating than not getting any engagement on your Instagram reels. You are, however, now aware of how to avoid the traps. To determine the best time to post reels on Instagram, use the techniques outlined above. You will not see an increase in scores on the first day, but with consistent effort, you will see results. However, keep in mind that the best time to publish will only get you into your audience's feeds; the rest is up to your content.
Frequently Asked Questions
How often should I post on Instagram reels?
There is no ideal frequency of posts that you can follow for Instagram reels. However, you must ensure that enough content goes out from your account to keep your audience engaged for the day. This could be anywhere between 1-10 posts, depending on your content niche. For example, a news outlet would want to share more updates than a beauty influencer. Besides the content, it's equally important to know the best time to post reels on Instagram.
What kind of content works well on Instagram?
Engaging content that catches a user's attention and keeps them connected to your account, generally works well on Instagram. While there is no set definition for engaging content, you can often see it yourself in the form of reels, posts, and videos that have a great number of views and likes.
How can I get more views on Instagram reels?
To get more views on Instagram reels you should do the following:
1. Create engaging content
2. Post reels at times when there is high user engagement
3. Be consistent in posting quality content
4. Create reels with trending music