If you want your business to be successful, you need to keep an eye on your search engine rankings and monitor your website traffic. You might have been penalized by Google if you've seen a decrease in traffic or a significant drop in your search ranking, but how can you be sure? First, do you keep an eye on where your website ranks? If not, it's time to get started. If you don't, you won't be able to identify Google penalties before they harm your business. Continue reading to learn about the most recent Google search criteria, how to go about Google penalty check, and what to do to get rid of any penalty.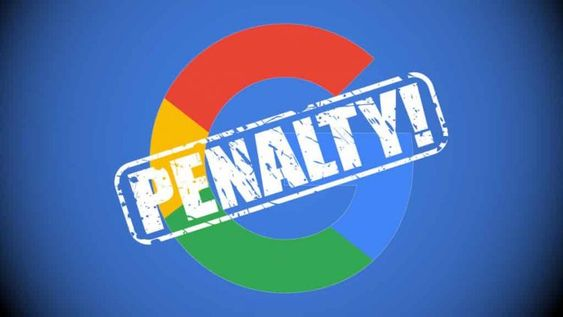 What is a Google Penalty?
A Google penalty is a punishment for a website whose content goes against Google's marketing policies. An update to Google's ranking algorithm or a manual review that reveals "black hat" SEO practices could result in this penalty. Since we all rely on traffic from search engines, we must keep up with the most recent algorithm updates and make adjustments if we face a Google penalty. Keeping up with the most recent patches is not only good practice, but it also gives you a competitive edge if you can optimize your content faster than other web domains. Fortunately, there are many tools and insights available to assist even the busiest marketer in avoiding these under-the-radar traffic killers. A professional Google Penalty Recovery service will make the task easier for you.
Google Algorithmic Updates
Google Algorithms have been constantly updated for 15 years, not only to reward the best content on the internet but also to provide the content that is most relevant to a given search query. If you believe your content is receiving a penalty from Google, the following are some of the most recent and significant changes to keep in mind.
The goal of Panda update was to take action against websites that have poor or error-ridden content, a lot of ads, and possibly a primitive design. This was carried out in stages, and delivered its last patch in July 2015.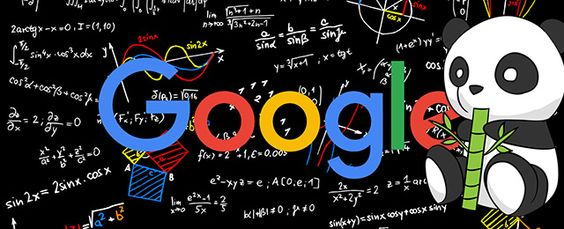 Google Hummingbird had the maximum negative impact on websites with long-tail search queries. By recognizing human speech and moving away from randomly searching for keywords, the update's primary objective was to develop a search system that was more stable for users. Since a lot of people search using their phones, mobile devices, or voice recognition devices, the update made it easier for those users to ask questions. As a result, the content that got the best rankings became the ones that answered questions rather than those that had the related keyword in the search.
As website hacking gets more sophisticated and people become more aware of the dangers, it's important to convince webmasters to invest in SSL security, which puts "HTTPS" (rather than "HTTP") at the beginning of URLs for domains. If you need personal or financial information from your online visitors, this is very important. If this is not the case, Google may ask a user, "Are you sure?" pop-up, if they click on a shady web page.
Websites that are "responsive" in design or scalable to mobile devices are given preference. It should come as no surprise that visitors prefer websites that can be viewed and navigated on both desktop computers and mobile devices. Although this update is extremely beneficial to publishers who prioritize mobile, it sounds more aggressive than Panda and Penguin.
Google introduced the machine-learning artificial intelligence (AI) system RankBrain in 2015. Rankbrain is the third most important ranking factor, after content and backlinks, and it helps Google process some of its search results, especially for unique or rare queries.
Penguin was first introduced in 2012 to combat original spam rather than legitimate but poorly constructed websites. Penalties targeted keyword stuffing, cloaking, link building and essentially any "black hat" tactic you've heard of. Since 2016, its fourth version has penalized bad links rather than the entire website, assisting in the rehabilitation of web domains that may still have good intentions.
Intrusive Interstitial Penalty
Interstitial ads and other pop-up content, which can make a page difficult to use on a mobile device, are punished by this update. Ad-heavy websites won't all be affected, but those that have a significant impact on the user experience may be the next to drop in rank. These updates aren't one-time events. Every year, they are upgraded to keep up with copyright violations, unwanted content campaigns, and other black hat methods, and to make sure that more and more people are happy with the results they get.
How to Check if You are Penalized by Google?
A sudden and significant drop in traffic is frequently the main clue that Google has penalized your website. However, that is not the only way to find out if Google has penalized you. Some marketers don't even know there is a problem until they use a checker tool or see a warning in their favorite analytics program. Realizing that the majority of penalties are issued manually is essential to comprehending how Google issues them.
The other ways to find if your website has been penalized are given below.
Using Google Search Console to locate a Google Penalty is the simplest method. You have to sign into your GSC account, click on 'Search Traffic' and pick 'Manual Activities' from the side bar. Google will either show a message that says "No Issues Detected" to let you know that your website is safe from any algorithmic or manual penalty, or it will show the kind of penalty that was applied and give you the right steps to get rid of it. To check to see if your website has been penalized manually,
Log in to Google Search Console
Go to MANUAL ACTIONS / SECURITY
Click on MANUAL ACTIONS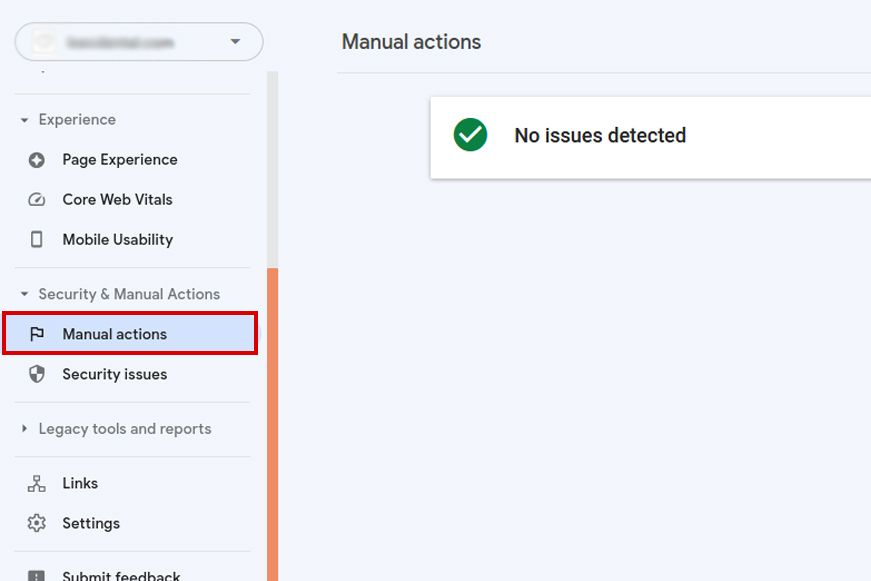 You are clean and do not need to take any further action if you see the message "No issues detected." If there is a manual penalty, you must carefully read the message explaining why, attempt to fix the issue, and then ask for a review of the site.
Google Analytics is yet another method by which you can learn about the penalty. You need to keep track of the date that your organic traffic decreased and check to see if any Google updates, such as Penguin or Panda, were released on or around that date. If it's not too much trouble, allude to the underneath screen capture featuring natural misfortune in rush hour gridlock from the Penguin update). If so, the update undoubtedly had an impact on your website.
Logging into Google Analytics and reviewing your organic traffic is the most effective method for determining whether your website was subjected to an automatic penalty. If you notice a decrease in traffic on the dates that Google made an algorithmic change, you probably were affected, and that is why your traffic decreased.
Log in to Google Analytics
Select ACQUISITION > All Traffic > Source / Medium
Select Google / Organic from the list. The number of visits you get from Google searches is what you now see in the report
Go as far back as you can by selecting the reporting period from the top right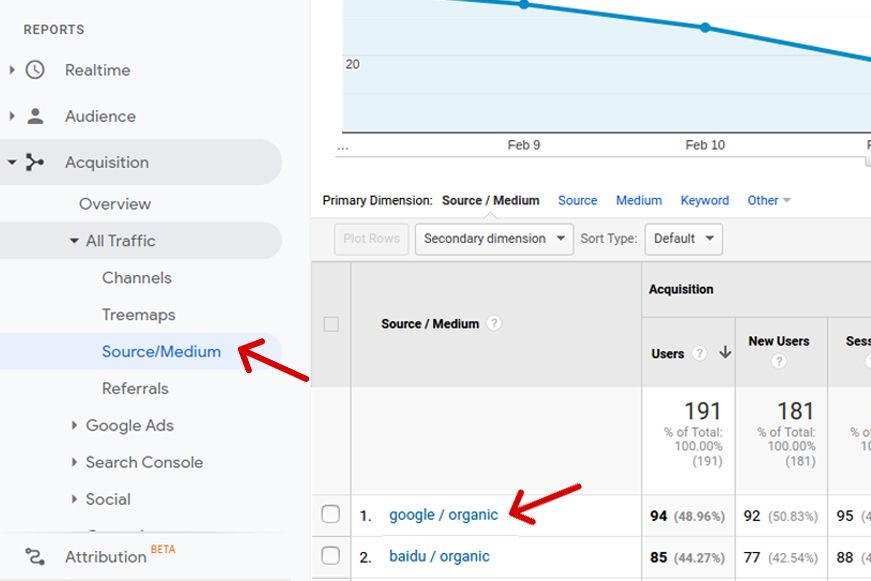 Now compare the dates on which you experience a significant decrease in traffic with the dates on which an update was released. If you notice a sudden drop in traffic on a date or dates close to the date that an update was released, look up the kind of update and start reading about how to recover. In the same view as the report graph, you can also make annotations in the Google Analytics Report to mark the dates of changes.
What Happens If Your Website is Penalized by Google?
A website may experience a significant drop in its ranking position or even a complete drop in traffic during the penalty phase because Google is no longer displaying it in the rankings. As a result you lose your hard earned trust. This might lead to loss of existing and prospective clients. It is essential to try to avoid getting one at all costs for a business that receives fairly consistent traffic overall because the process can be absolutely detrimental to lead generation and sales.
Duration of Google Penalties
Google penalty recovery is case-specific and differs from each website. A manual penalty can be issued when a Google employee manually reviews a website, such as when they suspect ranking manipulation due to backlink purchases. A specific period of time within which the website will be punished will be determined based on the extent and severity of the offense.
This could be as little as 10 days for a minor violation of the Google Webmaster Guidelines, or more time for a more serious offense. The manual penalty will expire on its own after the allotted time period. It's possible that your website was affected by both an algorithm update and a manual penalty. In this instance, you can multiply the time it will take you to earn rankings using white hat methods by the anticipated time it will take to accept your reconsideration request.
How to Avoid Getting Penalized by Google?
You can protect your website from Google penalties if you adhere to SEO best practices and properly manage it. A few of the best practices are listed below.
Create high quality content
Avoid keyword stuffing
Always monitor your backlinks
Optimize anchor text
Use trusted web hosting services
Types of Google Penalties
Understanding what a Google penalty is one of the first steps in determining whether or not you have one. So it is advisable to take the time to learn about each type of penalty that Google may impose on you.
These kinds of penalties are automatically given to websites that report actions that don't follow Google's rules when the algorithm is updated. In the event that Google imposes a penalty based on your algorithm, look at the most recent significant updates.
Also, Read: Difference between an algorithm update and refresh
Penalties for manual review can occur at any time and for a number of different reasons. However, because there are so many websites on the Internet and so few Google employees working on the webspam team, the majority of manual review penalties begin with an algorithmic penalty. In Google's webmaster tools, you will receive an email in the event of a manual review penalty. By logging into your Google webmaster account and selecting "Manual Actions" under "Search Traffic," you can look for penalties of this kind. A message that says "No manual webspam actions found" will appear on your site if there are no penalties there.
This penalty means Google has deemed your website spam in their search results. Your search rankings drop dramatically as a result of the penalty, or they are capped at a deep page in the results, rendering you virtually inaccessible. A site may be de-indexed or even blacklisted as a result of this kind of penalty at times.
A partial manual penalty indicates that the manual reviewer believes that your website as a whole is doing well, but that some or all of your pages need improvement. It is typically imposed on websites with a few undesirable links or on pages where the quality of the content does not meet Google's standards. The severity of a partial manual penalty can only be determined by site owners who have been actively tracking their site's data. A partial manual penalty does not always affect the site's search rankings.
Tools to Use for Google Penalty Check
SEMrush developed the SEMrush sensor to measure fluctuation in Google's search algorithm. Google's frequent algorithm updates are the primary cause of search algorithm volatility. As a result, the SEMrush Sensor is an excellent instrument for spotting modifications to Google's search algorithm. SEMrush releases a volatility score each day.
Google's search results are more volatile for the higher score. Scores of five or higher are generally regarded as high volatility and call for a change to the Google search algorithm. It is essential to keep in mind that Google makes updates to its entire algorithm as well as to specific parts of it that affect all search results. You can find more granular updates to Google's search algorithm by filtering and comparing specific subject categories, devices, and countries with SEMrush.

The main feature of Rank Ranger is rank tracking, which is one of the best in the market. Not only does it keep track of your rankings, but it also gives you much more detailed information about the search results, giving you more opportunities to analyze them. You can tag your keywords and create landing pages for them with this tool.
You can enable automatic weekly, monthly, or quarterly audits when you set up the Site Audit. It's important to remember that you have a monthly page budget based on your package.
You should use it wisely, so you might want to restrict the number of pages or subfolders you want to crawl. To get the most out of the tool's capabilities, you can also use the setup to connect Rank Ranger to a number of other tools. You can incorporate Facebook, YouTube, Bing Webmaster Tools, Google Analytics, Google Search Console, Google My Business, and more.
The "Google Grump" rating from Accuranker points to problems with Google's algorithm. Ranking shifts are more significant the more gloomy the mood. After you sign in to AccuRank's dashboard and create an account, an icon in the form of a tiger's head will be visible on the left side. AccuRank's "Google Grump" rating will be shown to you on a new browser page when you click on it. Essentially, you can view "Google's mood swings" with the feature on this page. It is beneficial to keep track of how Google behaves because ranking changes may occasionally be the result of a new Google algorithm.
AccuRank gives you the option to subscribe to Google Grump and receive daily updates on the search engine's mood, so you don't have to manually check Google's mood every day. The filters let you keep track of changes by country and device. AccuRanker's dependability and accuracy distinguish it from the competition in addition to the speed of the checks. It is highly unlikely that you will encounter any issues with this rank tracker. AccuRanker's support can help you use the tool to its full potential in a variety of ways, including live chat support, one-on-one "best practice sessions," and extensive guides.

Algoroo displays Google volatility through an interactive tool that lets users drag and drop a time period. This is an excellent feature that provides data from just 7 days up to two years. If you want to correlate your SEO performance with changes in the Google algorithm, particularly those that have a greater impact, you can use the longer-term data to do so. It also offers data for desktop and mobile devices, which is a bonus. Users can also select between Google.com and Google.com.au at the moment.
Algoroo calculates data to discover patterns and fluctuations by keeping track of 17,000 keywords to 100 SERP positions. "roo," a flux metric that indicates whether there has been any volatility in Google's search rankings, is created by combining positive and negative movement. Expect a great deal of fluctuation on the SERP on a "high roo" day; On a "low roo" day, nothing significant happens. You can also incorporate widgets with fluctuation-related stats and data into your blog or website, as well as access to an algorithm update calendar so you can review previous modifications and updates.
The Panguin SEO tool, developed by Barracuda Digital, is a useful, free tool for optimizing websites. Basically, the tool was known for its ability to accurately inform users of algorithmic shifts in Google. The majority of marketers will be aware that Google uses a set of frequently updated algorithms to curate its search results. The Panguin, enables marketers to evaluate the performance of their websites and identify potential Google penalties. This tool gives you a clear idea of your organic ranking in search engines and regionally in terms of organic visibility.
Based on your marketing efforts, this lets you compare your current ranking to previous rankings. This indicates that you may face a penalty if your current ranking is lower than it was before you strengthen your marketing strategies. Data on your current visibility can help you improve your SEO strategies by allowing you to compare yourself to your rivals. Site link optimization enables you to connect your pages and compare their rankings. So, your visitors will be able to easily navigate to other pages on your website which will make them stay longer.
The Panguin tool is one of the most efficient methods for determining the structure of your website's backlinks. The tool looks at backlinks' suitability before and after optimization in addition to their structure.
Fruition's Google penalty checker is the quickest and most statistically reliable method for identifying algorithmic penalties. Fruition's Google Penalty Checker reveals, through statistical analysis, which Google updates have the greatest impact on your website. The recommendation engine of Google Penalty Checker then tells you "What To Work On NextTM" ("WTWON) to increase traffic, recover from a Google penalty, and safeguard your website's long-term health. The program looks at a website's past traffic data using proprietary algorithms to see if there has been a genuine manual Google penalty.
The tool takes into account things like bounce rates, organic traffic, new versus repeat visits, page views, and other things. You will need a few minutes and access to your Google Analytics in order to test this tool. You can click for a more in-depth explanation of what occurred, how it affects your website, and the likelihood that your website will be affected by that change after you pull your report. Fruition also provides a description of the update, which includes a link to their blog with additional information. It's that simple to see where your website might need some SEO work.
Users can use Google Search Console, a free tool, to measure their website's traffic, see how keywords perform, fix problems, and get Google messages about their website. It lets you know how well a website is doing in organic search and how to make changes to the Google index. You are unable to use Google Search Console to directly modify your website; however, you can use it to submit your pages to the Google index, validate the health of your website's URLs, and look for errors throughout your domain property.
Google Search Console is a useful tool for adjusting strategy, particularly for SEO. Businesses can use Search Console's data to find new ranking opportunities, improve their current performance, and learn exactly how people get to their website. This indicates that it is an essential tool for any company that depends on their website to provide a positive user experience or generate leads from organic traffic.

MozCast serves as Google's algorithms' equivalent of a daily weather report.
MozCast calculates a temperature based on the volatility and turbulence in Google's algorithm over the previous 24 hours and is comparable to television weather forecasts.
Simply put, Google's rankings have changed more over the past day the warmer the temperature is. You will be able to determine whether any changes in Google could have a positive or negative impact on your website thanks to the five severity levels, allowing you to stay one step ahead of your rivals. For instance, if the "weather" is bad, Google's algorithms will change a lot.
Every morning at 7.30 a.m. Pacific Time, the data is updated, and algorithm patterns from the previous five days are shown. Mozcast's Google SERP Feature Graph will do the trick in a nice interactive format if you want to track changes to major SERP features like people also ask boxes (PAAs), knowledge panels, local packs, and videos, among other things.
Due to the fact that it has one of the largest databases of live links, Ahrefs is well-known for its backlink checker. Crawling software is used to recreate your website so that search engines can see it. This helps you better understand your website so that you can make it more search engine friendly. You can use it to measure the parameters of a website as well as the quality of the links while also gathering all important information about backlinks. You will receive a dashboard that will assist you in tracking all of your data when you use Ahrefs. To monitor your domain's health, all you need to do is include a URL.
Errors, new links, URL ranking, and referring domains are all displayed on this dashboard. Users can examine the organic traffic by monitoring the keywords that the competitors are displaying for in the Site Explorer section. You can also see which websites are linking to websites from a particular industry with the assistance of Ahrefs. Checking the URL and domain linking profile, which is one of the Google ranking factors, is made possible by DR or URL Rating indicators, which are expressed on a point scale.
Things to Check to Get Out of Penalty
There are many things you can do to get out of this tricky situation. Even though it does not guarantee if your traffic and ranking will be back to what it was, it is necessary to correct the mistakes before you submit a reconsideration request. We have provided a list of corrective measures you can take to get out of penalty.
Hosting Service
Your hosting provider received spam by creating websites that largely violate webmaster guidelines, resulting in this Google penalty. This is a problem that frequently arises with free hosting services. If you use a free hosting service and Google finds that a lot of the websites hosted by this service provider are spammy, the service provider can be manually penalized. All of the hosted websites will face a manual penalty as a result of this. It is important to guarantee to utilize trusted hosting services for your site. Additionally, it is recommended that you switch hosting service providers in the event that you incur this penalty.
Links To Your Website
To outclass contenders, some SEO experts try building links at scale or manipulative links or taking part in interlinking. It is seen as an attempt to alter the search results, by Google. As a result, it labels such behavior as unnatural. To avoid this penalty, you should take the following precautions.
Avoid participating in link-exchange practices
Avoid using the exact keyword-rich anchor text for large-scale linking
Through the search console, keep an eye on the external links and try to get rid of any spammy links you find
Avoid posting the same keyword-rich anchor text in multiple guest posts
Have a good proportion of links that you follow and you don't follow
Links From Your Website
When we have an unnatural outbound link profile, we receive this penalty. The only difference between this penalty and the one previously mentioned is that, this applies to outgoing links, whereas the penalty previously mentioned applies to links created for our website on other domains. You should steer clear of buying and selling links, participating in excessive link exchanges, and linking to irrelevant domains.
Structured Data
If the website's content and the structured markup it uses don't match, this Google penalty will be imposed. Additionally, your website will be penalized if it violates Google's structured data guidelines. Before going live with the code changes, make sure you follow the guidelines for structured data markup and test the markup with the structured data testing tool.
Cloaking
This penalty can be imposed on your website if it offers search engines and users different content. Google suggests that both users and Google bots see the same content. Use the URL Inspection Tool to see if the content on your page is comparable to what a human user would see and this will show you how the Google bot is viewing your page.
Thin Content
It is essential to ensure that your website's content is not spammy and provides visitors with value. You will be hit with a content penalty if Google finds a lot of low-quality pages on your website. Conducting a content audit on a regular basis to remove low-quality and thin content from the website can help you avoid penalties. The below list provides some of the examples of thin content.
Content that is generated automatically
Affiliate pages created solely for the purpose of promoting affiliate links
Scraped content or guest blog posts of low quality
Spammy Users
This manual penalty is brought on by malicious visitors or users who are attempting to spam the website with irrelevant links or content. This penalty is more likely to affect websites that accept content from users. A few examples of spammy content produced by website visitors include, spam comments on blogs, spamming forums with content which seem like a commercial, profiles and posts that appear to have been generated automatically. If you receive this penalty, you should identify and remove all spammy content from your website. You can use Google Search Console to submit a reconsideration request once you are certain that the website does not contain spam. Here are some suggestions for avoiding this penalty.
Moderation of the profile and comments before they go live
Captcha and other anti-spam tools should be integrated
Blacklisting profiles with persistent attempts at spamming
Conclusion
A manual penalty from Google will lower the value of your website in search results and will also have an effect on organic traffic and revenue. As a result, it's critical to make sure your website follows the webmaster guidelines. You can, however, troubleshoot the specific issue and submit a reconsideration request to Google through the search console if you receive a penalty. You can approach a SEO company for Google penalty recovery services if you are having trouble recovering from the penalty.
FAQs
Will I get my ranking back after Google penalized my website?
You can get it back but it is not an easy task. You have to rectify the mistakes and after Google has lifted the punishment on your website, you have to work on getting new quality links and traffic to rank again.
How long does the penalty exist?
It differs for each penalty and can vary from a few days to, in some cases even years.
How will I know if my website is penalized?
A sudden drop in traffic is the main indicator that your website has been penalized. You can also find it from Google Search Console under "Manual Actions".